Val Ease Central Railroad by Jeffrey MacHan

The Sinsheim Chronicles: Episode 19
Manfred's Wurmtal Friends
Würmtal, Tuesday March 26, 2002.

Within minutes of hopping into Manfred Jörger's car, we were pulling into the driveway of a local retirement home. No, we weren't being committed! The Würmtal HO Model Railway Club had its clubrooms and layout in the centre's basement. We arrived at the same time as a bunch of other members and the entire group headed to the layout room. A couple of the residents, obviously not aware that Tuesday nights were for Model Railroading, gave us some curious looks.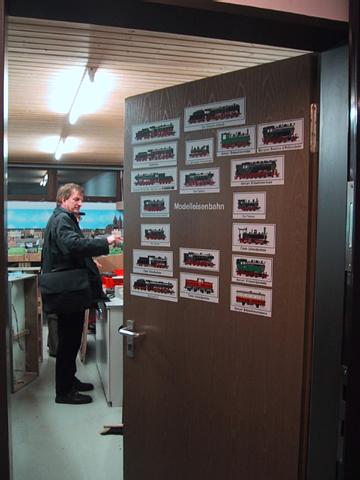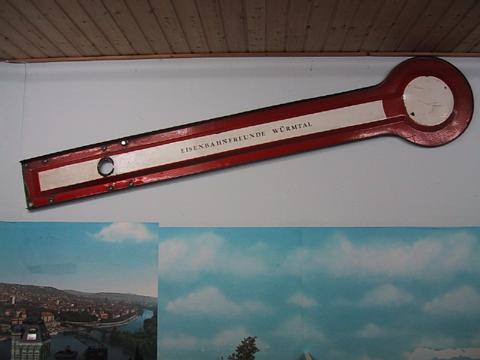 The layout occupied a modest sized room that was dominated by an authentic railway signal arm adorned with the name of the club.
Jeremy and several other members explained that the club operated HO at the senior centre and planned a modular HOm layout. The HOm was in the early construction stage based on Manfred's designs and assembly techniques. The HO layout was in the process of being renovated so only a section of the mainline was operable. Jeremy showed us his automated route selection panel which was very impressive indeed with the LED display. Each member was responsible for a section of the layout which they plan to have finished in time for their next open house in January 2003.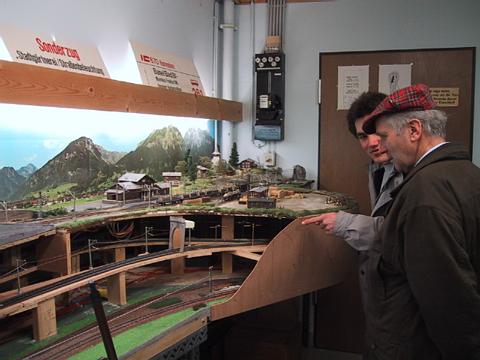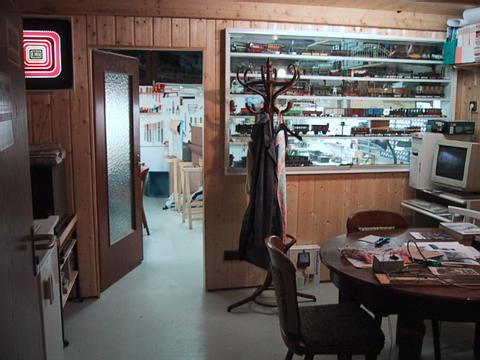 From the layout room we moved next door to the club rooms where the members had access to tools, reference materials and refreshments. The dividing wall between the lounge and the workshop was comprised of a glass display case where a member proudly exhibited his collection of every Märklin museum car ever produced.
We only spent about 15 minutes at the club rooms since the regular weekly meeting was taking place at the nearby sports complex lounge where one of the members was celebrating his 50th birthday. So off we went to join the party in progress.
The lounge offered Czech specialties and lots of Bavarian beer. Supper took a long time coming and I developed a theory that seemed to explain rather well the behavior of the proprietor. I surmised that the kitchen had a limited supply of plates. This meant that someone had to finish his meal before another patron could be served. The early arrivals eventually finished their meals and the rest of us received our plates, once they had been washed, of course!
Terry, Jeremy and I were joined in our little group of English-speakers by Thomas Kreitman, a Z enthusiast in addition to HO and HOm who had a wonderful knowledge of German and Swiss prototype history and practice. I rightly guessed that he was an engineer by profession.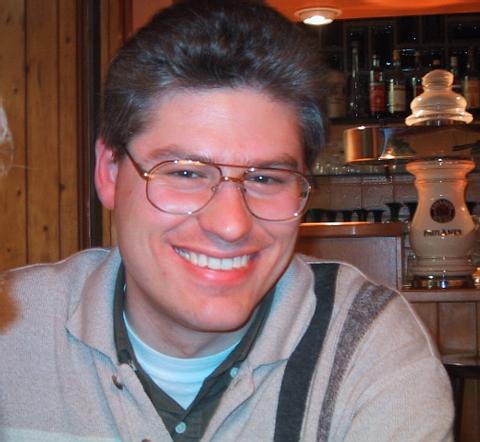 During the course of the evening, I learned that the Würmtal club had 27 active members of which Jeremy was number 22. The oldest member was 83 years old (he was at the supper) and the youngest was 12.
Unfortunately all good things must come to an end and the evening drew rapidly to a close when Jeremy announced that we had to make the next train into Munich. Goodbyes and thankyous were expressed to one and all. Manfred Jörger told us again that he hoped to exhibit his layout with the VECRR some day. In fact, he was prepared to waive his appearance fee in order to make his participation affordable to Roland Kimmich at the Stuttgart Train Show next November. This was a terrific gesture and perhaps, with some nudging by Manfred and Jeremy, Mr. Kimmich will confirm his invitation to have the VECRR at his show. He knows that Terry and I are ready to go!
We walked the short distance to the station. We only had a few minutes to wait for the train on line 56. On the way home, Jeremy called his wife to check their social calendar for the following day. He was happy to announce that he had permission, that is, he was free to spend another day with us and show us the hobby shops and sights of Munich. Wonderful! We made plans to meet the next morning and hit the shops.
What a day we had spent with Manfred and Jeremy. Terry and I were in complete agreement that, for a pair of North American Z modellers, we had just spent the day at Santa's workshop. It was truly incredible, unforgettable and inspirational. Somehow, someway, we will just have to find a way to return to Germany!
Our trip had pretty much peaked with our visit to Manfred's realm. We needed to decompress and what better way to catch our breath than to hit the Munich hobby shops and spend some Euros?
---
Stay tuned for Episode 20 of the Great European AdventureZ 2002 | Return to Sinsheim Chronicles Home.
---