Val Ease Central Railroad by Jeffrey MacHan

The Sinsheim Chronicles: Episode 20
HSS's in Munich
Munich, Wednesday March 27, 2002.

There is nothing I like more than to go hobby shop hopping with Terry Sutfin. With Jeremy Brandon's help we were hoping to make several stops during the day but first we had promised ourselves a guided city tour to get our general bearings and to see the major landmarks.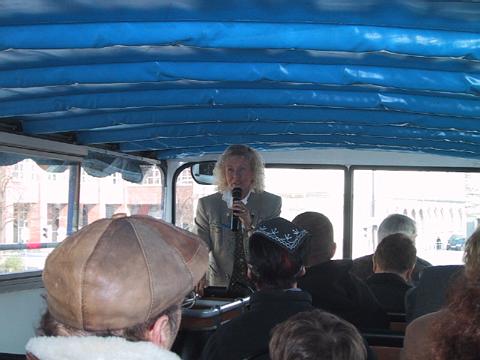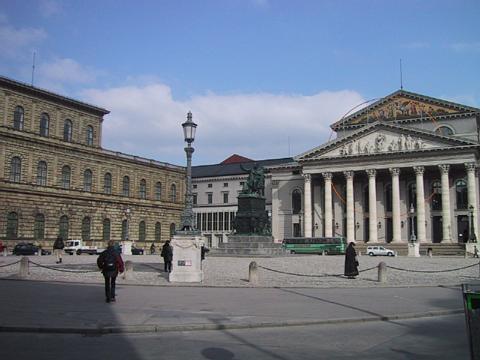 The three of us enjoyed a 1-hour English-German tour with the Yellow Cab Tour Lines. The guide was very animated and informative moving from one language to the other without taking a breath!

Thanks to the tour we had a better feeling of the layout of the city and its major attractions including the Palace, the Golden Angel, the English Garden, the twin 15th century church towers and the Opera House...

Once back on solid ground, we were off and hunting for hobby shops. The biggest and easiest to find was Fischers which had a huge sign along the boulevard. It was hard to miss.

The entrance held a surprise for Terry and me. Jeremy and Manfred had installed, in the main floor, an operating HO display. Customers walked right over the moving trains that were on a shuttle circuit. Jeremy wasn't happy because one of the two trains seemed to be stuck.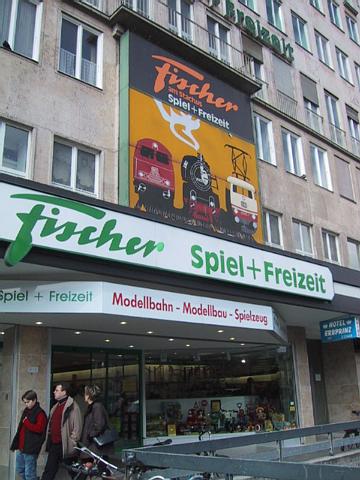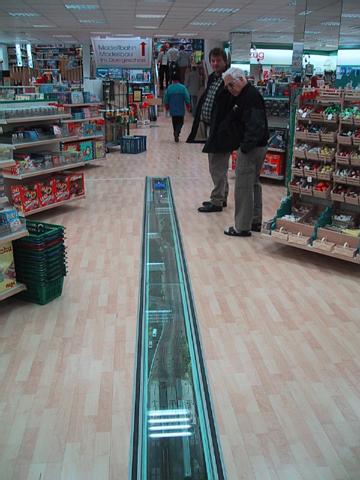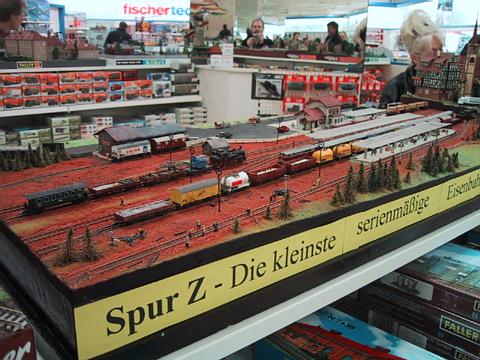 The second floor of this modern store was devoted to trains, RC and plastic kits. The displays were well done and the Z selection was reasonable although limited to the 2001 items.
The store had a clean WC which we all promptly put to good use in preparation for a full day of HSS's.
The next stop took us across the street (via an underground plaza) to Obletters Toy Store. I like a city that has two major toy stores across from each other!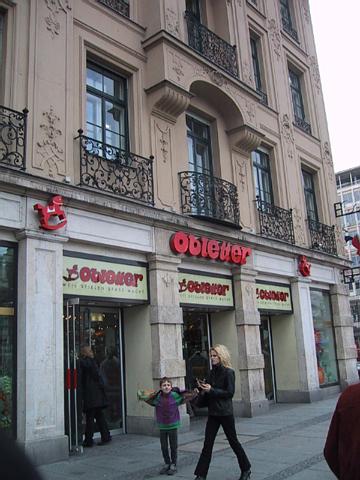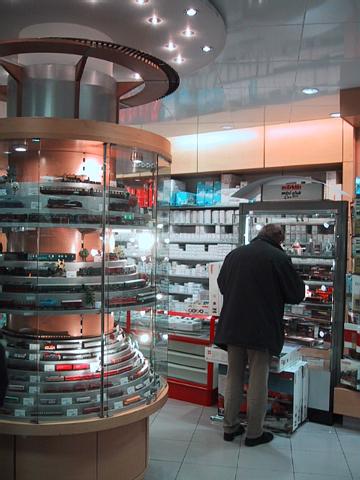 The train section was very well stocked in more unusual and hard to find items. They had Noch pre-formed N-Z layouts in several sizes and a good selection of plastic kits from Faller, Vollmer and Kibri. Another surprise was the fact that Obletter's was having a sale on Märklin Z! Too bad I didn't model DB because there were some very nice specials. Jeremy was especially interested in one loco in the 'Sale' case.
I actually made two purchases in Obletters although I forced the gang return to the store because I couldn't make up my mind the first time. I bought my wife a beautiful Fleischmann On30 steamer (Magic Train) that was reduced 40%. Fortunately for me she loved it and is now busy planning a whole layout in On30. My second purchase came the following day when Terry and I returned to our favourite HSs to revel in the trains. I picked up a Märklin presentation pack (you know, the one with the little blue 0-6-0 and car in the plastic case). It happened to be the only one in stock and it was on special too! I now had my 'official' Märklin souvenir from the trip :-) and it cost me less than a replacement 5 pole motor and chassis for my venerable 0-6-0 steamer.
As we wandered the main tourist area of Munich, we came across an inviting alley where our morning tour guide had indicated housed the world famous Hauptbrauhaus and the ubiquitous Hard Rock Cafe. Terry wanted to stop at both places...and so we did!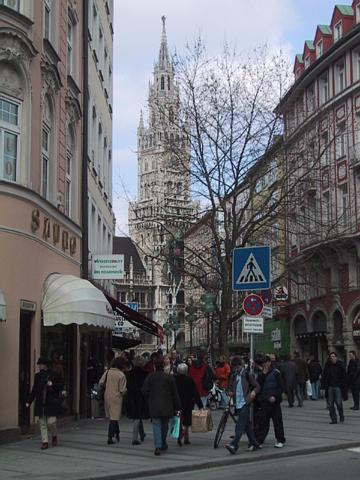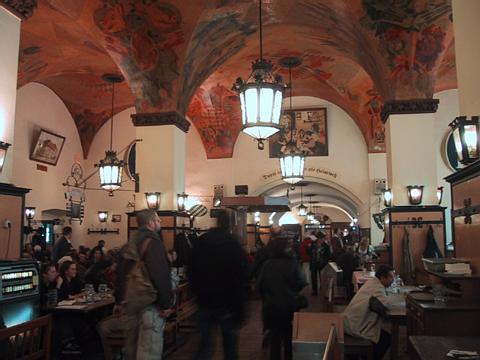 All this excitement and walking, especially, had generated an enormous desire for something to satisfy our thirst. Jeremy was only too happy to guide us through the central market (a must-see) at Marineplatz to a seat in the Nymphemberger Cafe.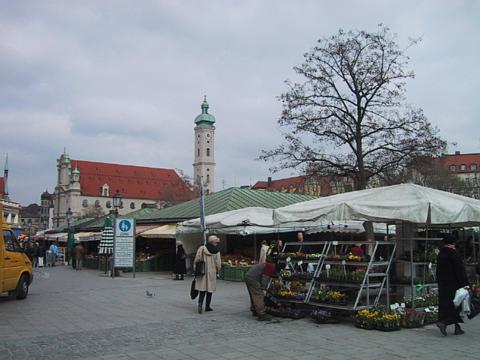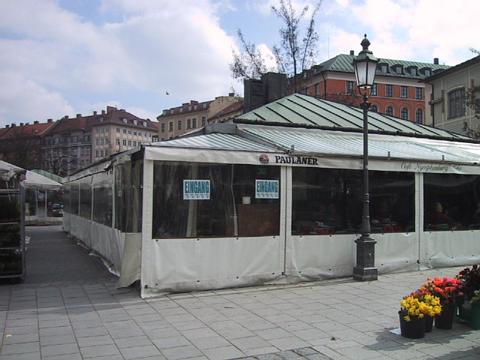 This cafe was so unassuming that we were probably the only tourists in the place. What a great find! Jeremy was also very proud to share with us what he called his favourite spot in all of Munich. I think you can see why!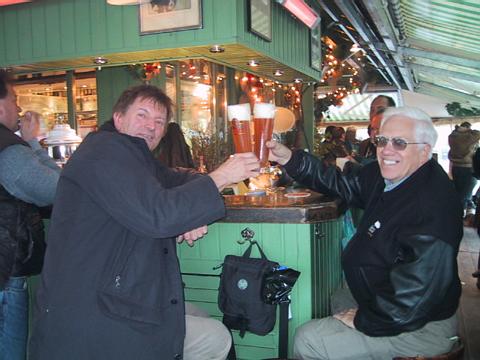 The service was fast, relaxed and the WC was just a few steps away. Not surprisingly, we returned several times to this cafe over the last days of our trip.
Our time-out for refreshments over, we hit the pavement once more in search of several other HSs within walking distance. Faced with the paucity of Z scale items in the hobby shops we had seen so far, I decided to widen the scope of my hunt. I announced that HOn30 would also be fun to look for, especially Bemo. Remembering that magnificent mallet Bemo had shown in Sinsheim, I wondered if it actually might be on a shelf somewhere in town. Jeremy knew of a couple of places that might fit the bill.
Herr Bauer's shop was full of LGB and Bemo. He informed me that the mallet in question would not be available until the Fall of 2002. Just as well for my wallet in any case.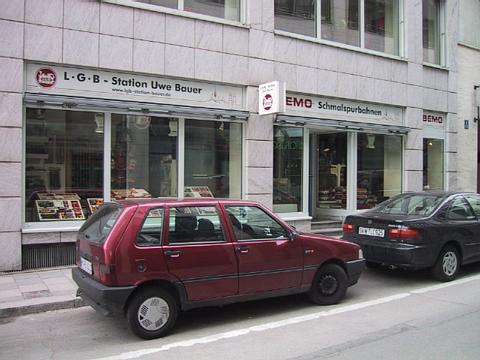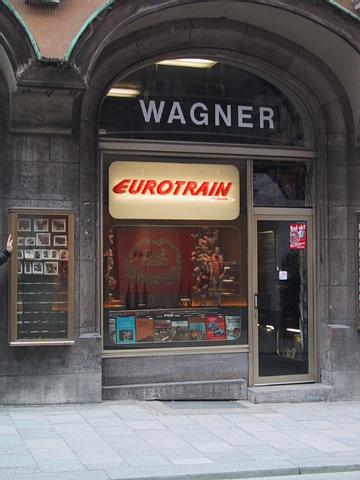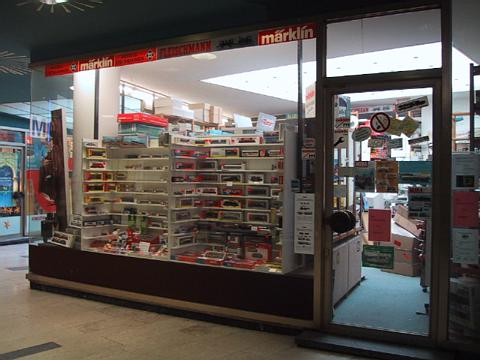 Wagner EuroTrains was a wonderful shop that offered US prototype in HO and N. This was the only store where we found Micro-Trains Line products. The only Z items to be found were some metal vehicles that were priced higher than their weight in gold. I did plunk down some Euros for a Roco HOe 0-6-0 to keep my wife's collection up-to-date.
Although we didn't visit this shop with Jeremy we did manage to find it with a little help from Model Railroader Magazine. Terry had brought along the address and we managed to spot it from the opposite side of the street, not far from Fischers. The store reminded me a lot of US mom and pop shops. It was grungy, disorganized, pricey and the owner didn't show any sign of interest in us. Just like home! There was a very small amount of Z, nothing to write home about, but I thought I'd mention it anyway. My advice: if you're in Munich, don't waste your time with this place, unless you're homesick!
Once we had exhausted the downtown HSs, we made our way toward the last stop before supper when we would be joined by Jeremy's wife, Elizabeth. We decided to climb the clock tower to see the city as dusk was settling. The 15 stories felt like we had climbed 15 stories!!! I stopped to take photos every 3 floors to hide the fact that I was exhausted! I don't think that Jeremy or Terry caught on...NOT!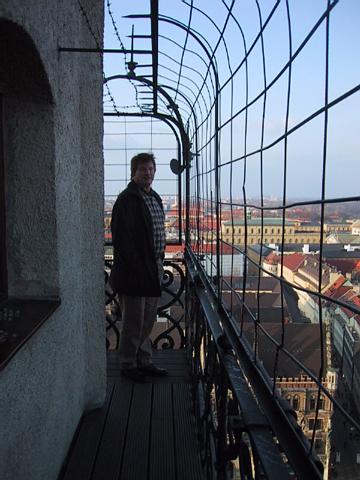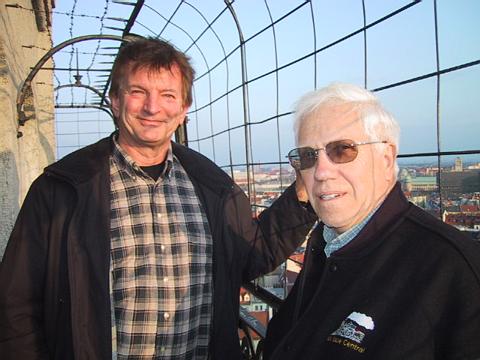 The view was wonderful and well worth the climb. We spent a good 45 minutes in the tower (the time I needed to get control of my leg muscles)!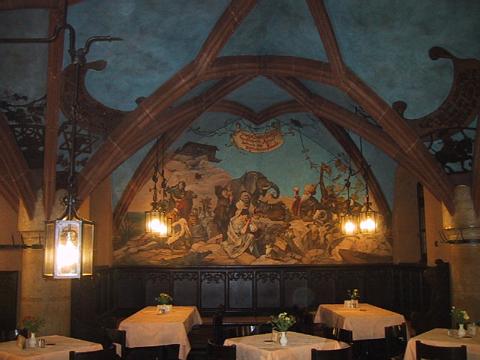 We decided to bail quickly before the clock could strike the hour and the bells would scare us out of our socks. We managed to make the descent in record time just as the tower began to sway with the tolling of the bells. 7pm, it was time to head over to the Rattskeller for supper. The town hall restaurant was cavernous and quite beautiful. This is definitely a spot to add to your list of places to visit. The food was as good as the decor.
Elizabeth joined us shortly and from that moment on we plunged into a non-stop whirlwind of conversation on politics, travel, business, train shows (had to get that subject onto the agenda) and, of course, the weather (Munich was enjoying a fantastic period of mild weather which Terry and I appreciated immensely).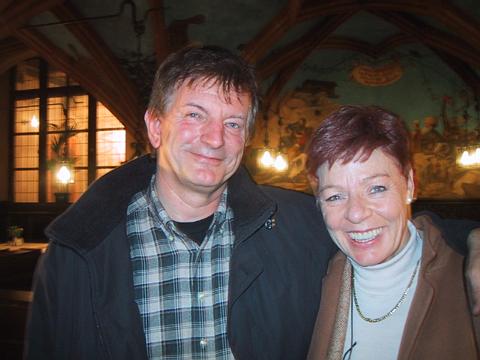 Elizabeth was warm, funny, intelligent and definitely a terrific dinner companion. Terry and I agreed that, if ever our wives had the chance to connect with Elizabeth, the rest of us had better buckle our seat belts and enjoy the ride. ;-)
As we stepped into the plaza in front of the Ratthaus with our new friends, I stopped to take a photo of the imposing towers that define old Munich. What a wonderful way to remember a superb day and evening!
The four of us rode tram 21 that would take us to Stiglemeirplatz, our stop, and ultimately on to the Brandon's home along Dachaustrasse.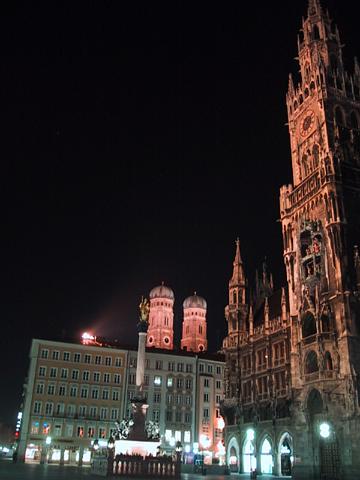 Thank you, Jeremy, for sharing your world with Terry and me. Just imagine the trouble we could get into if you ever came to this side of the pond!!!
---
Stay tuned for Episode 21 of the Great European AdventureZ 2002 | Return to Sinsheim Chronicles Home.
---