Val Ease Central Railroad by Jeffrey MacHan

The Sinsheim Chronicles: Episode 15
Episode 15: A Day in Santa's Workshop!
Munich, Tuesday March 26, 2002.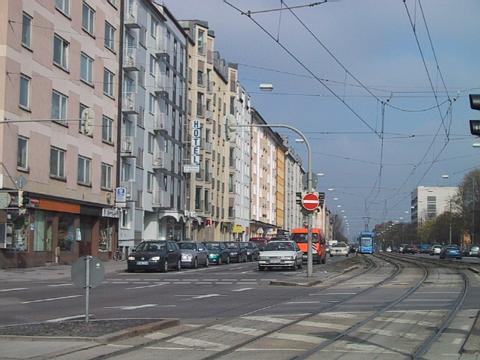 We woke to the singing of birds outside our window on a glorious sunny morning. It didn't take us long to get down to our now familiar continental breakfast of coffee, juice, rolls, cold cuts, hard-boiled eggs and a variety ofcheeses and fresh fruit.
At 9am we were eagerly waiting for Jeremy to arrive via the tram that passed directly in front of the hotel. Having reverted to children in our excitement about the day's adventure, it never dawned on us that we should actually have waited at the tram stop at the corner of the street.
Like fools we saw Jeremy alight from the tram and politely point out as we walked over to see him, that we could have continued our journey on the same car! Now we had a whole 5 minutes to wait for the next tram. We learned that during peak periods on workdays, trams were scheduled every 5 minutes in the innercity core.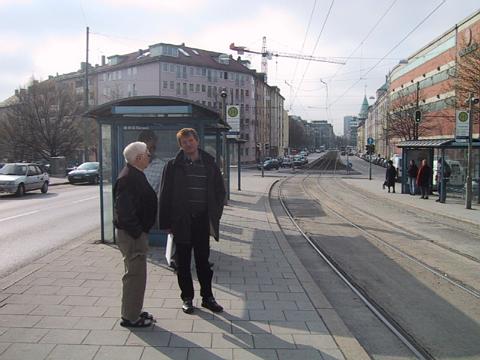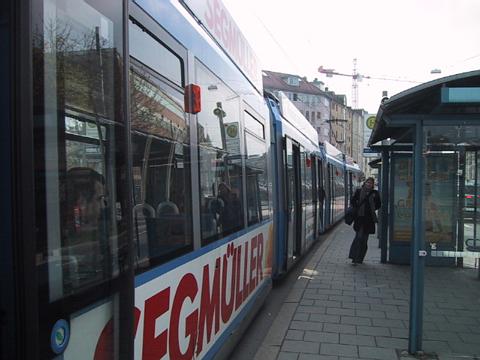 Right on time, the 6-car tram glided to a stop in front of us.
The day was gorgeous and seeing the city in the sunlight was fantastic. I for one enjoyed riding in the back of the clean, quiet tram, watching the city come to life.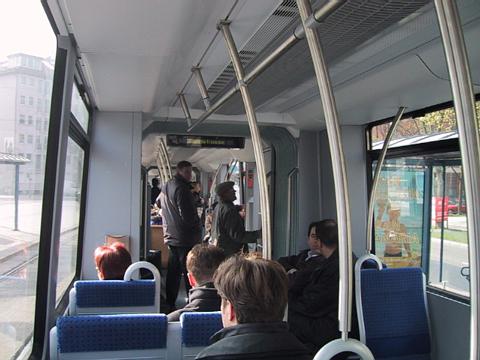 Less than 10 minutes later we were approaching the main station where we would take a regional train to Wurmtal where Manfred would pick us up for the short ride to his metal working shop.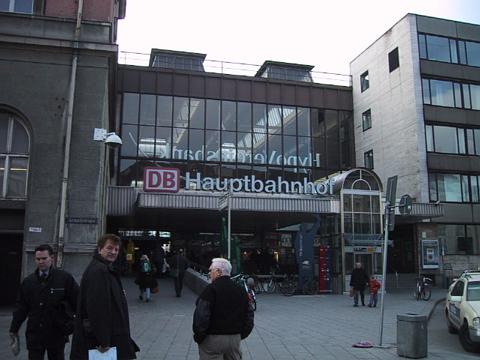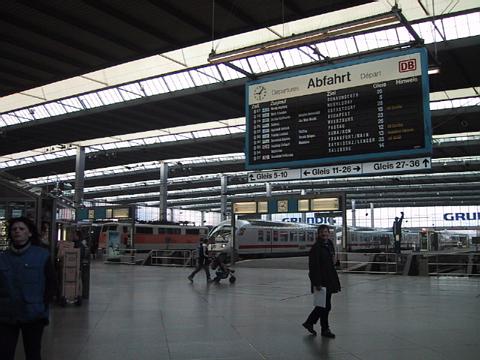 Jeremy had purchased a one-day group pass for the municipal transit system which would allow the 3 of us to travel to the edge of the inner zone and back. We had a short wait at the station for the departure of our regional commuter train.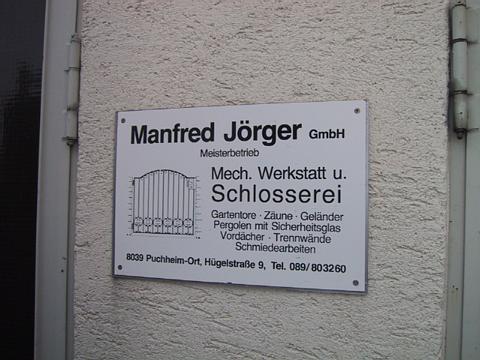 Seven stops later we dashed off the train and down the slope to the parking lot where less than two minutes later Manfred drove up in his VW Passat station wagon. Manfred speaks softly but with a huge smile in his voice. I didn't have a clue what he was saying to me but I was certain he was happy to be sharing it with me ;-) A couple of turns and stop signs later we pulled into the drive of Manfred's ironwright and metal working shop. Manfred is a master ironwright (his certificate was hanging on the wall to prove it) and I was happy be setting foot in his domain.
As we passed over the threshold of the large front doors to the shop the wonderful smell of metal filings, rubber, glue, solvent, and the grease and oils of metal working tools enveloped us. The sight was as dense as the attack on our other senses. I felt like I had been admitted into a very private world where only a privileged few had access. Within these walls the hands of a master craftsman caressed metal, wood and other materials into wonderful objects.
While Manfred and Jeremy were busy elsewhere Terry and I peered at every little detail of our incredible surroundings. For every urban dweller who had every flattened a thumb with a hammer, we were in a handyman's paradise. Pictures on the walls told stories of Manfred's past triumphs in modelling and layout building.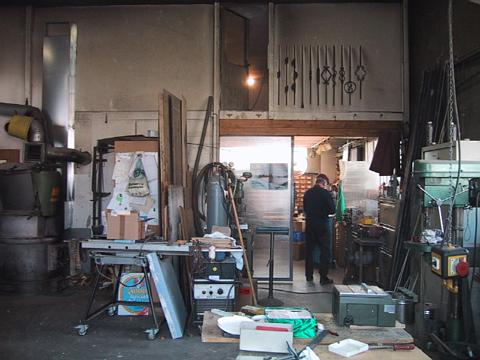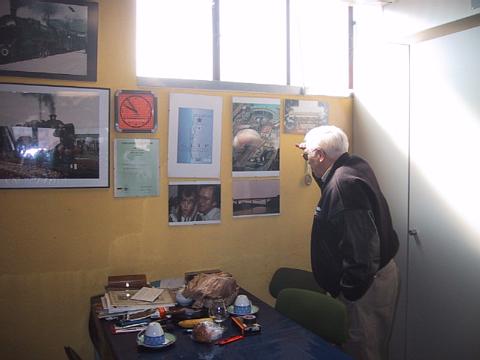 Just as we were about to ask where our host had gotten to, Manfred appeared with a cigarbox full of incredibly detailed miniature airplanes. He explained, through Jeremy, that he had made these exquisite miniatures when he was a teenager. The details were incredible! It was becoming clear that Manfred had an interest in Z scale well before Märklin launched the commercial version.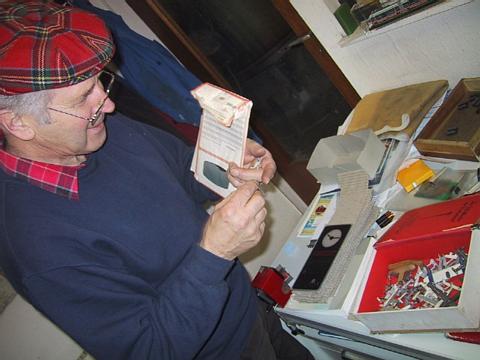 Now we were cooking! Manfred was ready to give us the grand tour of his current projects!
---
Stay tuned for Episode 16 of the Great European AdventureZ 2002 | Return to Sinsheim Chronicles Home.
---