Val Ease Central Railroad by Jeffrey MacHan

The Sinsheim Chronicles: Episode 16
Santa Makes Toys!
Manfred Joerger's workshop, Tuesday March 26, 2002.

During our earlier snooping around the workshop, Terry and I had noticed several stacks of bright red Märklin gondolas. Near by we saw a box of brass plates and another full of bevel-shaped pieces of some strange material. Manfred was about to dispell the mystery surrounding these items which can be seen behind Manfred in the following image.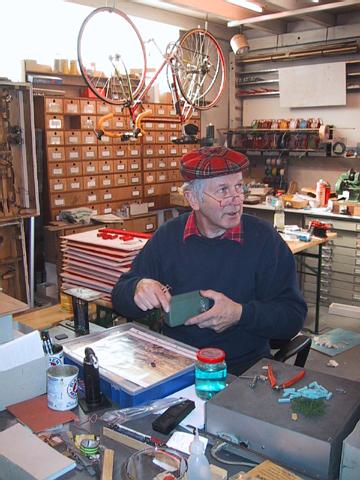 Jeremy explained that Märklin had commissioned Manfred to produce 4500 units of Z-scale track cleaning cars, 3000 of which he had already delivered. What we had before us were the beginnings of the next 1500 car production. Manfred had made several experimental prototypes before he devised the ingenious final version which he was about to assemble before our very eyes. ;-)
The gondola shells were delivered unassembled so that Manfred could drill the guide holes in them using his own jig assembly. The brass bottom plate was cast to Manfred's specs at a specialty shop. He would rmove the molding tree and sand off any flash. The next step was to use a special power tap tool of his own design to quickly tap the two screw holes in the base plate.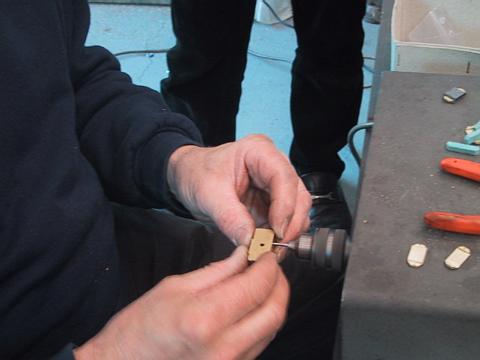 Next he would use a custom jig to position the screws, tension springs and base plate so that he could use two hex drivers to quickly tighten the hex screws.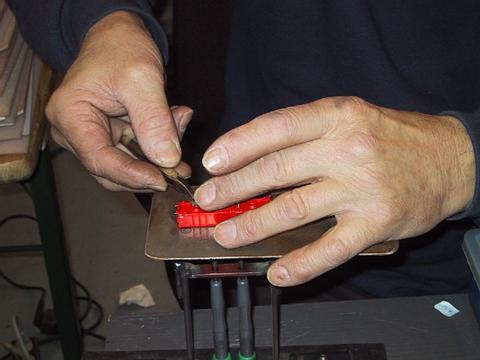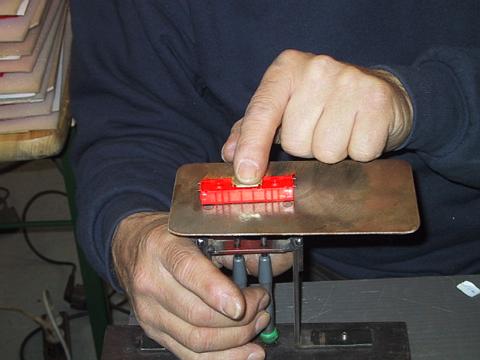 Once the plate was attached to the car, Manfred would slip a beveled piece of laminated fibre material (it looked like some sort of industrial belt to me?) into the base plate. Once he had snapped the trucks with wheels into place the car was ready to be packed in a made-to-measure plastic form and sealed into the Märklin jewel box along with a Joerger Industries data sheet and two extra scubbing pieces.
Jeremy explained that it was easy to clean the material by putting them into the end of a sock, tying the sock in a knot and throwing it into the washing machine. I can tell you that the fibre material that Manfred has found for his track cleaner works like a charm for collecting oil, grime and threads from the track. The VEC was a perfect test bed in Sinsheim. The Joerger track cleaner is available from Märklin dealers world-wide. Note: He is working on prototype cleaners for other scales and other manufacturers. I wish him success in his testing.
Terry and I were thrilled when Manfred offered us an original Joerger track-cleaning car. I will treasure this gift as a wonderful souvenir of our visit to Santa's Workshop!
Manfred is a problem solver for Märklin products. During our visit he showed us other products and projects he has been working on to improve the performance of Märklin's Z offerings. As some of you may already know, Manfred offers a loco driver upgrade service to add traction tyres to a pair of drivers. I actually got to see the source for his nylon traction tyres. Incredibly, he cuts them himself from a tubing roll.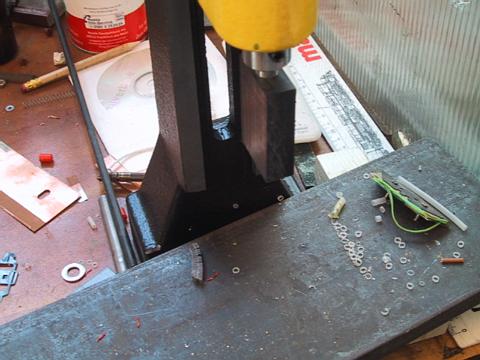 I am told that all you have to do is send him the drivers you want modified. He will turn them on his lathe and install the traction tyres. The result is astounding! Make sure that you get a quantity of replacement tyres with your order as I have seen the tyres wear out and come off the drivers. They are easily replaced. Contact Manfred to get a quote on this service. We also saw a box of Joerger track cleaning wands. They are fantastic! There is no other word for them. I used one in Sinsheim and was overjoyed to easily be able to clean grime and oxidation from all those hard-to-reach spots on the layout such as roundhouse leads, tunnel entrances and to give the trackwork a quick wipe even while trains were running.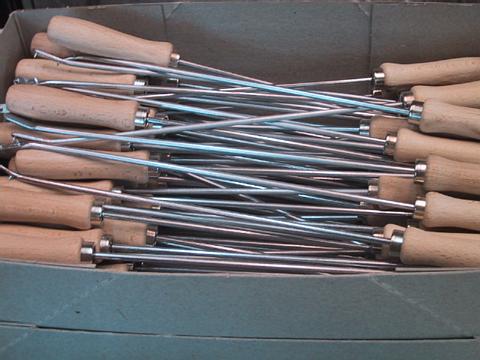 Manfred will also custom convert your Märklin regular and double-slip switches to reliable under-table operation. The mechanism is robust and reliable, I am told ;-) They are in operation on Manfred's own layout which has travelled to train shows across Germany.
It was time for lunch! Manfred has everything to satisfy a visitor's curiosity and hunger. We sat down to a wonderful meal of Bavarian white sausages and sweet mustard, copiously washed down with weissbier and a couple of bottles from Manfred's favourite local brand, "Joerger". Terry was beginning to get the hang of Bavarian beer consumption but he did say that he should have gone into beer-drinking training much earlier!
---
Stay tuned for Episode 17 of the Great European AdventureZ 2002 | Return to Sinsheim Chronicles Home.
---