Val Ease Central Railroad by Jeffrey MacHan

The Sinsheim Chronicles: Episode 10
Let's party!
Thursday March 21, 2002 wrap-up...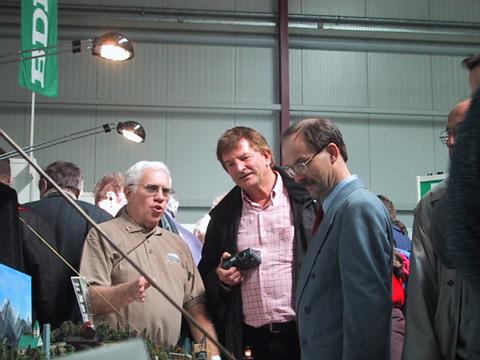 For the most part Terry and I were busy with conversations with visitors from the moment the doors opened until the doors closed at 5pm on March 21. Of course there were the normal derailments caused by wayward fingers and the occasional switch button being pushed surreptitiously by a curious bystander. Once Harald Freudenreich had dropped by with a new set of shims for my boxcab even it ran flawlessly on Val Ease East while Terry's unit pulled the tourist train on Val Ease West.
Several Z_Scale and VECRR list friends dropped by to welcome us to Germany. It was great chatting with Valentin Querner and Gerhard Beuttenmueller who also took some super pictures of me and the layout. We also met Eric Strauch who introduced himself as the Märklin uncoupler guy. He told me he loved the Märklin uncoupler and had never had a problem with his 120+ locomotives. He said he would be happy to answer any questions concerning automatic uncoupling with Märklin uncouplers. Erik.Strauch@bluewin.ch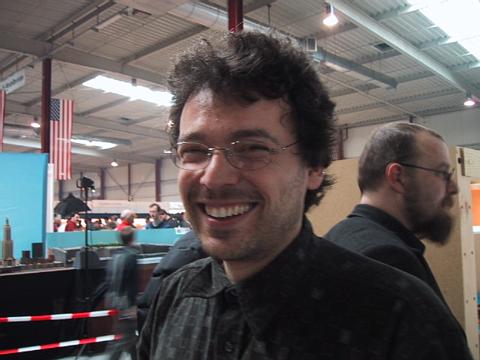 We also had visits by several photographers who were taking advantage of the thinning crowds to make the rounds and take photos for their publications. I had a nice conversation with Martin Menke of Alba Publications who mentioned that they were planning a special Z issue for September-October. Perhaps the VECRR will grace the pages of that magazine this fall. Walter Ruch from Switzerland also took some shots for the Eisenbahn Amateur Magazine. Finally Michael Echterbecher of Märklin Magazin came by to expose some film at the VECRR booth. Although he didn't say much he was all smiles as he took about ten shots of the layout and left me his card before saying "schoen, shoen". It was a high complement and I was very pleased.
Soon the crowds were gone and we draped the dust sheet over the now still layout. The opening day was an incredible experience and we were looking forward to the next BIG event on the social calendar...the welcome banquet! At 5:30pm we all made our way to the huge biergarten tent next to our hall where we were astonished by the spread that the organisers had laid on for all, yes, all of the exhibitors.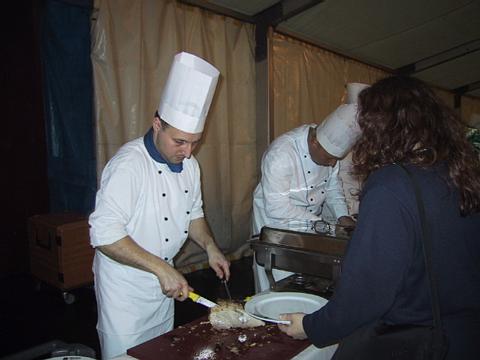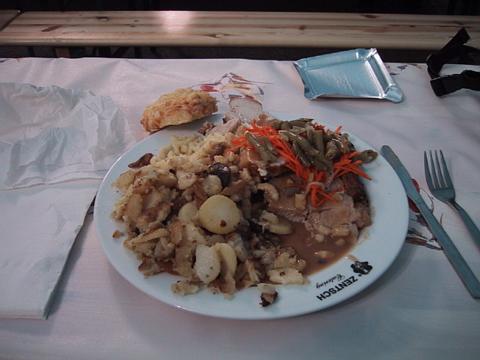 Three teams of chefs were carving generous portions of roast pork, stuffed turkey for the 1000 or so exhibitors who would soon be crammed onto the benches of the tent.
The lines moved quickly and soon the hall was filled with laughter, voices raised in greetings and the occasional cheer from some of the more exhuberant beer drinkers. There was lots of beer and sparkling water and juice and food and more food and beer, by the way, did I say beer?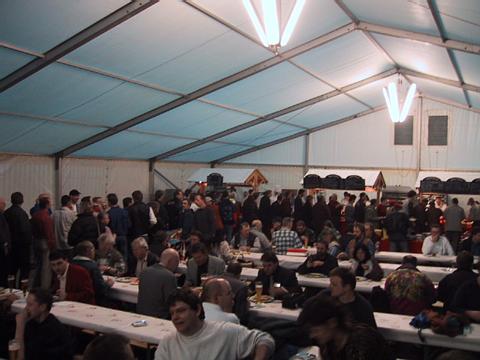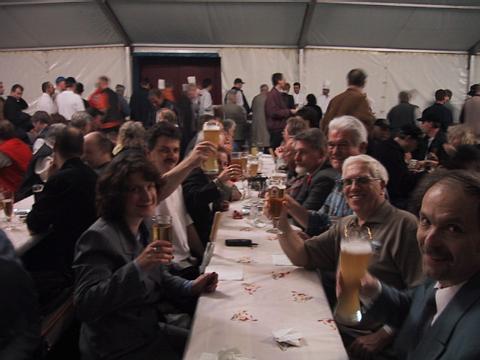 Our own little gang included the GermaNtrack crowd, Dieter Nolte, Terry, Harald and Ilona Freudenreich and our new friend who had crafted the four seasons Z layout joined us for laughter, good food but little conversation considering the background noise and the fact that nobody spoke the other's language!
The meal lasted until 9pm when we made our way in a pack to our waiting buses. The heavy rains of the afternoon had given way to a light drizzle but it was enough to get you wet quite quickly. We were back at the Business Hotel by 10pm and sound asleep by 10:30...dreaming about a GREAT day, a SUPER evening and why can't the NMRA do the same thing at NTS!
---
Friday March 22, 2002 Day 2 of Faszination Modellbau

The crowds were moderate on Friday which allowed us to visit the show and scope out great new stuff. The sky was overcast but the temperature was comfortable.

It soon became apparent that despite all our planning and the pile of documentation that we had to distribute for our visitors we had forgotten to bring photocopies of Ztrack Magazine cover pages. I had two sample copies of Ztrack which I kept on the work table behind the display for safekeeping.

Terry and I would bring them out to show to visitors who would often ask to sit and read them before saying goodbye. It was also obvious that Micro-Trains Line should have sent along corporate brochures. The only mention of MTL to be found was on the back of the VECRR brochures. Although this was a super endorsement of the layout it didn't provide interested visitors with any information on Micro-Trains products or suppliers. Terry and I handed out a large number of our VECRR business cards so hopefully our contacts will join us on Z_Scale for more info on NA Z modelling.

We received our official Faszination Modellbau show guides during the day and it was a thrill to see the VECRR listed in the BDEF section in bold letters. Of course Dieter's Red Rock Canyon was right along side. Dieter had another distinction, his photogenic fingers were shown grasping a Z loco in one of the railroading photos used in the FM brochure and on the web site. Congratulations Dieter!

Dieter had time to chat during the day and we covered every subject under the sun or should I say the cloud-covered sun. Dieter enjoys train shows just as much as the VECRR crew. It became very obvious that he knew everyone in the show milieu. He was especially enthusiastic that we should return to Faszination Modellbau next year. When I mentioned that my next dream trip was to participate in Modellbahn Treff in Goeppingen, he brought me crashing back to Earth with the information that Märklin does not pay for displays at their show; it is an honour to simply be invited to the show. OK, so much for that item on my life's ToDo list. I decided I'd check with Fred Gates on my return home to see what if anything could be done to influence Märklin's corporate policy on this matter. It's always fun to Dream!

In the meantime, I did check with Werner Zuendorf if there was any chance of returning to Sinsheim under the BDEF banner in 2004. The answer was no. Why? because the BDEF never invited back the same layouts to the exhibition. Their goal was to bring different US prototype layouts to the public at each meet. A wise and fair policy in my book.

The second day of the show went by without a hitch. The trains were running smoothly and we had met several Z friends and had a great time with the public and chasing down exciting goodies amongst the vendors. There was only one thing left on the day's agenda...supper with Dieter! This meant, of course, that we would get to go driving with Suzie once more!!!

Once back at the hotel, we strapped ourselves into the car, said hello to Suzie and waited breathlessly while Dieter instructed her on our destination...downtown Bruchsal where we hoped to find the train station and a decent restaurant.

Suzie said hello back to us in her sultry voice and without any further hesitation Dieter hit the accelerator and we were off! We were not to be disappointed. Not only did Dieter and Suzie have a series of arguments concerning missed turns, non-existant streets and obviously misplaced road signs, we managed to make a complete tour of the city's major landmarks such as the mountain road past the monastery and castle (twice) and an illegal turn across those pesky solid white lines coming out, backwards, from an underground parking lot. I won't even try to explain how we got in there. ;-)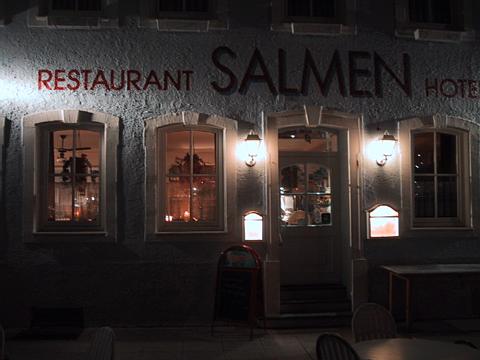 We finally managed to complete our first mission which was to see the train schedules for our departure from Sinsheim in direction of Goeppingen Monday morning. We then managed to find a parking spot not far from a series of restaurants in what looked like downtown Bruchsal. By that time we were very hungry and we decided to stop in at the Salmen Hotel restaurant which turned out to be very good indeed.
The atmosphere was cordial and relaxed and we had a good table on a platform overlooking the patrons in the bar. The food was good, we were happy, tired and still had one last ride with Suzie to look forward to before saying goodnight and goodbye to another fantastic day of our European AdventureZ.
---
Stay tuned for Episode 11 of the Great European AdventureZ 2002 | Return to Sinsheim Chronicles Home.
---