Val Ease Central Railroad by Jeffrey MacHan

The Sinsheim Chronicles: Episode 11
FriendZ drop in, Terry discovers a beery secret and a shopping we will go!
Saturday, March 23 FriendZ drop-in

The general level of excitement reached fever pitch whenever extra-special guests arrived to enjoy the fun. Manfred Joerger and Jeremy Brandon had driven up from Munich to join us for the day. Manfred is a well-known Z modeller and specialty manufacturer in Germany. His magnificent modular layout makes several outings a year under the sponsorship of Märklin Gmbd and finally meeting Jeremy and Manfred was a high point of the trip. Jeremy Brandon has joined Manfred as his electronics guru and partner in show management.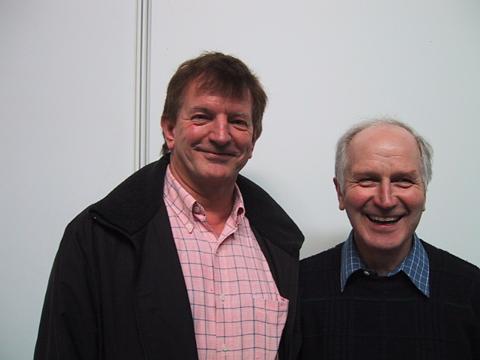 Manfred also brought a gift for us...an original Joerger track cleaning rod and pad. The rod has an ingenious pad holder on the end of a 12-inch handle which allows cleaning of all those hard to reach places on a layout. It also doubles as one wicked back scratcher!!! For the first time in years I was able to clean the roundhouse leads and tunnel tracks without having to remove parts of the layout. You should see the oil and grime the non-abrasive pads picked up. I'll tell you more about these cleaners in a future episode but the bottom line is, they are the best tool I have for track cleaning, period.
We had the pleasure of meeting other special visitors from the VECRR group. Primoz and Violeta Koselj made the trip to Sinsheim from Slovenia to see us! They are a young couple who enjoy Z scale modelling. It's amazing what the Internet has done to bring our community together.
Dieter was meeting a huge number of German and Italian Z modellers. In many cases they had no idea that Z_Scale or VECRR existed nor Ztrack nor ZClub92 for that matter. There is just as much work to be done in Europe it seems to reach our constituency as there is in NA, well maybe not quite as much, but still there is work to be done.
Saturday's crowds were supposed to be monstrous and unruly, at least that is what several veteran Sinsheim exhibitors had told us. Honestly, the thickest crowds I have ever encountered were in West Springfield, MA last February followed closely by Sinsheim. As for the issue of unruly kids and parents, we had no trouble whatsoever. The crowds in Germany were just as appreciative and well-behaved as those in the USA and Canada. There was not even one case of anyone intentionally causing a problem with the layout. The crowd barrier that we had improvised was useful to allow Terry and me to wiggle in front of the visitors with less trouble. It certainly did not keep anyone away from the edge of the layout. I did realize that placing a mylar mirror at an angle over the layout would help attract visitors whenever there was a crowd in front. This has been added to my projects database ;-)
During the afternoon, I made a quick trip over to see Jens Wimmel to take some pictures of his prize-winning layout and to get a few details of his Z modelling for Ztrack Magazine. He was a proud champion and an excellent ambassador for Z digital.
Saturday was also the day that I would get to meet Eric Foxman from Widbey Island, Washington, the z enthusiast who must have set the record for having travelled the farthest to see the VECRR. He had actually arranged a business trip to coincide with FM so that he would be able to join us in Sinsheim.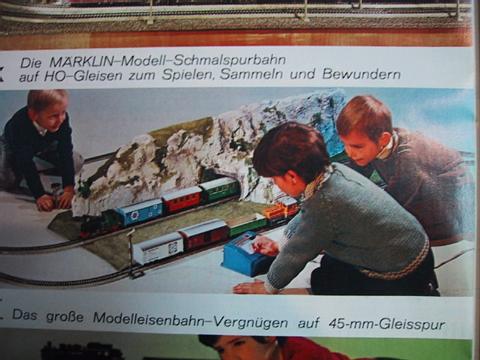 Not only that, Eric would also be our guide in Goeppingen on the following Monday. His help in booking a hotel room for Sunday night and finding train schedules was invaluable. Thank you Eric. Eric also came by with his good friend Frank Pettinger who was also a Z enthusiast. Frank had an interesting story to share. While shopping around the many vendors he spotted an old Märklin catalog (1971) where, believe it or not, as a child of 5 1/2 he was shown in a picture of three kids playing with Märklin trains.
I know that Eric and Frank certainly enjoyed their visit to the show, judging from the bags of goodies that they were clutching. They also had time to chat with our other vistors during the day.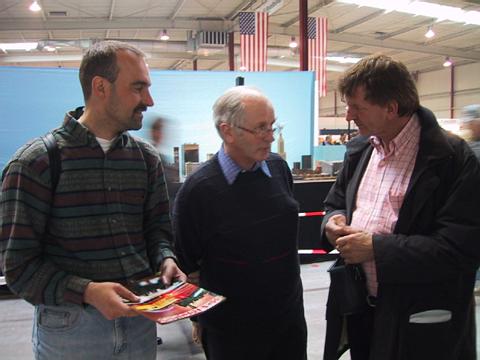 Terry discovers a beery secret!
Our evening meal took place in the very enjoyable company of Thursten and the GermaNtrak club at a local brewery in Sinsheim. Terry and I had the opportunity to have a 5 way conversation in English with Norbert, his wife Tina and his brother, Gunter. Gunter and Norbert individually had great difficulty with English but after a few beers and together they did extremely well in getting their message across. Tina, although reserved in her participation in the conversation, was always ready with the exact word that her hubby and brother-in-law were looking for. She also was very animated in her reactions to what we were saying. I supect that her English was as good as mine but she didn't want her accomplices to know ;-)
This evening also produced a shocking revelation that took Terry by complete surprise...Bavarians drink adulterated beer! Yes, they actually add lemonade or lemon-lime soda to their beer. Poor Terry thought he could at least keep up with Tina but he was drinking the real thing! My apple juice came mixed with club soda...yuckkk!
Fortunately we got a lift back to the hotel in Bruchsal in a Chevy van of all things driven by one of the members of the GermaNtrak gang who was drinking beer and lemonade and who wisely stuck to the slow lane of the autobahn ;-)
---
Sunday March 24, 2002

We waved goodbye to the Bruchsal Business Hotel proud in the knowledge that we never set foot in the attached McDonald's restaurant and rolled our luggage onto the shuttle bus. We had decided to depart by train for Goeppingen immediately after the show so that we would be in time for our appointment at Märklin Monday morning.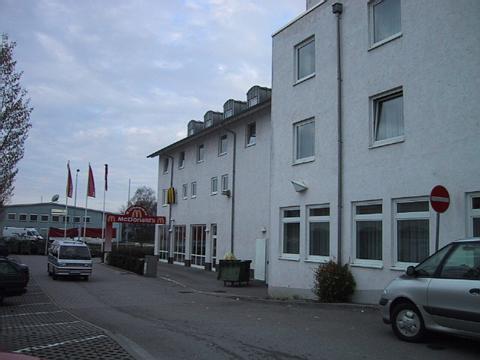 A shopping we will go! or Time to warm up the plastic and pull out the Euros!
The only problem was none of the banking machines that I had tried would accept the two pieces of plastic that I had brought with me for cash purposes. Fortunately Terry was able to make friends with the automatic banking machine and loan me a few Euros for emergencies. My money crunch was eventually taken care of when Werner Zuendorf arrived with an envelope containing my appearance fee in cash! From that moment on I was afraid that every stranger I met on the street was a potential pickpocket. In fact my greatest threat was the constant temptation to let the goodies at the show separate me from more than I had budgeted for.
We had seen lots to tempt us:
- Halwa turnouts, a motorized turntable & roundhouse...
- Zm mine cars and track at the IG Z modular stand...
- FM husky stacks at Harald's booth... - Heckel pantographs and detail parts that needed a magnifying glass to see, beautiful but very pricey...
- Artitec boats and structures that were well detailed but too European for the VEC but a fine choice nevertheless... - a working digital Z tachometer car...
- AZL goodies (GE Dash 9s and PAs) also at Harald's booth...
- micro lights and circuits including photoetched Z bicycles were to be found at Mayerhofer's, one of the most colourful and flashy (literally) stands at the show...
- and of course, Schmidt and other vendors who had used and new Railex, Schmidt and Märklin items. Ouch!!
I had come to the show with a short wish list none of which I found in Sinsheim. I did buy the FM comemorative car and two strings of red, yellow, green microLEDs at Mayerhofer. For purely fun reasons I bought a set of two Z bicycles. I'm afraid that if I open the package they'll disappear in a puff of wind. I did do some shopping for gifts for my wife's HOn30 layout. I found a very nice Brawa materials car in HOe and I picked up a dremel tool drill press. This tool may come in handy with my scratch building projects and to help Marthe apply pressure on her stamps. Roco had a magnificent mallet on display and I might have succumbed to temptation if they actually had it on sale. Thank goodness it was a New item for 2002 and would not be available until Fall. That was a close call! Terry managed to find a set of roller test pieces called Rotaroll at a most reasonable price. See http://www.sb- Modellbau.com for a good look at them.
Overall I actually spent less than 200 Euro at the show. I could hardly believe my restraint. Then again the trip was far from over, I reminded myself. Terry was as determined as I to visit every hobby shop within walking distance of our hotels in Goeppingen and Munich. I packed my small collection of goodies in the shipping case for the trip home.
As the day was wrapping up, it was fun to have a local TV crew come throught the BDEF section filming for an upcoming show (May 5) on Faszination Modellbau. They spent quite a while filming the GermaNtrack city module in front of us then swung over to film two segments with the VECRR then the West Lumber HO layout. They didn't interview me (wonder why?) but spent a good deal of time talking to Thursten. Could the reason be that I didn't speak any German? I wonder?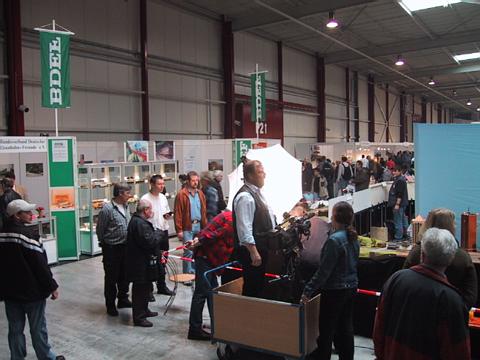 Good ol' Dieter had not finished making the rounds of the VIPs at the show. I told you that he knew everyone. He was happy to announce that he had received his confirmation letter from the BDEF to participate in the Leipzig train show in June. Congratulations again, Ambassador Dieter.
Next thing I knew Dieter was introducing me to Roland Kimmich, President of Z-Club International and the Railex representative. After a few minutes chatting about the success of the show, Mr. Kimmich invited me to bring the VECRR to the train show that he was organizing in Stuttgart next November. My response was immediate...if he was willing to pay for my expenses, I'd be happy to attend. The funny thing about all of this is that he also mentioned that he was a lawyer and I commented that in the US, his offer and my acceptance would be considered a verbal contract. I don't recall him smiling in agreement ;-)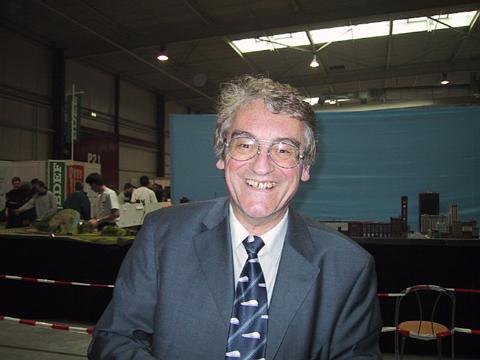 It would be wonderful to return to Germany in November and I have since confirmed my interest by fax. The ball is now in Mr. Kimmich's court...
As the day drew to a close I was content to look at the crowds and see the smiles and expressions of pure wonder on the faces of my visitors. I didn't need to speak German to understand the feelings being expressed.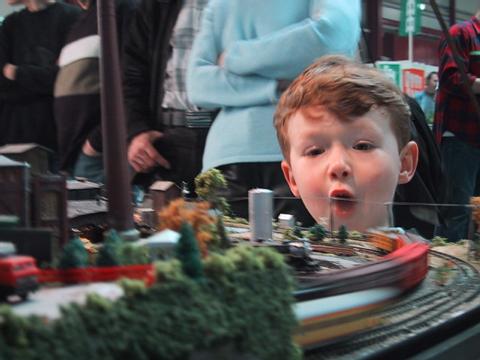 This is what it's all about!
The announcement over the PA came to signal the close of the 2002 edition of Faszination Modellbau. Terry and I thanked our hosts, Werner and Helga Zuendorf and wished our new friends from the BDEF layouts great success in their future endeavours. We then got cracking packing up the layout. We had given away a good deal of documentation so there was room in the case for all the Märklin marketing trinkets we had collected from the departing Märklin reps. We had stickers, keychains, erasers, rulers, wooden whistles, pins...enough give-aways for several train shows to come. Now if only Micro-Trains had something similar we'd have a balance in our literature and gifts to the public. Hint, hint!
Farewell to Sinsheim...
In less than an hour we were packed up and wheeling the case toward the Schenker warehouse on the far side of the Messe. We had to wait for a few minutes for the agent to officially take the case off our hands. It took us about 10 minutes to make the walk to the Sinsheim station dragging our roller-equiped luggage behind us. Along the way, Terry and I stopped and shook hands. We had accomplished something that no North American modellers had done, and we were proud to have had the opportunity to share in the excitement of Faszination Modellbau. We would soon be on the train to Goeppingen for phase two of our Great European AdventureZ. It was hard to believe where we were and what we had done and what we were still about to do!!!
Thanks to everyone who helped to make this dream trip to Sinsheim come true. I would like to personally thank Dieter Nolte for his inestimable help in making contacts, providing translation and for helping us feel perfectly at home in a foreign country. Of course this trip would not have been possible without the financial help of BDEF-Faszination Modellbau and my US sponsors. I would like to extend a heatfelt thankyou to George Menzie, Director of Marketing at Micro-Trains Line, Fred Gates, President of Märklin Inc. and Russ Larson of Kalmbach Publications-Model Railroader Magazine.
---
Stay tuned for Episode 12 of the Great European AdventureZ 2002 | Return to Sinsheim Chronicles Home.
---