Val Ease Central Railroad by Jeffrey MacHan

The Sinsheim Chronicles: Episode 9
Trains, trains and more trains!
Thursday March 21-22-23-24, 2002 continued...

Here is a selection of some of the wonderful layouts that were on display to delight the kid in all of us. Note: it took me 3 days of wandering through the show to get a superficial viewing of these magnificent creations. These layouts were probably the finest collection of "portable" layouts I had ever seen. Some in fact were unique such as the LGB under catenary and the TT modular layout.

I'll try to keep my comments short and let the photos do the talking!

The first pic shows just a small portion of a huge HO modular layout that featured extraordinary city scenes. The trains were highly detailed and varied. The crew is shown relaxing with a weissbeer or two before the crowds arrive...

The HO group layout looped back on the other side of this bus which housed a travelling hobby shop.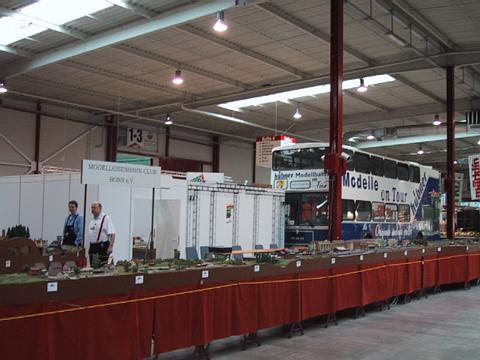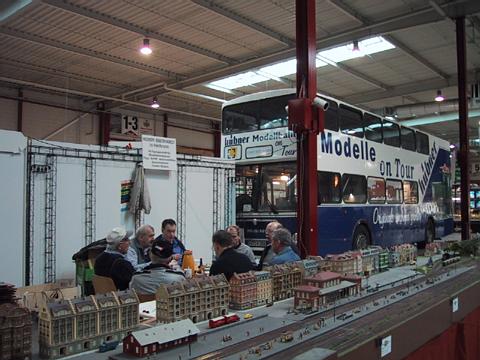 Just behind the BDEF area there was an interesting snowy winter landscape done by Hemal HO.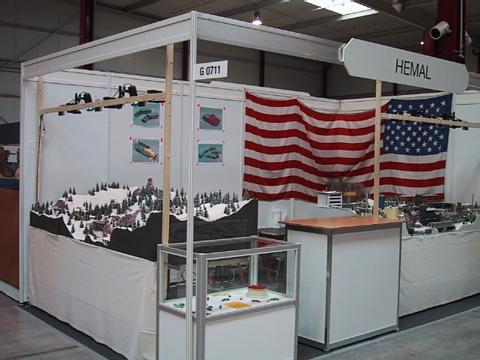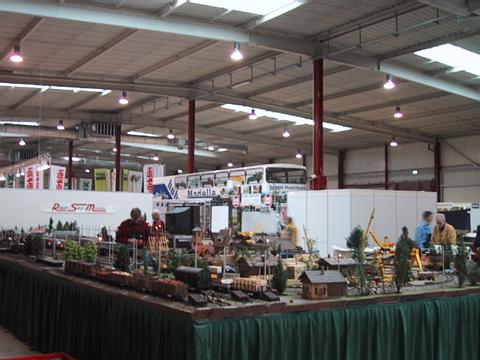 The LGB club showed off their wonderful layout under operating catenary. There were many craftsmen present at the show who would build your custom G or #1 scale locomotive with all the bells and whistles, literally. I particularly liked this hand-built shunter and loco shed.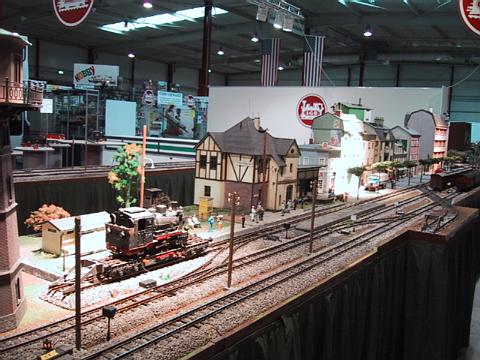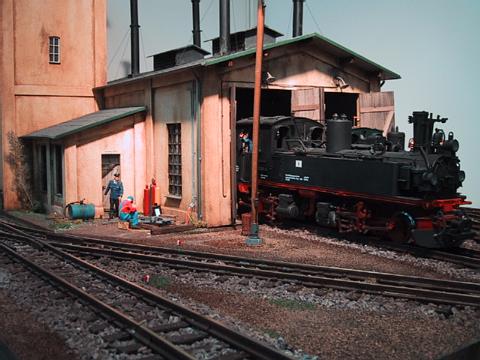 We were fortunate to have several Z scale layouts at the show. One of the vendors was offering this 4-seasons layout that was a real eye-catcher.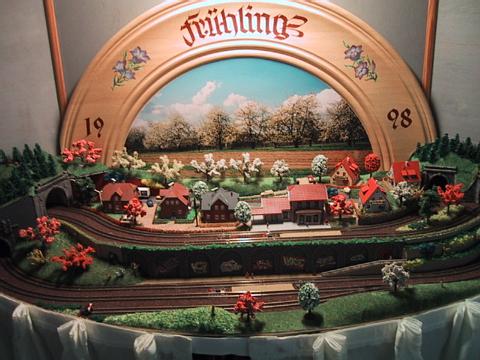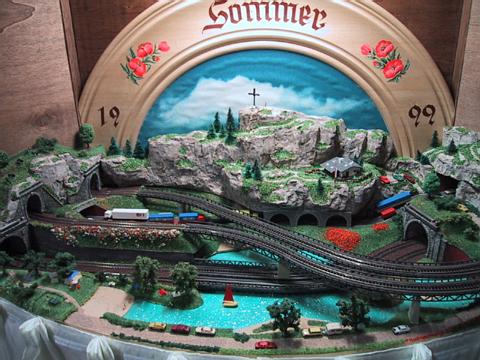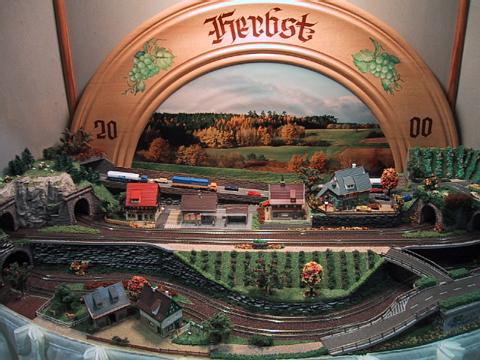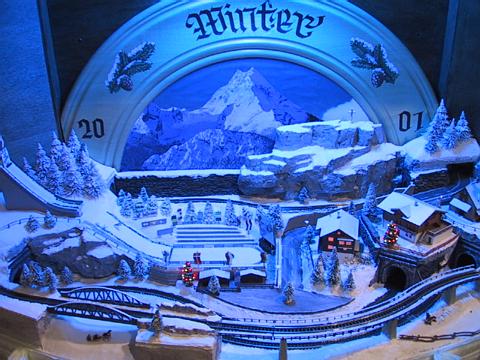 Of course Märklin had an enormous stand with operating layouts and about ten people to demonstrate their products and sell subscriptions to Märklin Magazin. The HO layout was 100% digital and equiped with CC cameras to show the action from several track-side angles.
The test track was not very popular with the visitors. Nobody, it seemed was interested in climbing on a bicycle and pedalling to run the trains. Someone in the Märklin marketing department should start looking for a new job..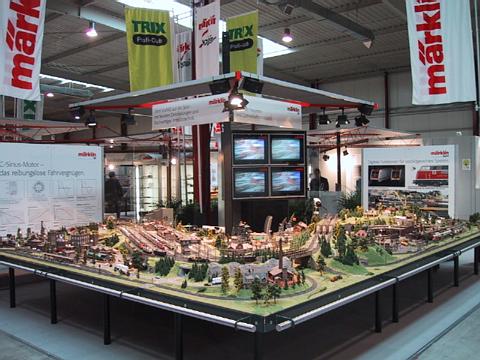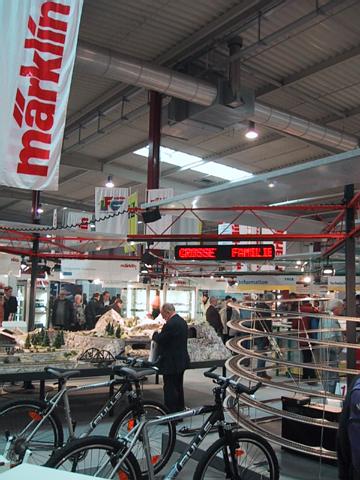 The Märklin Z layout was the most elaborate I have ever seen, although I can't say that I've seen many large layouts. The layout was quite low so it was not convenient to get down on one's knees to improve the angle of view. I can't help being a little critical with the layout since the rails were bright silver (pet peeve) although I was very happy to see the trains running at a reasonably slow speed. Right next door, the Roco N layout was quite colourful. I thought that it would make a nice Z plan.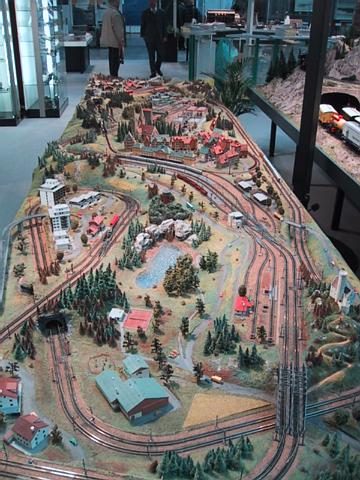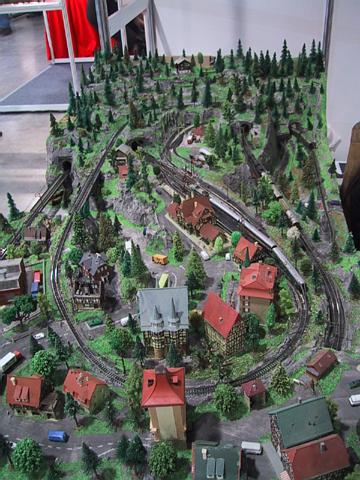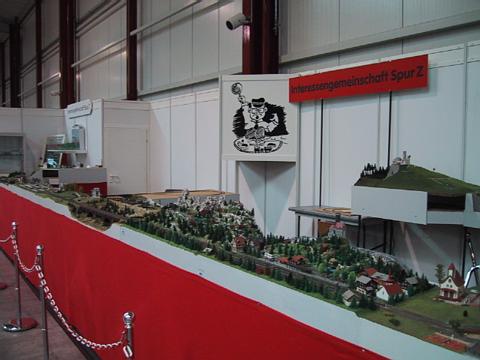 We were also fortunate to have a Z modular club "Interessengemeinschaft Spur Z" showing the possibilities of our scale to the public. There were about six modules set up with a variety of city and country scenes. The club president, Ziggy, (what an appropriate name!) was constantly busy in deep conversation with visitors. As a result I never had a chance to talk with her. The club had a display case with the Zm mine trackage and cars. It was actually very nice and would make a great attention-grabbing detail on a mining scene.
There were many other layouts to be seen and some were in scales that I had never seen before like TT. I actually felt superiour to our poor TT friends when it comes to market share in the model railroading world. They had a good contingent of modellers and manufacturers at the show and everyone was having a great time.
I think that it is only fitting that I conclude this rapid overview of the wonderful layouts that we had the priviledge of seeing by presenting Jens Wimmel, from Chur, Switzerland, won first prize at the private layout competition run by Faszination Modellbau. Note: just so that you don't get confused about this, the VECRR was not a participant in the layout competition since it was an invited layout in the BDEF section. Jens did a nice job on his layout which was designed from the start to be digital. He uses Digirail decoders and software to operate 3 trains on his pike.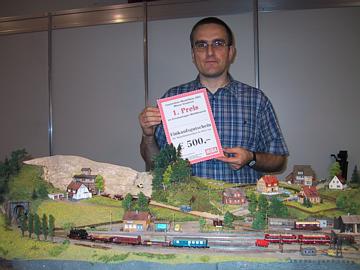 BTW I did suggest to Jens to work on a backdrop for his next layout project ;-)
Here are a couple of shots of action on the Blumendorf layout by Jens Wimmel, 2002 Faszination Modellbau Champion. Congratulations Jens and keep up the good work for Z.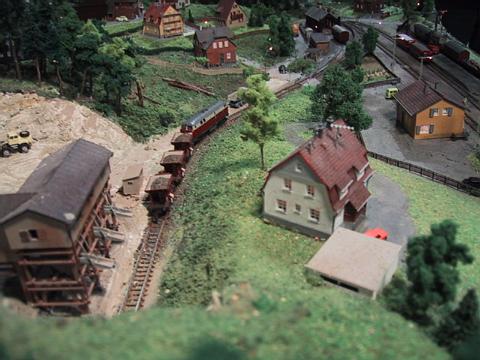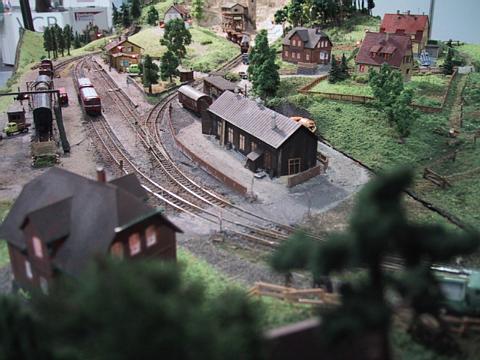 ---
Stay tuned for Episode 10 of the Great European AdventureZ 2002 | Return to Sinsheim Chronicles Home.
---