Val Ease Central Railroad by Jeffrey MacHan

The Sinsheim Chronicles: Episode 2
The London layover...
...waking up to a bright beautiful sunny sky on our approach to London, Heathrow, we were ecstatic about our good fortune to have such wonderful weather...then we passed through the cloud cover and our skies turned gray.

My stepson Jean-Philippe was on hand to greet us at Arrivals after passing very quickly through customs with our carry-on only luggage. J-P is an investment banker with Merrill-Lynch, London and he had room in his flat for two model railroaders on their way to Germany. Terry and I wanted to spend the first day in London seeing the city and getting over any jet-lag effects. J-P guided us to the Heathrow express train which cost us 12£ each. Fortunately the automatic ticket machine took our NA credit cards. The train was our first experience ever with the now privatized British Rail. Seemed OK to me...and we arrived at Paddington Station about 35 minutes later.

We couldn't believe that we were really standing on the platform of Paddington Station. I took about 20 pictures but you'll only have to put up with one.

(Note: for simplicity, I will place a link to the full-sized photos as well as attach thumbnail images to the report.)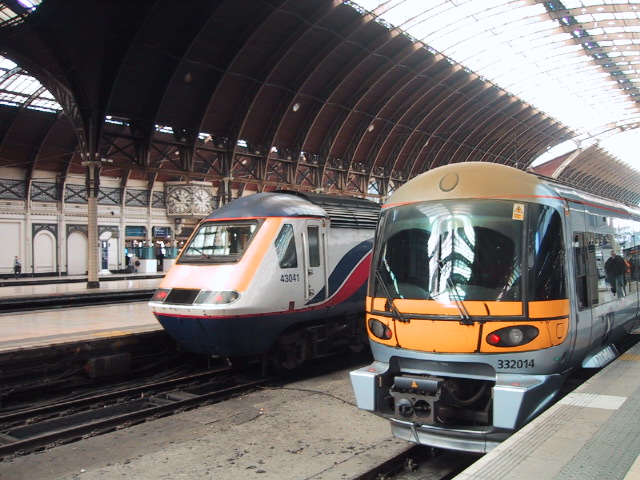 First things first, finding the WC! It would become readily apparent early into this trip that our secondary mission would be to identify the best public toilets along our route. ;-)
Next stop was in the back of a London cab. We learned that all the cabs are supplied by London International Cab Co.. They cost about 50,000£ and last 10 years on the average after more than 1 million miles criss-crossing the streets of London. Just FYI!
20 minutes later we were climbing the stairs to J-P's Kingsmill apartment about 5 minutes walk from the entrance to Regent's Park.
To make a long story short...too late! Jean-Philippe and Isabelle made us feel perfectly at home. After a shower and a wonderful meal, Terry, JP and I headed off to explore London's alleys and byways to find Z trains and the Hard Rock Cafe!
Regent's Park is a huge green space in central London with a lake filled it seemed with waterfowl from all over Europe. I saw species of ducks, geese and swans that were completely new to me. The weather was comfortable, but the clouds appeared threatening. I took pictures along the way but the shockingly bright colours of the flower beds captured my eye.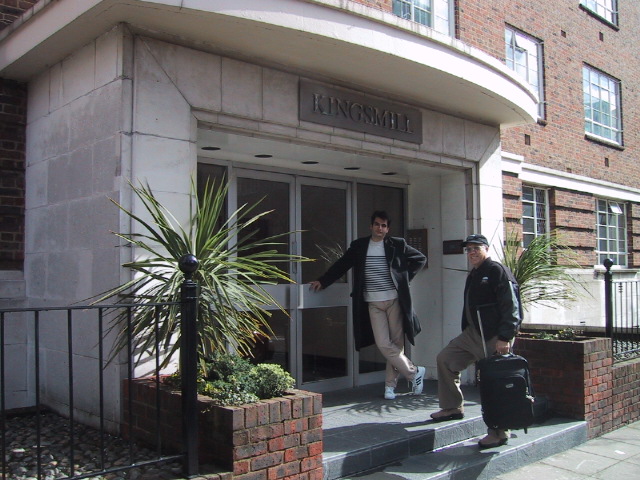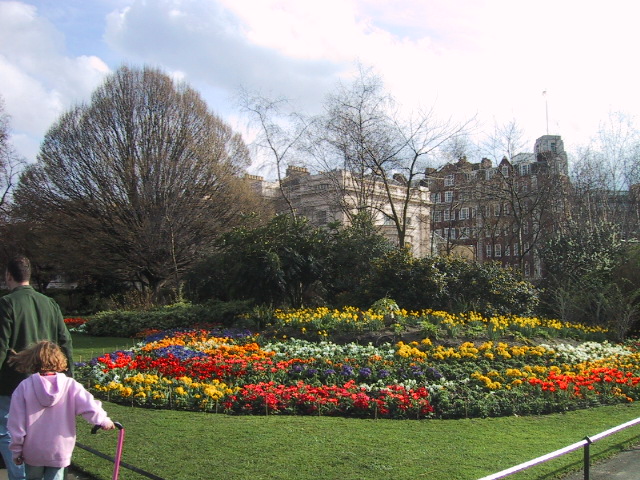 Our walking tour took us past the Sherlock Holmes Museum, the Disney Store and many incredible buildings and narrow streets. I was quite surprised at how narrow the major streets were in London. No grand boulevards, no huge monuments. Eventually arriving at Picadilli Circus we spotted a toy store that proclaimed proudly on the front facade, "Hamleys Toys, The World's Finest Toy Shop". Okay...gotta check this out...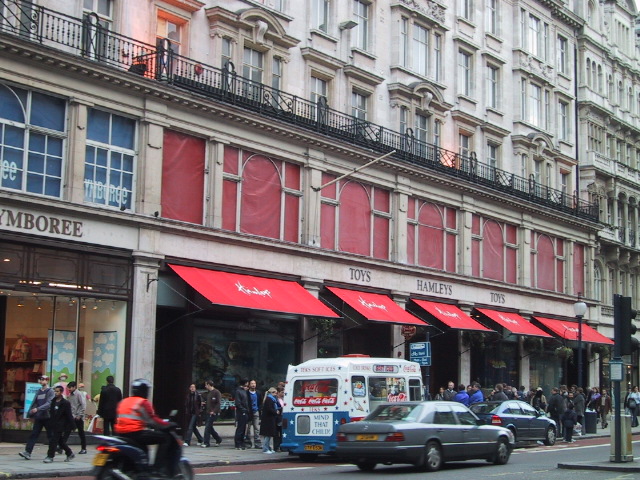 The store resembled F.A.O. Schwartz from the huge stuffed animals at the entrance to the employees demonstrating all sorts of gizmos and gadgets. The trains were on the 5th of 6 floors so up we went on the escalators along with piles of children. Don't kids go to school in England? It was fun seeing the huge assortment of British prototype trains in HO, N and...sorry not in Z. There was a Märklin mini-club shelf with 5 or 6 items and a starter set. At least they had Z!
With a stiff British upper lip we decided to bravely carry onward. We had lots to enjoy and our walking tour took us to Leicester Square where we spotted a friendly sign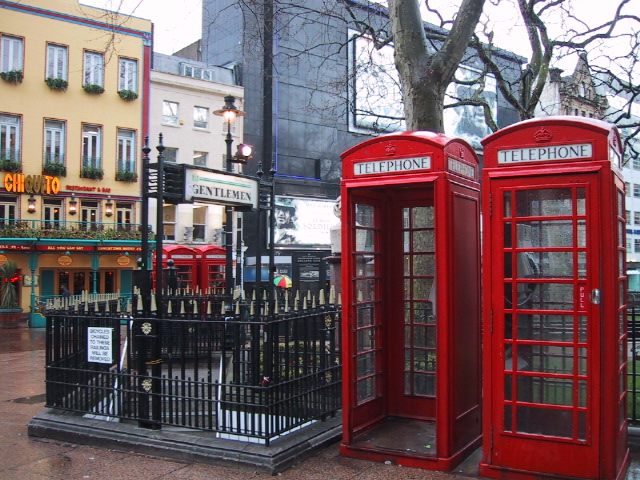 and then to J-P's office in a magnificent new building that Merrill-Lynch had built before the high tech meltdown.
Somehow we managed to get back to the apartment where we had to finalize our plans for the next day. We had hoped to arrange a get-together with Tony H-Ellary and some Z_Scale friends on Monday evening. We especially wanted to see Tony's huge digital layout. Learning that Tony lived in Northampton and that getting there and back would take more time than we had, I contacted our Z buddy to cancel the trip to see him. Perhaps we'll get the chance some day.
I got a call on the rental cell phone from Marthe who was anxious to know that we had arrived safely at our first destination. So far so good.....
---
Monday, March 18

I recall sleeping like a baby and waking up raring to go. The plan was to terrorize the town and meet Isabelle for late (for us, early for them) supper at La Bouchée, a cozy French restaurant not far from Isabelle's workplace. We took a bus downtown (1£) and stepped off into the crowds.

St. Patrick's Day celebrations were in full swing and everyone we met downtown was an Irishman or pretending to be one. I was even greeted by a couple of very well lubricated panhandlers who proclaimed that I was a credit to Canada for coming out to their St. Pat's day fete...and could I spare a few bob!

We finally came across Covent Garden and the famous market.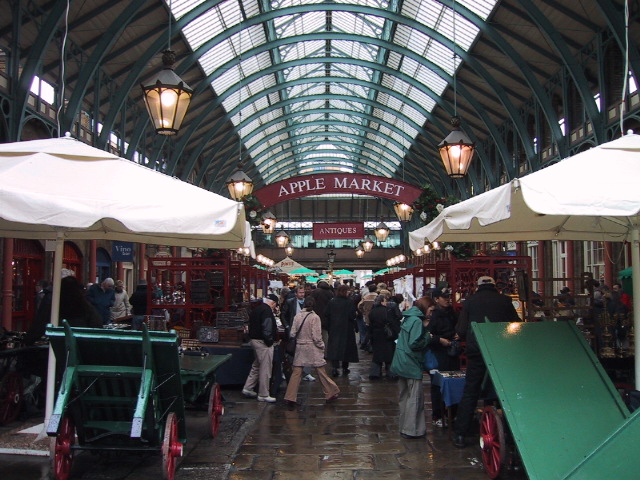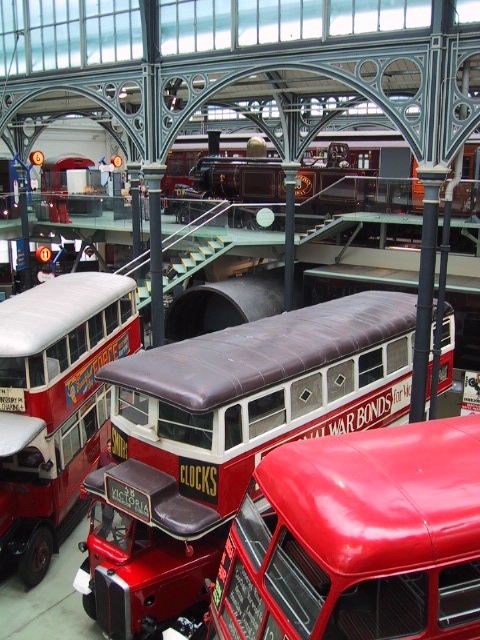 We took our time in the market looking over the many flea market stalls, buying a 'real' London souvenir and checking out the other toy store that we discovered on the second floor of the market. The shop was colourful and expensive but no trains, not even a small pewter keepsake. Oh well, the true objective of our expedition was just across the street anyway...the London Transportation Museum where we had a chance to discover the entire history of the London underground. Strangely enough, most of the early technology used by the Underground was imported from America...who knew?
Following our tour of the Museum gift shop which was selling Swatch watches with the SNCF logos ?? we headed out to hop on to a double decker bus towards our next target...the Hard Rock Cafe. (Don't tell anyone, but Terry stops in these places wherever they are, not to eat because even he admits the food is terrible, but to pick up their guitar collector pins, for a friend he says. A likely story, but we humoured him nonetheless.) While waiting for J-P to complete a conference call, we stood guard at the front door of the HR Cafe and shook down clients to make sure that they weren't carrying concealed nuclear weapons. Fortunately nobody was!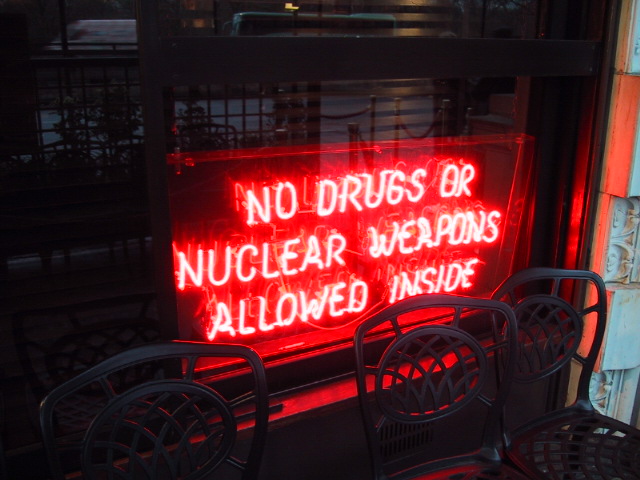 At the appointed hour, we met Isabelle at the resto and spent a terrific evening together. Although we tried to spare Isabelle from straining her voice as she was struggling to overcome a slight cold, she got right into the thick of our meandering conversations.
Soon, it was time to head to bed and prepare for our 6am wake-up call the next morning. In less than 12 hours we would be setting foot on German soil with our next objective in sight...Sinsheim!
---
Stay tuned for Episode 3 of the Great European AdventureZ 2002 | Return to Sinsheim Chronicles Home.
---