Val Ease Central Railroad by Jeffrey MacHan

The Sinsheim Chronicles: Episode 3
Where's Sinsheim?
It's not usually my idea of fun to get up before the sun rises but for once I was happy about it. The 6am alarm didn't need to ring, we were up already! Time for a quick shower, a quick bite to eat with J-P, a quick look around to gather any wayward toothbrushes or water bottles (my water bottle and I were unseparable during the entire trip) and we were ready to grab a cab from around the corner for the 20-minute ride to Paddington Station with lots of time to spare.

J-P kindly walked us to the waiting cab, gave us a big hug and waved (probably with a sigh of relief to get his bedroom and salon back) as we were "on the road again". We had no luck with the Paddington Heathrow Express ticket machines. One by one the 3 people in front of me tried in vain to use their credit cards to buy tickets. Of course I knew better than these locals and tried my lucky swipe technique.......then we were off like a shot to the main ticket counter to buy our tickets the old fashioned way. Tickets in hand, we hopped on the train for the 20-minute ride to Heathrow.

Terry and I were originally supposed to take separate planes but leaving at the same time for the same destination. After synchronizing our watches and making detailed plans on how to find each other in the Frankfurt airport we went our separate ways to terminal 1 and 2. My bag was now officially too heavy for carry-on so I handed it over to the check-in clerk thinking that there wasn't much chance of losing it on a 1.5-hour flight to Frankfurt...or was there? Strange there were lots of passengers with even bigger bags heading for the same departure gate. Was this some sort of trick to sabotage my trip? My paranoia level was creeping into the critical zone...time for a stick of gum to relax.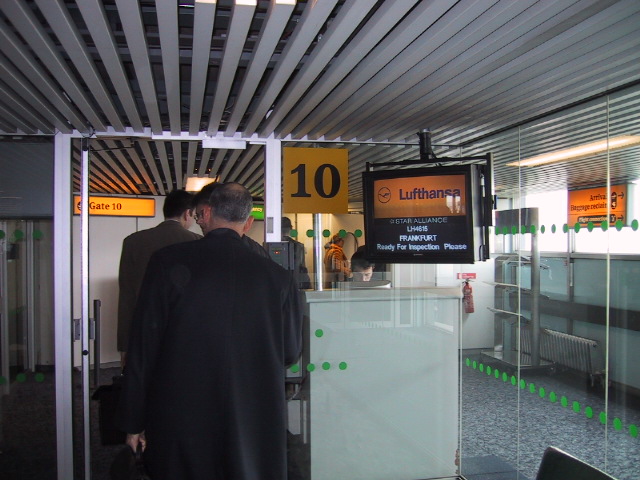 While I was chomping away wondering why I had been separated from my luggage, Terry sat down beside me! He was on the same flight even though it was a different airline and...hey...code sharing! I've heard of this before but why didn't the booking agent tell me? Chomp, chomp, chomp...the gum was taking a real beating. No matter Terry and I were reunited and unstoppable. Before we knew it we had deplaned, found my bag (Terry had no problem with taking his on board), changed time zones once again (6 hours ahead of EST) and were looking for a spot to grab a bite to eat before our first train connection in Germany.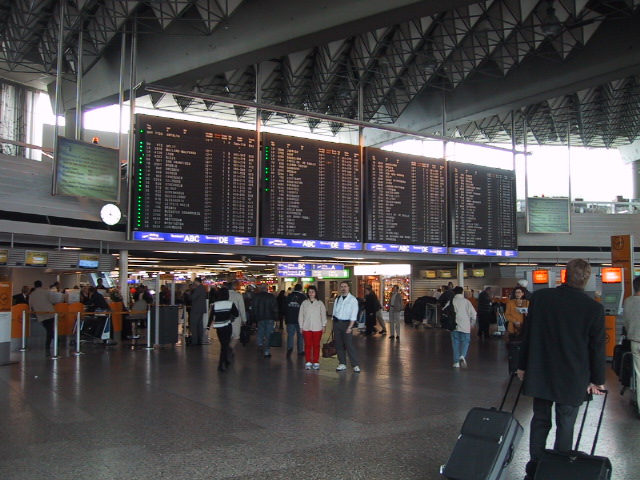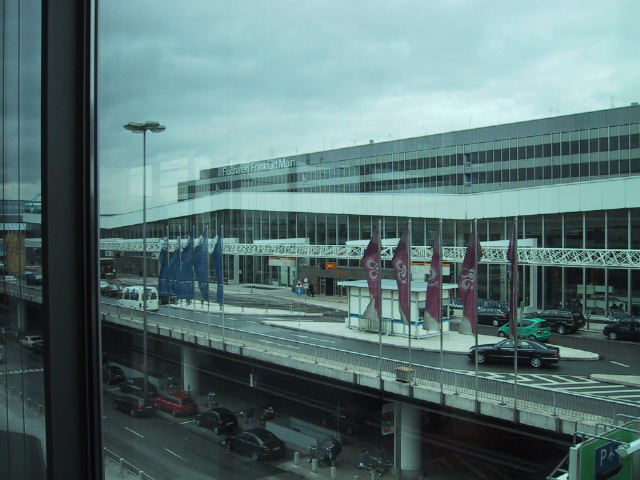 We found a couple of stools in a quiet waiting area where we enjoyed a coffee, capuccino, apple strudel and shared a ham on baguette sandwich. Our first use of Euros! We had already found the ticket agent along the walkway toward the Intercity Station where a very helpful agent told us that Sinsheim had a nice train museum (which we didn't know but thought would help us to appear less ignorant once in Sinsheim). He also had a Märklin HO set, no Z but he was OK anyway ;-)
The station was a modern steel cavern design that was still under construction. We could hear the occasional bang of a hammer on metal but not a worker was to be seen. Amazing construction techniques!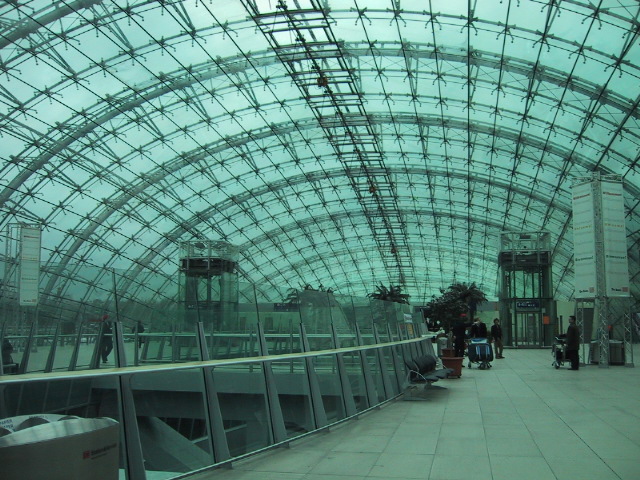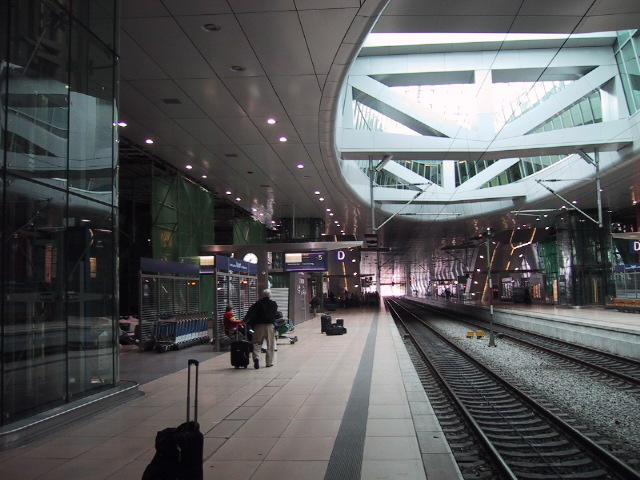 We watched the Regional trains and the streamlined Intercity Express trains glide almost noiselessly into the station for a while until it was time to take the elevator down to track 5. We didn't use the escalators since, at that time, we didn't know that they activated when a rider stepped onto them. We discovered this tidbit of German escalator technology when we saw a group of more worldly travellers stepping off at the other end of the platform. I was sure that this knowledge would come in handy elsewhere.
We were intrigued at how efficient the German railway system was with so many trains arriving at exactly the appointed minute...whoa, hold on...the sign said that our IC train would be 10 minutes late! How could this be? We only had a 12 minute gap to begin with to make our connection at Mannheim for Sinsheim. Now it would be only 2 minutes...or less! Perhaps we could make up some of the lost time on the way. Nothing we could do about it but enjoy the ride.
The train was spacious, comfortable and quiet, with few passengers heading our way it seemed.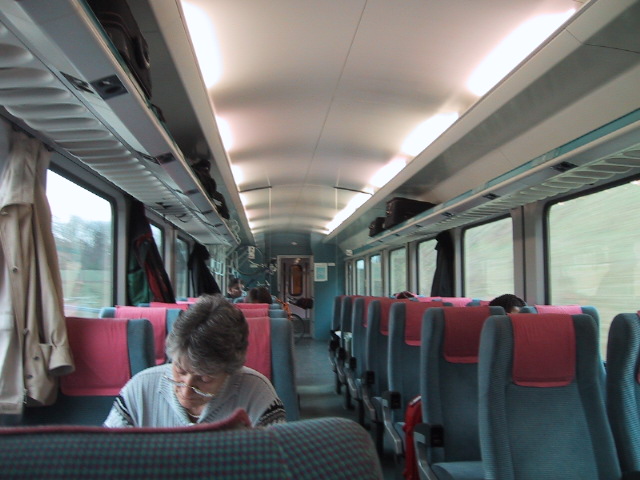 With my eyes glued to my watch, our train glided into the station giving us 1 minute to get to the connecting track. Terry and I were out the door like a shot, I spotted the track number and immediately dashed for the underpass and tunnel to our waiting train. Down the stairs, around to the right, up the stairs and a mighty leap into the coach just behind the driver's cab. Just as we had grabbed seats and placed our bags out of the way the train pulled away. This train certainly left on time and almost without us! Eventually catching my breath from the sprint I took advantage of the opportunity to get a shot of the driver at work as we rolled smoothly down the tracks in the direction of that mythical place called Sinsheim.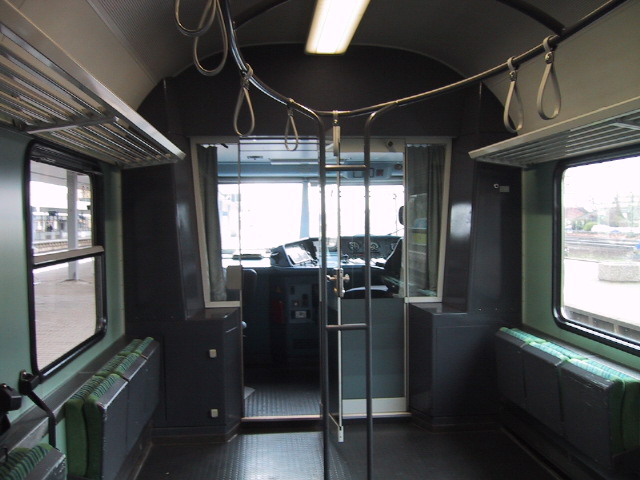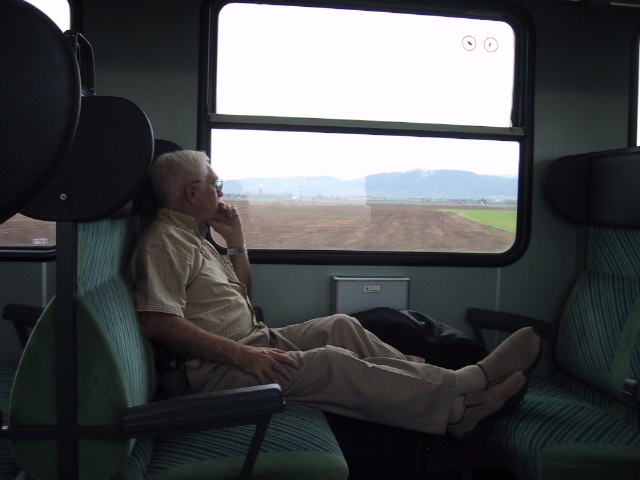 Terry and I made excited observations as we watched the countryside slip by. We were astonished to be seeing with our own eyes, little Kof engines, a variety of 0-6-0 diesel switchers (just like the ones we run on our layouts), DB cargo workhorses and even the Flying Hamburger sitting on a siding along the way. Every so often he would mumble, "I have that car..." Terry remarked how much the houses and the buildings resembled our plastic kits adding, "I have that house, but I haven't built it yet..." Amazing! As the minutes and kilometers passed we could not imagine what would be waiting for us ahead...
---
Stay tuned for Episode 4 of the Great European AdventureZ 2002 | Return to Sinsheim Chronicles Home.
---