Jeffrey MacHan, B.Sc., B.A., M.B.A.
Biographical notes:
(Text and photos © Copyright Jeffrey MacHan)
---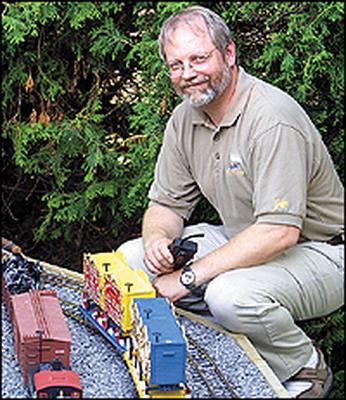 Chief Imagineer* - Val Ease Central Railroad (Exporail Collection)
Founder and listowner of Z_Scale@yahoogroups.com 1999-2005
International Ambassador - Canadian Railroad Historical Association (Exporail - Canadian Railroad Museum) 2003-present
Columnist - Ztrack Magazine (The Last Spike)1999-2008
Columnist - NER Coupler (Northern Lights) 2002-2006
Columnist - NMRA Scale Rails Magazine (Z-Scale Rails) 2001-2005
Canadian Director - NMRA Northeastern Region 2002-2006
NMRA Z-scale SIG Coordinator 2002-2007
*designer, builder, owner, maintainer

---
I live in Gatineau, Québec where I try to indulge my passions for travel, digital photography, gardens with railroads and piloting an FPV quadcopter drone.
Trains and Model Railroading: a family affair
I was born and raised in Winnipeg, Manitoba in a railroading family. My paternal grandfather was a steam locomotive engineer in Dauphin, MB for the CNR and my father worked for the CN to introduce the micro-wave communications system to Western Canada. As a result, I was able to spend several summer vacations from university studies working as a forklift operator for CN Express, then as a lineman for 2 summers then 1 summer as a cable-splicer's helper. I got to see a lot of action around trains from Southeastern Saskatchewan to Churchill, Manitoba to Thunder Bay, Ontario and points in between.
Not surprisingly, I grew up with trains: Lionel, Marklin HO-AC and Triang HO- DC. When I turned 16, my pediatrician introduced me to the Winnipeg Model Railroad Club where I decided to try my hand at "N" scale. My collection grew until it was time to move East to Québec for studies. I sold the whole lot and began to drift away from model railroading.
A model railroading relapse
Several years later, my wife decided to surprise me for my 30th birthday. She was able to track down my former "N" collection and start me off once again on building my dream layout, this time in the spare bedroom. The collection grew in-step with our two boys until the time came to move to Québec City for a career change in 1992. On a business trip to Paris in October 1992, I picked up a Märklin z-scale "Walnut" starter set as a souvenir, basically because it was small enough to pack easily and it was "cute". Before I knew it, I began playing with ideas to get the "Z" off the shelf and into a suitcase. This was the beginning of the adventures of the Val Ease Central Railroad (VECRR).
Promoting the great hobby of "Model Railroading"
In June 1999 I founded Z_Scale, the Web-based world-wide "Z" scale modeling community. In 2002, I registered Z_Scale as an NMRA SIG.
I also began to write extensively on the subject of "Z", penning a regular column in "Ztrack Magazine" called "The Last Spike" from 1999 to 2008. I was also the author of "Z-Scale Rails", an irregular column in the NMRA's "Scale Rails Magazine" which ran from 2001 to 2005. I enjoy writing about the hobby and have been published 99 times in English and French, with a few translations into German and Dutch. The most comprehensive articles about the VECRR appeared in the September 2001 issue of "Z-Info Magazine", the November 2004 issue of "Model Railroader Magazine" and the January-February 2008 issue of "Ztrack Magazine".
All of my articles are available in the "Val Ease County Library".
Honing my skills and sharing the "Passion" both at home and abroad
My modeling skills have progressed over the years. In 1997, the VECRR qualified for the National Model Railroad Association "Golden Spike" Achievement Program Certificate. In 2001, the VECRR became the first ever Z-scale layout to take "Best of Show" at an NMRA National Convention.
From April 1997 to April 1998, the layout was part of "Zoom sur les miniatures", a major exhibition at the Québec Museum of Civilization. The VEC has travelled several times to Europe. The VEC and its "crew" were invited to "Faszination Modellbau", Sinsheim, Germany in March 2002, a first for a North American layout, to "Eurospoor" in Utrecht, Netherlands in October 2003 and to the London (UK) "Festival of Railway Modelling" in April 2006.
In December 2003, the VEC was acquired by Exporail, the Canadian Railroad Museum in St-Constant, Québec and went on permanent display in March 2006.
"Unfinished business" or "More FUN to come"
My model railroading "ToDo" list includes finishing the last 2 required AP certificates for the MMR title. At present, I hold the following certificates:
Golden Spike: Val Ease Central RR (1998)
Master Builder: Scenery (2000)
Master Builder: Electricity (2000)
Association Volunteer (2001)
Association Author (2001)
Association Official (2005)
The following certificates are pretty much finished:
Chief Dispatcher
Master Builder: Civil

However, I will have to complete either the Master Builder: Locomotives or the Master Builder: Cars certificate in order to claim the Master Model Railroader title.
---