The Val Ease Central Railroad ©
Taking Z Scale to the Public Around the World
(Text and photos © Copyright Jeffrey MacHan)
Layout Snapshot
Scale: Z 1:220
Era: Autumn 1954, steam - diesel transition
Setting: bridge line through Pacific northwest mountain valley along major river transportation artery
Railroad: Union Pacific
Trackage: 65 feet = 4.37 Skm = 2.7 Smiles w/ 15 switching locations
Layout style: display and operations for up to 3 operators
Construction: extruded foam board in hard-side suitcases, 20-inch high painted gatorboard backdrop in 3 panels
Dimensions: inside = 13 square feet, footprint = 2 feet by 8 feet
Controls: 3 tethered hand-held single-cabs, 8-1 digital fast clock

Events: 87 appearances in 50 cities, 25 provinces/states, 5 countries (1,000,000+ attendees)
Distinctions: NMRA "Best of Show", Greenberg Shows "1st Place", Québec Museum of Civilization, Eurospoor "Best Layout", Exporail-Canadian Railroad Museum, NMRA "Golden Spike Award", Model Railroader Magazine.

Visit the Val Ease Central Railroad on the web for much more information about this unique model railway.
A Short History of the Val Ease Central Railroad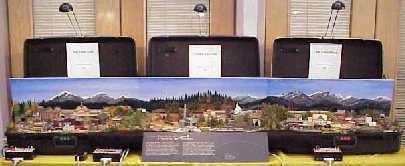 Since 1993, I have shared my enthusiasm for model railroading with the general public and train lovers alike by demonstrating my unique Z scale empire, the Val Ease Central Railroad ©. First introduced to fans in Québec, Canada, in March 1993 the VEC has participated in 87 train shows and exhibitions in 50 cities in 25 provinces and states and has been seen by more than 1,000,000 people of all ages.

In addition to criss-crossing Canada and the United States the VEC has also been invited to shows in Germany (Fascination Modellbau 2002), the Netherlands (Eurospoor 2003) and England (London Festival of Railway Modelling 2006). The VEC is also popular with judges and the public alike having won numerous awards and honours at local, regional and national competitions.
Some of the highlights along the way:
June 1992: A Marklin 0-6-0 steam starter set is purchased as a souvenir at "Le Train Bleu" hobby shop in Paris, France.


December 1992: Planning begins for a small layout designed to fit in a store-bought Delsey hard-side suitcase as a stress-relief project while on business trips.


March 1993: The VEC (1 suitcase) makes its public debut in Trois-Rivières, Québec.


November 1993: The VEC appears on CBC National TV News (Radio Canada) during appearance at the first of 10 Sun Youth train shows in Montréal.


December 1994: The VEC, now composed of 2 suitcases (Val Ease West and Val Ease East), wins 1st Place at the Greenberg Train Show in Troy, NY in competition with two MR project layouts, the N Clinchfield RR and an HO entry.


June 1995: The VEC wins "1st Place - Diorama" and "Best New Modeler Award" at NMRA Northeastern Region convention in Québec City.


April 1997 - April 1998: The VEC is invited to operate as part of "Zoom sur les miniatures", Québec Museum of Civilization, Québec City.


March 1998: The VEC is awarded the NMRA "Golden Spike".


June 1999: Founded Z_Scale on Yahoogroups


December 1999: Began writing for Ztrack Magazine


July 2000: The VEC takes 2nd Place - Individual Module at the NMRA National Train Show in San Jose, California.


June 2001: The VEC is awarded a blue ribbon for "Best use of space" at the NMRA PNR 4th Division meet in Eugene, Oregon. Centre Val Ease joins VEW and VEE.


July 2001: The VEC wins "Best of Show" at the NMRA National Train Show in Saint Louis, Missouri.


August 2001: The VEC stops in Waukesha, WI for a photo shoot in the studios of Kalmbach Publishing for a feature article in Model Railroader Magazine.


October 2001: The VEC gets international media attention with a cover page and feature article in the German-language Z-Info Magazine.


March 2002: The VEC and crew of 2 travel to Sinsheim, Germany to take part in Fascination Modellbau as guests of the BDEF. Press coverage includes a photo spread in Märklin Magazin in German and an article in the NMRA Scale Rails Magazine.


October 2002: Val Ease West, packed in a custom shipping crate, survives a return flight to Calgary, Alberta in checked luggage to participate in the Calgary Model Railway Society mini-meet.


October 2003: The VEC and crew of 3 travel to Utrecht, Netherlands to take part in Eurospoor as guests of the show management. Zspoor Magazine (Dutch) declares the VEC as "best layout" at Eurospoor2003.


December 2003: The VEC becomes part of the permanent collection of Exporail - The Canadian Railroad Museum, St-Constant, Québec, Canada.


November 2004: The VEC is presented to the world of model railroading in a 5-page feature article in Model Railroader Magazine.


July 2005: "Val Ease Summit Division" is unveiled at the NMRA National Convention in Cincinnati, OH.


March 2006: "Val Ease Central RR" goes on permanent display under glass at Exporail-the Canadian Railway Museum.


April 2006: VEW Division represents Exporail at the London Festival of Railway Modelling, the UK's most prestigious model railroading event.
Memorable Moments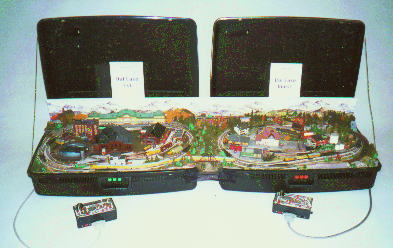 I was particularly honoured when the curator of the Québec Museum of Civilization asked to borrow the VEC for a year as part of a major international exhibition entitled "Zoom sur les miniatures". From April 1997 to April 1998 the railroad was set up as the only operating attraction complete with sound effects and a video interview with the author in French and in English. Although the train was set on a 2 minute timer, hordes of visitors kept it running seven hours a day, six days a week for 12 months. This was a period of high stress for me since I had moved from Québec City to Vancouver, British Columbia shortly after the opening of the exhibit and was separated from my layout by 4000 km. Fortunately maintenance of the trains was capably assumed by the Museum technicians who alternated and cleaned the two Micro-Train F7 locomotives every week on the off day. It was during this time that the VEC was awarded the NMRA "Golden Spike".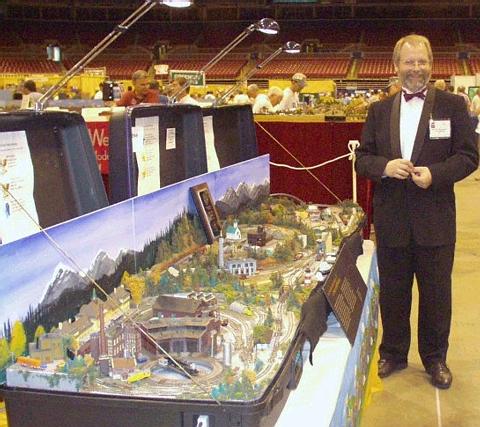 The VEC has won first place awards in judging at Greenberg Shows and at the NMRA's Northeastern and Pacific Northwest regions. Without doubt, the crowning moment for the VEC and it's "chief imagineer" occurred at the 2001 NMRA National Train Show in Saint Louis, Missouri. The VEC scored 105 / 125 points in judging and became the first ever Z-scale layout to take "Best of Show".
On the way home from the National Train Show, the VEC stopped at the offices of Kalmbach Publishing in Waukesha, WI for a photo shoot for a feature Model Railroader Magazine article (see the November 2004 issue of MR, p. 88-92).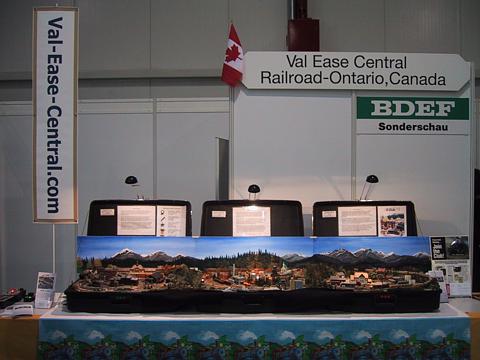 On a nail-biting scale of 1 to 10, my European AdventureZ rate "11" for sheer excitement and high anxiety. The first trip took a year to prepare and required the design and construction of a custom shipping case for 4 suitcases (3 VEC sections and a fourth for tools and literature).
The VECRR travelled to Germany in 2002 as the guest of BDEF, Faszination Modellbau, to the Netherlands in 2003 at the invitation of Eurospoor (declared Best Layout by Z-Spoor Magazine) and finally to the United Kingdom in 2006. Sponsors for the trips: Micro-Trains Line, Märklin, BDEF, Eurospoor, Ztrack Magazine and Kalmbach Publishing.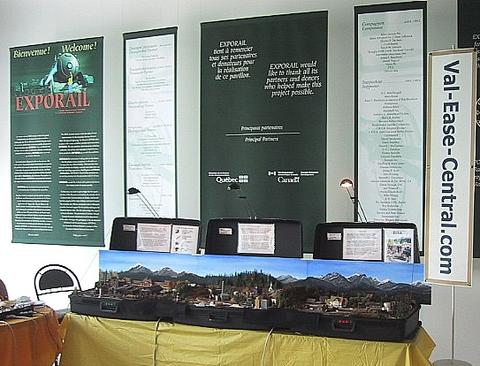 After eleven years of adventures on the road with the VEC, the greatest challenge took place in December 2003 when I signed the papers officially transfering ownership of the VEC to the Canadian Railroad Historical Society. At that moment, the VEC became part of the permanent collection of Exporail - The Canadian Railroad Museum in St-Constant, Québec, Canada. The months leading up to the donation and the months following, concluding with the physical delivery of the VEC to Exporail in August 2004, represented an agitated period of transformation in my relationship with the VEC.

It took a while, but on March 23, 2006, after a 5-hour marathon of track cleaning, positioning, rolling stock setting and backdrop trimming, the VECRR went on permanent, full-time display in the minatures room of Exporail - the Canadian Railway Museum in St-Constant (Montréal), Québec, Canada. The layout is set up on a fixed platform. The protective glass box is set on a sliding base that can be locked in place or moved forward two feet to allow easy access to the layout for maintenance. Watch the video to see 5 hours compressed into a 26 second clip.

What makes the Val Ease Central Railroad © unique?
The VEC is designed to be shown to the public of all ages and all heights. The layout is always shown publicly on a 30" tall table which places the track at a kid and wheelchair friendly height of just under 36". The VEC is also approachable. There is no crowd barrier and the little ones are allowed to get as close to the front edge as the length of their noses permits!

Here is a list of some significant measurements.

Viewing heights:
@Home: 43" to track level, 63" to my eye level,
@Shows: 30" table + 5.5" = 35.5" to track level

Elevations:
Zero = 140mm (5.51") from counter top to track level

Zero + 25mm (+1") @ Upper CVE track scale
Zero + 30mm (+1.18") @ Upper CVE I.T.S Mine spur
Zero - 10mm (-0.4") @ back of CVE tunnel loop
Zero - 5mm (-0.2") @ back of CVE yard
Zero + 20mm (+0.8") @ 1st steel bridge VEW (front edge)
Zero + 30mm (+1.18") @ 2nd steel bridge VEW (RH side)
Zero + 5mm (+0.2") @ VEW rock crusher spur

From the very beginning, I designed the VEC as a full-fledged model railway demonstrating operational characteristics that would satisfy sound design principles. As such, it qualified for the NMRA Achievement Program Gold Spike Award in 1997. Originally built as a single traveling portable layout, the VEC has grown from one, then two and now three suitcases which can be connected in a modular fashion. Each suitcase is a self contained layout. The complete VEC offers a total of 15 car switching opportunities. When joined, as they are for most shows, the combined design allows the independent operation of three trains over 65 feet of track (4.35 Skm or 2.7 Smiles).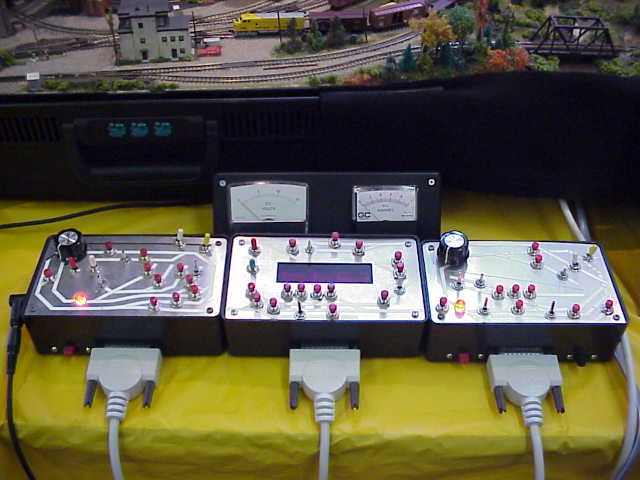 Secondly, from a portability perspective, the layout is completely self contained. Everything needed to install and operate the layout, including tethered control boxes, halogen lighting, signs, background and trains are stored inside the suitcases. In addition, I had decided from the start to use ten foot RS232 cables to connect the control boxes, restricting myself to 26 conductors per suitcase for track power, turntable operation, block selection, sound and switching. The length of the cable allowed the one, two or three operators to keep the controls close at hand as they moved around the layout with the trains.
The many challenges that were overcome to produce the VEC are certainly familiar to anyone setting up, dismantling and transporting a model railroad. The basic design specifications called for a layout that was light, rugged, dependable, durable and easy to set up and pack up. Good planning, track laying and full documentation go a long way to attaining these goals.
The VEC uses 100% extruded polystyrene foam insulation construction, hundreds of home made trees and custom control boxes incorporating readily available commercial components. Repairs have rarely been necessary and even then, a little white glue and some touch up acrylic paint is all it takes. The most serious problem was a fried turnout solenoid caused by an electrical short in a faulty RS232 cable.
Being Z scale and set in Union Pacific territory during the steam to diesel transition era provided other challenges in terms of motive power and structures. Limited availability of North American prototype models made kitbashing and some scratch building routine requirements in order to provide a credible setting for the layout. The VEC rolling stock roster numbers 99 units and the motive power roster includes 16 engines from the steam-to-diesel transition era. The VEC features several one of a kind super detailed pieces including a Russell snow plow, a powered UP F7A-B unit and custom painted 6 car UP passenger consist, a dummy F7A track cleaning unit, a tourist gondola, a UP 4-6-0 light 10 wheeler and a UP 2-8-2 heavy Mikado. Most structures on the layout are heavily modified commercial kits or scratch built. Even the round house has been narrowed to fit the confines of a suitcase environment.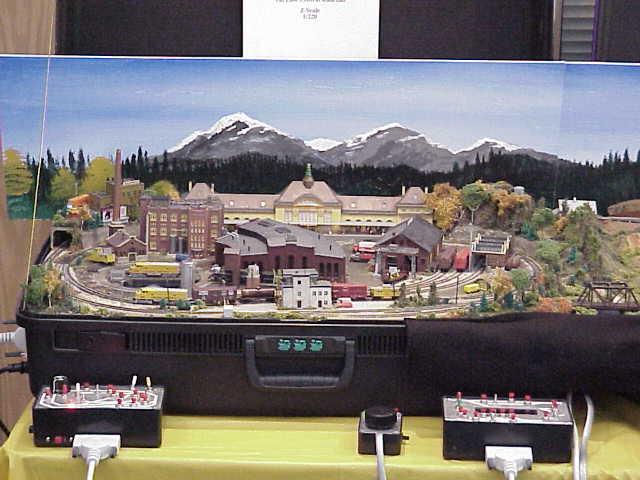 As an operating show layout, the VEC has many crowd pleasing special effects more typical of a large permanent layout. On Val Ease East © these include a working turntable, solenoid activated round house doors, an arc welder, lighted and detailed interiors, city sound effects, flashing Christmas tree, a smoking chimney and a flickering camp fire. VEE is home to the county seat where manufacturing and railroad servicing are the core industries.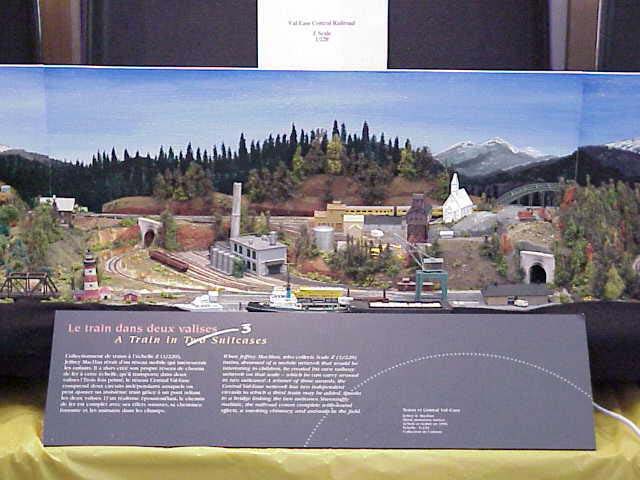 Centre Val Ease © adds a port with a functioning light house, a tug, barge and dock crane, a mine site, a "natural" spring water bottling plant with smoking chimney and flashing beacon, a large steel arch bridge, forestry operations, a hunting lodge and resort, a team track and a small classification yard. There is even a hidden holding track to allow scheduled train movements, car forwarding and switching operations running under an 8 to 1 electronic fast clock built into the CVE hand held control box. The resource industries and port of CVE generate traffic on the railroad.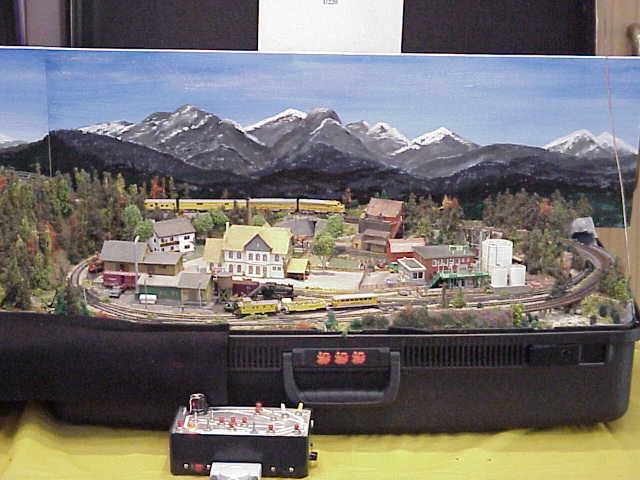 Val Ease West © has detailed and lighted building interiors, farm animal sound effects, a barn and wandering cows, an apartment block, a country church with a cemetery complete with miniature headstones, a village station and freight depot, a petroleum distributor, a rock crushing plant, a trestle, waterfalls and a "Mesozoic park" to delight young visitors. The local economy of VEW depends greatly on agriculture and tourism.
Often, during shows, admirers return several times to check out all the visual and auditory highlights. Since I always set up the VEC without crowd barriers, children are welcome to get as close as they want and on occasion, if no one is looking, to run a train and blow the whistle.
The VEC is as "finished" as any layout can be. Some "beyond the call of duty" projects that I completed include improved weathering on structures and rolling stock and the development of a "train order" operations system. Since I had another suitcase available, as a teaching tool, I built and documented Val Ease Summit, a fourth module, which was completed in January 2005 to be used as an end section replacing Val Ease West while VEW is on assignment for Exporail.
---
Answers to some Frequently Asked Questions!
How long did it take to construct the VEC?

The easiest way to answer this question is to give the elapsed time from start to finish of each section of the VEC.
Val Ease West began with a two-month planning stage in December 1992. The "finished" layout was presented to the public in March 1993, four (4) months from the moment I put pencil to paper. Shortly thereafter, work began on...

Val Ease East which took six (6) months to complete due mainly to the time needed to narrow the roundhouse and kitbash several structures. It wasn't long before it became obvious to me as well as to VEC "passengers" that the two layouts needed to be connected.

The VEE-VEW bridge section took two months to build and lay tracks. The work involved splicing a left-hand turnout into VEE and a curved turnout into VEW. The resulting "S-curve" was a long-lasting irritant that couldn't be avoided due to the available space for the additional turnouts. On the upper section, it was necessary to extend the VEW siding and to build a grade via a secret location to meet at the CVE weigh scale. The resulting VEC was an instant success and a big hit at train shows. In January 1997, the Québec Museum of Civilization approached me to include the VEC in Zoom sur les miniatures, a 12-month special exhibit of world miniatures.

While the VEC was entertaining the public in Québec, Centre Val Ease was slowly taking shape in my mind and on scrap pieces of blue styrofoam. Once the VEC was back in hand, it took about eight (8) months for me to produce CVE. Yes, I was slowing down but the construction also required some more delicate techniques and the building of a new VEW-CVE bridge section. In addition, I installed a digital 8x fast clock in the CVE control box.

The VEC, in its full glory was presented to the NMRA judges in St. Louis, MO in July 2001 following three (3) months of improvements to the scenery and backdrop. So, one could say that the layout took 4+2+6+8+3= 23 months over a period of 7.5 years.

How much did it cost to build the VEC?

This question usually means two things: How much did you spend? and What is it worth? The answer to the spend question is about $4000 CAD on track, structures and materials. Rolling stock is a variable cost and has no upper limit!

The answer to the worth question depends on how one approaches the issue. If I were able to calculate the number of hours spent on the layout I might be able to estimate a value (23 months = 92 weeks @ 10 hours / week = 920 hours @ 55$ / hour = $50,600. WOW! The other option is to consider the VEC's Fair Market Value. In the Fall of 2003, the VEC was independantly appraised at $40,000 USD by two authorities.

As is the case with all objects of a unique nature, the value varies depending on the pedigree (i.e. reputation and history) and craftmanship. In January 2005, a fourth section (Val Ease Summit Division) joined the original 3-section VEC. VES is appraised at $6000 USD. Finally, add motive power and rolling stock to the layout (10 locos, 56 pieces of rolling stock, many items being kitbashed, superdetailed and custom-painted) and the total market value of the VEC is in the neighbourhood of $50,000 USD which is also the insured value.

How long does it take to set up the layout at an event?

The time to set up is a function of the number of sections. One section takes 15 minutes to clean and test plus 15 minutes to set out rolling stock and display materials. Two sections take 45 minutes to set up plus 15 minutes for rolling stock and display materials. The three-section VEC takes 90 minutes so set up for the public including delays that usually occur looking for electrical outlets and talking to passersby.

Where can I see the Val Ease Central?

Today, the VEC can be seen year round at Exporail - The Canadian Railroad Museum located in St-Constant, Quebec, Canada. The VEC is on permanent display in the miniatures room along with other fine examples of model railroading.
---
---