Val Ease Central Railroad by Jeffrey MacHan

The Eurospoor 2003 AdventureZ
Report #6: On the road to Eurospoor! October 15 - 16, 2003
Wednesday, October 15, 2003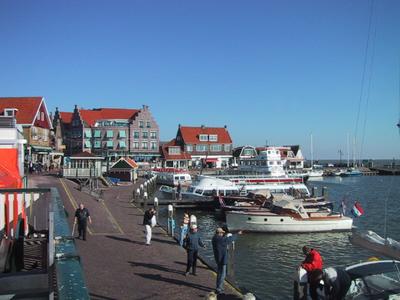 - For our last full day together in Amsterdam, our merry band of adventurers took a morning bus (#110) leaving Centraal Station for Vollendam to see the village attractions and for Edam where we hoped to visit the cheese market. Marthe had given me instructions to take pictures of a cheese factory and farm, if possible. If there was a chance to do so, this trip should be it. Vollendam was interesting for the profusion of souvenir shops and for the fresh smoked eels on a bun. I actually enjoyed the eels and managed to resist spending any money in the souvenir shops.
Edam was lovely with its narrow streets, cobblestoned town square and 500 year-old market square. Unfortunately we arrived after the market had closed for the day. Got to remember to arrive between 6 am and noon to see the action. Our leisurely stroll through this very beautiful town eventually took us to the frontier with the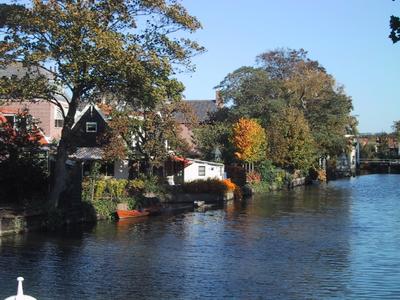 surrounding pastureland which was overlooked by the majestic church, itself surrounded by canals. I took a moment to enjoy the sights and sounds of this unique place while leaning against a short car bridge over the canal that circled the town. Ahead of me were flat grazing pastures where a couple of cows chewed their cud in the warmth of the afternoon sun. A tractor pulled a trailer filled with feed past a small shed. To my right I could see the dike that kept the sea from flooding everthing below. There were a couple of very large kites flying on the horizon. To my left, I could see a major highway with a constant flow of traffic and noise. Behind me was the canal, the cathedral and several large shade trees that still sported full foliage. A couple of swans glided past giving me curious looks as if I might have a crumb or two to share. Sorry, not today.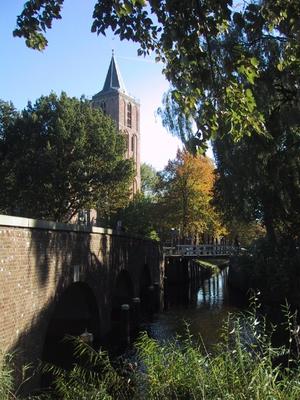 Terry and Helen joined me after a few minutes and we decided to follow the road signs pointing towards the bus stop. We walked along a narrow footpath that took us behind or sometimes in front of very narrow and very old homes. We commented on how some of the properties had enough space on their lots for a garden railroad. Always thinking model trains, we were.
While waiting for our bus back into town we stopped for a tea and coffee (latte) at a lovely restaurant-hotel that was aptly named after the local train station. The decor featured a ceiling-mounted G-gauge track with a lovely LGB train. Unfortunately the server said the train was broken but the other decorations made up for it. Finally it was time to hop back on the bus (articulated this time). Soon we were back downtown and ready for a good meal.
We decided that this was a good opportunity for us to split up once again. We made plans to meet back at the B&B around 8pm. The Sutfins wanted to visit the Anne Frank house and the best time to do so was around the supper hour. I took off in the other direction and did some more research in the Red-Light District stopping along the way at the Internet-City to see what my virtual world was up to and to see if Marthe had replied to my latest email.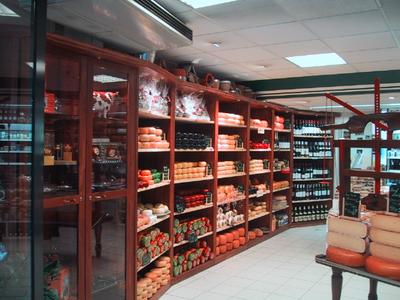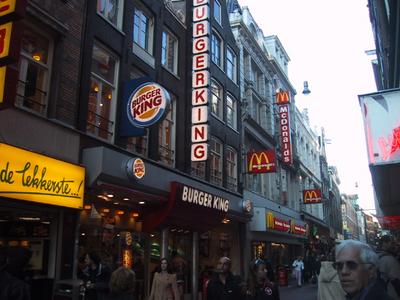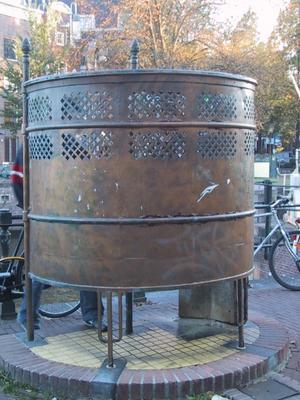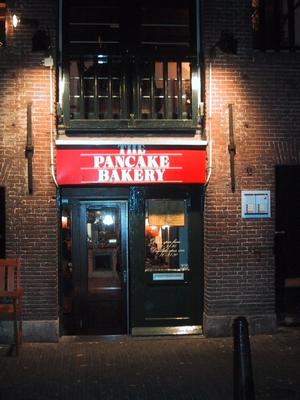 For our last evening together in Amsterdam we decided to try our luck at an authentic Dutch pancake house for our supper. The atmosphere was congenial but the pancakes, at least mine, were under whelming. The kitchen had managed to burn the cheese on my ham and cheese pancake. The pleasant thing about this family-style restaurant (a kid at the next table was busy playing with a truck on the floor as patrons stepped over and around him) was a selection of three or four flavoured syrops for the pancakes. I tried them all. The classic syrop was my favourite and thanks to abundant doses applied to my pancake, I was able to eat it without too much discomfort. Terry and Helen did not complain about their choices but they weren't gushing with praise either. They are such good sports!
---
Thursday, October 16, 2003

- Thursday was the day we transferred our camp to Utrecht where I hoped the VECRR would be waiting for us. I couldn't help but worry about the layout, had it arrived and what shape would I find it in? I began to wonder if the trip would have been less stressful if we had completed the train show first then turned into tourists. Note to oneself: train show first, touring second = less stress.

We had breakfast and settled our bills with Vlad. Terry and Helen planned to return to Amsterdam following Eurospoor for a few days so they confirmed their reservation for the following week. I had thought about returning to the B&B Sunday night as a precaution to be able to make my flight departure time the following Monday. As it turned out there are direct train connections from Utrecht to Schipol so I had purchased my train ticket the previous day.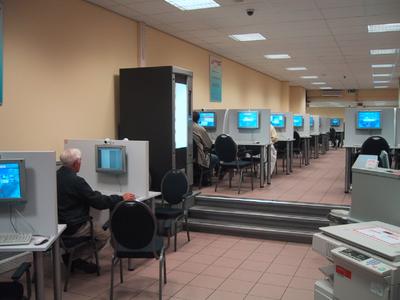 I'm sure that we made an amusing sight dragging our cases over the cobblestones on our way to the station. I asked my colleagues to stop once more at Internet-City so that I could check my emails from home. It cost 1.5 euro for 15 minutes, 2 euro for 30 minutes and 3 euro for an hour. 15 minutes was all I needed. There was no news from Marthe but I wrote a few words bringing her up to date on our progress and that I'd write again from Utrecht on Saturday. Once again we were blessed with a beautiful sunny day. We stopped frequently along the way to take parting photographs of the stunning sights of Amsterdam. I'll always cherish the sights, sounds, tastes and sensations of this vibrant and exciting city. I fully understand now why my wife wanted to return here to share the experience with me.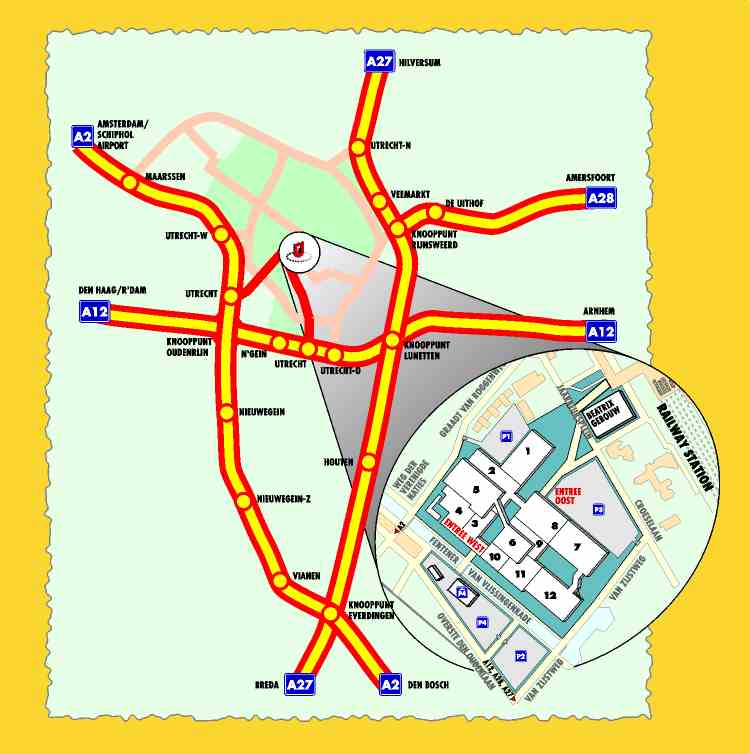 Click to enlarge the map!
The train ride was fast, quiet and comfortable as usual. I wonder why my commuter train to work is so slow, noisy and rough?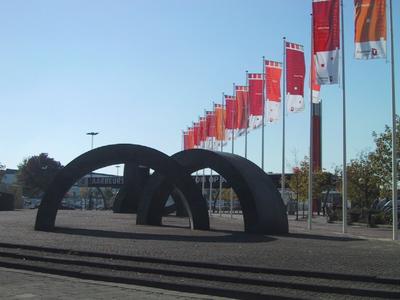 Terry, Helen and I bumped our way out of the train and up the escalator to the bustling Utrecht station. We soon discovered that the station was part of a huge retail shopping area. It seemed to go on for kilometers! We had a about a 10-minute walk from the station to Jaarbeurs trade and convention centre. Of course, I took photos about every 20 steps along the way! We noticed that our tram to the Epping Family Hotel in IJsselstein (a 40 minute ride) left from the same station. We had our bearings and soon we were walking under the large outdoor sign of the Jaarbeurs Trade and Convention Centre announcing Eurospoor. In a few minutes we would be entering Hall 10 and officially beginning our train show adventure.
Respectfully submitted,
Jeffrey MacHan
Chief Imagineer - Val Ease Central Railroad
---
The conclusion of this account of the VEC's Great Eurospoor AdventureZ was orginally published in the November - December issue of Ztrack Magazine but you get to read it right here!
---
Stay tuned for Last Spike of the Great Eurospoor AdventureZ | Return to Eurospoor 2003 Home.
---