Val Ease Central Railroad by Jeffrey MacHan

The Eurospoor 2003 AdventureZ
The Last Spike...Undercover @ Eurospoor 2003
The Last Spike...Undercover @ Eurospoor 2003
by Jeffrey MacHan

Psst, wanna hear a secret? Thought so! Did you know that the Val Ease Central RR was part of the fun at the Eurospoor model train show in Utrecht, Netherlands last October 17-19?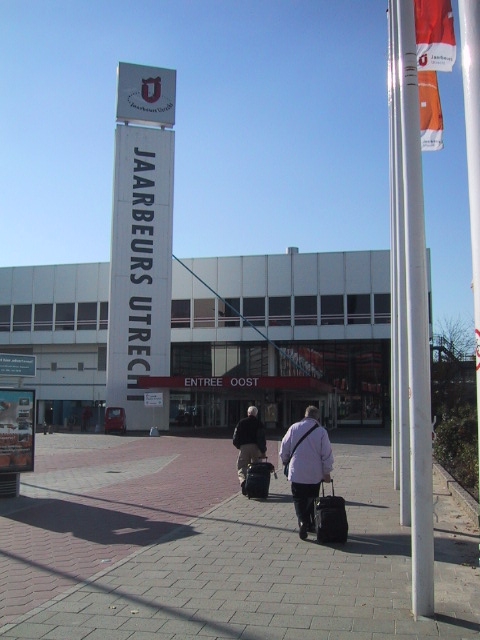 You're right, that's not a secret. Well, I bet you thought that my friends Terry and Helen Sutfin and I were there to run the trains and interact with the 25,000 or so visitors. Yes, and No...Actually, and keep this to yourself, I was on a mission for Ztrack Magazine. Yes, seriously. Rob Kluz asked me to do some under cover snooping for him while posing as Chief Imagineer of the VEC. Yeah, it was a great disguise. Worked like a charm, too, well except for attempted sabotage, a close call with the authorities and the mysterious disappearance of one of the VEC crewmembers. Sorry, I don't want to talk about it.
Oh, what was my mission? Get this, Rob wanted to know what was the general state of Z in Europe these days. Let me tell you, it wasn't easy getting information but I put in a lot of legwork and contacted many informants during the trip. I talked to Z-scalers from Norway, Finland, Belgium, England, Scotland, Ireland, the Netherlands, Germany, France and South Africa. OK, so South Africa isn't technically in Europe but Rob won't know unless you tell him, and you won't tell him, will you...no I didn't think so.
What Legwork? According to my sources, Kuijpers Hobbyhuis, the best model train store in the Netherlands just happened to be in Utrecht.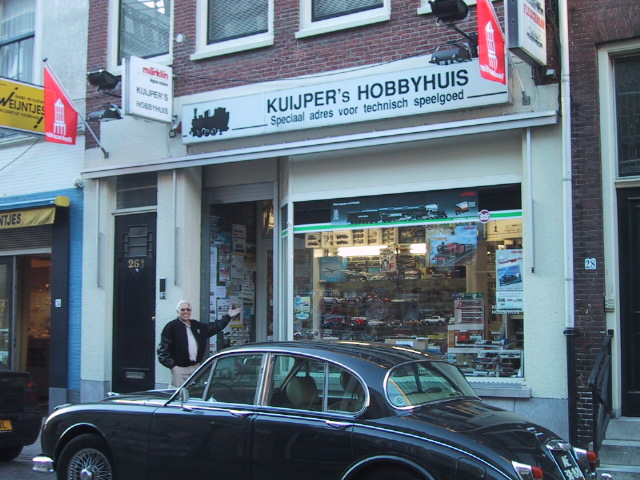 Terry Sutfin and I dropped in to case the place on Thursday after finishing setting up the layout. It took us longer to set up than usual. For a while there I thought that someone was on to my assignment and had sabotaged the VEC controls. Would you believe that I spent two hours taking them apart and checking wiring until I realized that the boxes had been plugged into the wrong layout sections.
But as soon as I plugged them in properly, everything worked like a charm. Was this a case of sabotage or an attempt to rattle my cage? In fact, there was nothing wrong with the layout after having been trucked, paletted, forklifted, flown across the Atlantic, forklifted, depaletted and trucked to Eurospoor.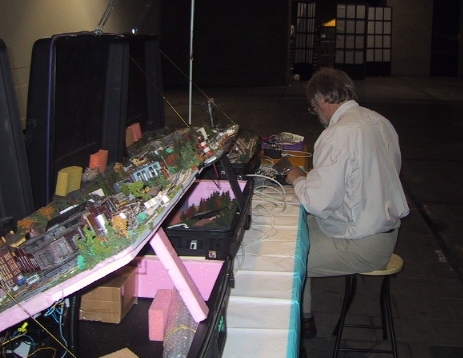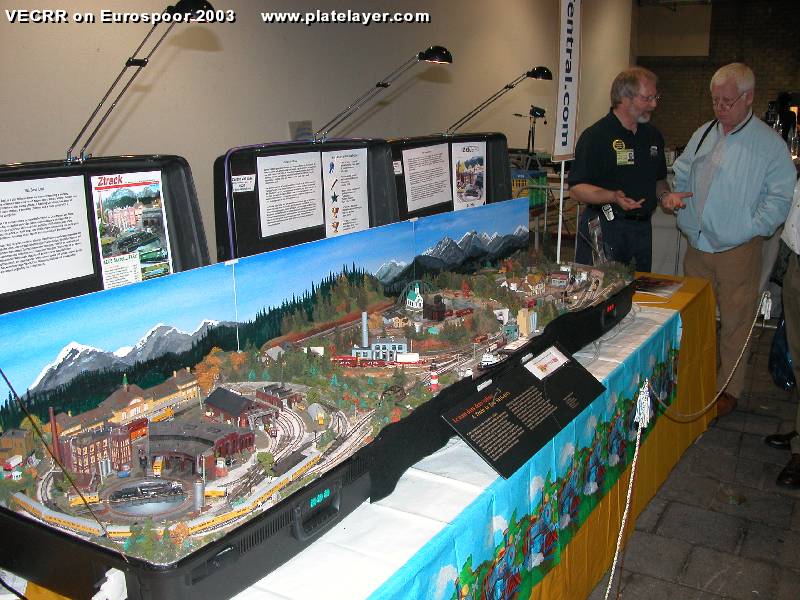 But I digress...where was I, oh yes, casing the hobby shop. It was an impressive store with eye candy from floor to ceiling in all scales. They carried a good selection of Z from Märklin and some of the structure manufacturers. But from what I could observe, the best place to see Z was in the vendors section of Eurospoor. You wouldn't believe the amount of Z. Practically every second vendor, or trader as they are known in Europe, had a large selection of "experienced" and new Z scale, all Märklin, no Micro-Trains. I thought I'd put one of the traders to the test. I asked him if he had the Orient Express set with the extra cars and the Casey Jones. It didn't take him more than 30 seconds to stack the boxes up in front of me. Let me tell you, you'd never, ever have this happen at a train show in North America.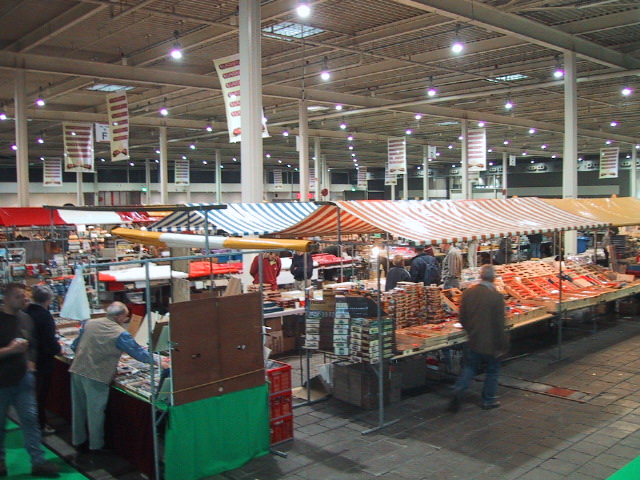 My informants had lots to share about Z in Europe. First of all, the Dutch have their own Z publication called Z-spoor Magazine. I actually met the two main people behind this quarterly color publication, Mr. Emanuel Damsteeg, editor and his lovely assistant, Ms. Saskia Schreuder who has regularly graced the cover of the magazine, along with a Z product of some sort. Once I was able to elbow my way past Terry, Ms. Schreuder let it slip that the magazine is planning to run an English edition to complement the Dutch original. So I guess that you could say that interest for Z in the Netherlands is growing.
My informants from anywhere outside of Germany, mentioned that they find little if any Z in local hobby shops and that the lack of their national railroad prototypes in the Märklin production program is a source of frustration. Sound familiar?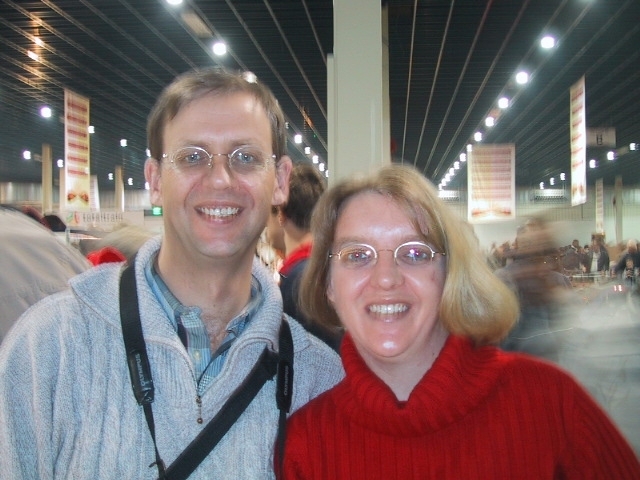 My original plan was to have a total of four crewmembers on hand so that I would be more free to circulate and collect information for Rob. As it turned out my fourth crewmember, Jim Manley, from San Jose, California, whom I had never met in person, must have been either intercepted by the opposition or been a decoy to prevent me from accomplishing my mission. Either way he never made it to the show. The last we heard from him he was stuck at some airbase in Spain waiting to hitch a ride to Germany. Then again, he could still be wandering around lost in the two huge halls that housed Eurospoor.
The show was easily the equivalent of the largest North American train shows. There were at least 50 operating layouts present and 400 or more commercial stands.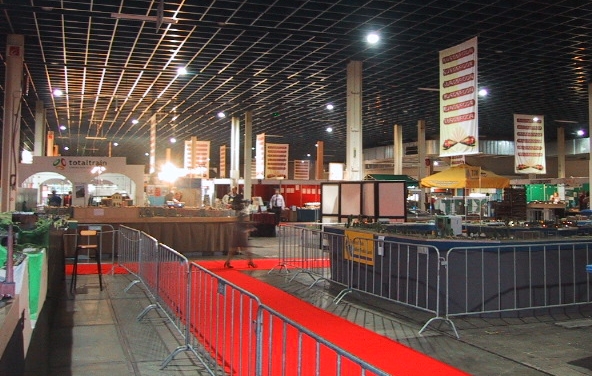 You couldn't imagine the diversity of visitors. There was even a delegation from the United Kingdom who had come over on an organized tour. I spoke with the tour operator and several other gentlemen who were quite familiar with the state of Z in the UK. It appears that Z is very expensive and hard to find. Occasionally, one would come across an European layout at a train show, but North American prototype was unheard of. They strongly encouraged me to show the VEC at the London Festival of Railway Modelling held annually at the Princess Alexandra Palace. If only they knew that I have been trying to get an answer from the Festival organizers for the last two years! As a Z-scaler, one learns to be patient.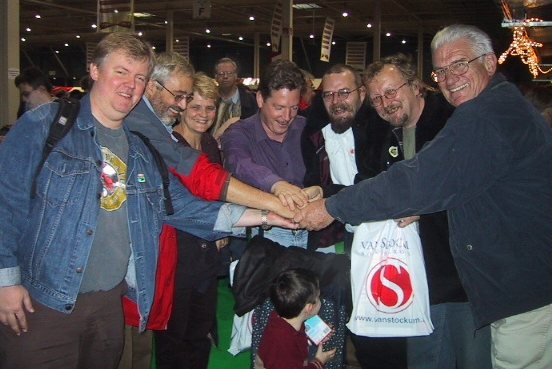 It was great fun meeting so many enthusiastic Z-scalers. It was especially satisfying to me to learn that several had traveled to Eurospoor to see the VEC and pick up some bargains at the trader tables. You can tell from this clandestine photo taken during the show that European Z-scalers are a close-knit bunch. Notice the secret handshake!
On the Saturday evening of Eurospoor, Terry and I were invited for supper at the home of a local Z-scaler. This was a great opportunity to observe a European Z-scaler in his natural environment. The Z layout shared space in the laundry room and had not invaded other spaces in the apartment, yet! Even though I had to struggle to maintain my cover, we had a great time chatting with Svein-Martin Holt from Norway, Kari Tanskanen from Denmark, Terry Sutfin from the USA and Arjen Gerstel and his fiancee, our hosts.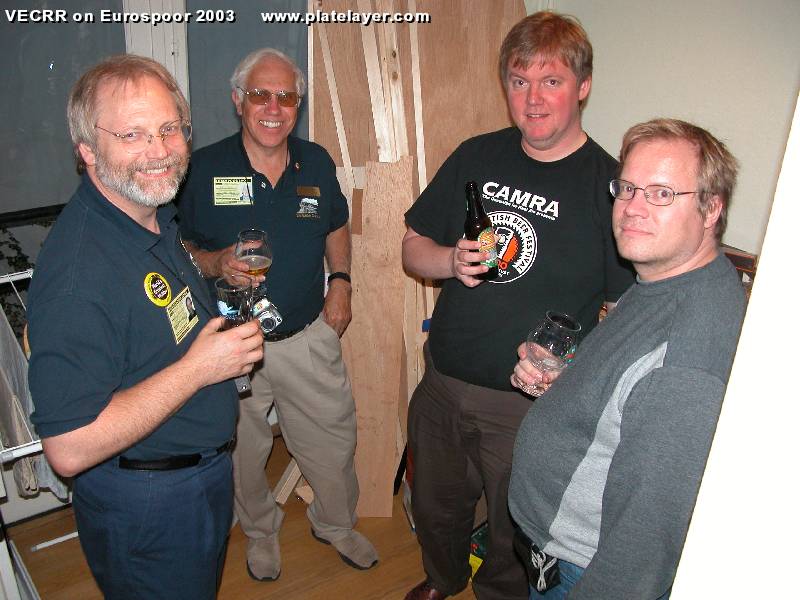 Unfortunately, our night out almost turned into a disaster that would have compromised my mission.
No, I don't want to talk about it! It's just that we were having so much fun that we delayed our return trip to our hotel in Ijsselstein, a forty minute tram ride, to the very last second. In fact we reached the Centraal Station at 12:37 am just as the last tram of the night was leaving. By 1:15 am we were standing outside the "locked" front door of our hotel. To our utter dismay, there was no light on in the reception area and no bell to ring. The street was deserted and we had no place to sleep! The only glimmer of hope was to find a way to contact the hotel manager, but how. We didn't have the hotel phone number because I had left it with Arjen so that he could look up the tram schedule on the Internet! We had three unpleasant choices...1. spend the night huddled on the doorstep of the hotel until it opened five and one half hours later...2. take a cab into Utrecht and rent a room for half a night at great expense and embarrassment...or 3. contact the authorities to try to reach the hotel management. We took a vote, choice 3 it was. Off we went in search of the local constabulary.
The rest of the story is too painful, I don't want to talk about it! Fortunately it was not raining and the temperature was bearable as long as we kept walking, and walk we did! Thanks to directions obtained from a cab driver we found the police station, also closed at 2:10 am, but equipped with an intercom. We were able to communicate with the dispatcher who sent us back in the direction of our hotel where we were met by two officers assigned to the nightclub beat. At least they weren't laughing out loud. In a few minutes time, they had found the hotel manager's phone number and roused him from bed. When the manager drove up to open the front door for us at 2:30 am we were feeling pretty foolish and apologetic. Needless to say we didn't waste any time getting to bed. Our wake-up call at 6:30 am came all too soon! I was sure that we'd receive a warm round of applause from the other exhibitors at breakfast but we got off easy with only a tongue lashing from Helen who had spent a good part of the night wondering where our bodies would be discovered and what she would do with the VEC!
Fortunately that was the extent of my misadventures outside of the show. Back inside Eurospoor, I had a chance to talk with some very well-connected informants, Ysbrand van der Veen of Z-Spoor Club Nederland and Armin Herff of ZClub92 Z-info.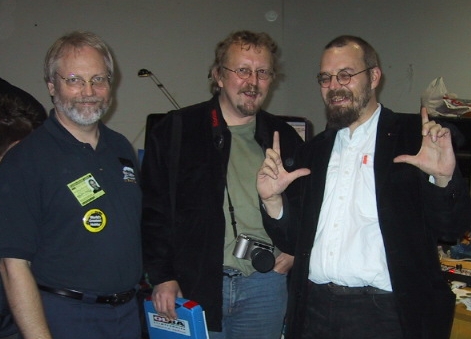 They explained how much they enjoyed the camaraderie of Z_Scale@Yahoogroups.com. Of course, that was very satisfying to hear. Then Ysbrand, or was it Armin, dropped a bombshell on me. He told me that he was certain that Z-scale was "bigger" in North America than in Europe. Did he mean, more Z enthusiasts? or more active? or more visible? I suppose that I could pass this info directly on to Rob Kluz but it seemed more like an attempt at disinformation from those cagey Europeans. How could there possibly be more Z-scalers in North America than on the continent of its birth? And could we be more active? On that score, we certainly are doing our best to be active, but "more active"? I've been thinking about this observation. You know, it is widely recognized that North American Z is experiencing a spurt of growth. After all, there are many new manufacturers entering Z on our side of the Pond and we do have a tendency to make a lot of noise about our goings on.
Then again, how could it possibly be the case, especially considering all the Z clubs and groups in Europe, the huge number of train shows where Z can be seen and, not to mention the fact that Märklin lives there. Oh well, maybe I should tell Rob after all. He has other sources of information. He might be able to make some sense of all this.
What else? My, you are curious! Well, I did notice that the European crowds seemed to love seeing Z trains running just as much as they do in North America. And they seem especially interested in North American prototype.
Stands to reason, since NA prototype in Z-scale is as rare over there as whiskers on a baby's behind. In fact, Micro-Trains Line products were nowhere to be seen in the store we visited or on the traders tables. If you asked me I'd have to conclude that there appears to be a lot of market potential in Europe for North American prototype rolling stock. You're right, no one asked me!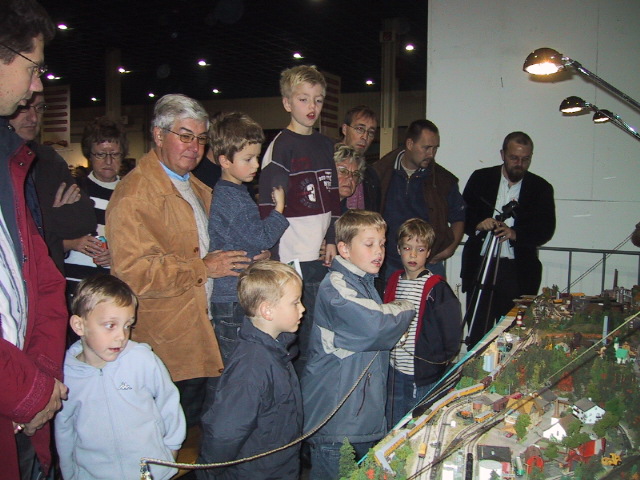 Anyway, judging from the well-stocked offerings of Z by the dozens of traders I spied on, there was ample opportunity for the public to encounter and purchase Z at the show. I was surprised that the only other operating Z at Eurospoor were two briefcase layouts at the Z-Spoor information table. Fortunately my confidential sources have informed me that several Z layouts will take part in the 2004 edition of Eurospoor. Too bad my mission for Ztrack was a one-time engagement.
What did I take with me from the show? That's an easy one. I had a great time showing the VEC and meeting so many wonderful people that I had only known virtually from Z_Scale. And I had so many extraordinary experiences travelling with my best friends, Terry and Helen Sutfin. And seeing a small part of the Netherlands which is such a beautiful country and its people who are so polite! and they speak English, to boot! Oh, you mean what did I buy at the show? Terry and I split a two-car set of Dutch Railways hopper cars. Yes, by Märklin. Oops, gotta run. I really should dash off a memo to Rob. Remember, you didn't hear any of this from me!
***************
Sidebar:
The Val Ease Central 2003 Adventure to Eurospoor was made possible through the generous support of the following sponsors: Micro-Trains Line, Ztrack Magazine, Eurospoor and Schenker Canada.



The author would like to express his heartfelt appreciation to Terry and Helen Sutfin who were much more than crewmembers for Eurospoor. They transformed a trip into an unforgettable adventure.
***************
---
Originally published in the November - December 2003 issue of Ztrack Magazine.

Respectfully submitted,
Jeffrey MacHan
Chief Imagineer - Val Ease Central Railroad
---
Stay tuned for Epilog of the Great Eurospoor AdventureZ | Return to Eurospoor 2003 Home.
---