Val Ease Central Railroad by Jeffrey MacHan

The Sinsheim Chronicles: Episode 5
The excitement builds!
Wednesday March 20, 2002

Werner Zuendorf had asked us to try and find a lift to the show with some of the other exhibitors. This was our first mission of the day as we joined a small crowd in the breakfast area of the hotel. Many exhibitors would only be arriving after the close of set-up later that evening.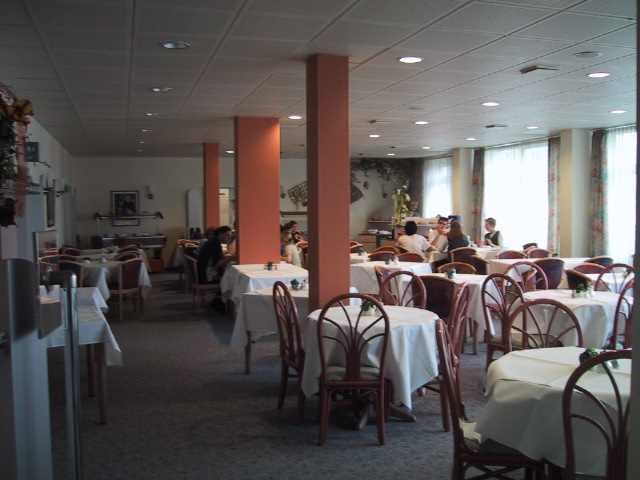 We were pleasantly surprised to find that the German version of a continental breakfast included a pot of coffee at the table or self-serve tea, hard-boiled eggs, a selection of cold cuts, cheeses, juices, buns, toast, jams, yogurts, cereals, granola, sliced tomatoes topped with soft cheese and basel, fruit salad, fresh fruit and probably some other items I can no longer recall. As we were enjoying our delightful breakfast, I approached a neighboring table to see if they were going to Sinsheim...yes but no room! Of course, their van was loaded with their materials for the show. We later discovered that this trio that we had also encountered the night before was manning the HO White Pass and Yukon winter layout in the US section.
Back on the phone to Werner who agreed to come to our rescue about 11 am. We enjoyed the extra time to relax with more coffee. Before we knew it our very busy host was in front of the hotel to ferry us back to Sinsheim. This time he was not alone. Helga, the other member of the Zuendorf couple was with him. She spoke French and some English so communicating with her was never a problem. She decided that we would stop along the way at a supermarket to get supplies. She was full of good ideas during the week. We instinctively knew to trust Helga's recommendations and off we went across the countryside, it seemed, along regional roads that would become familiar as the week wore on. We finally stopped at an Aldi market where we stocked up on fruit, cold cuts, cheese, carrots to nibble on, power cookies, lots of bottled water in two flavours no less and bread.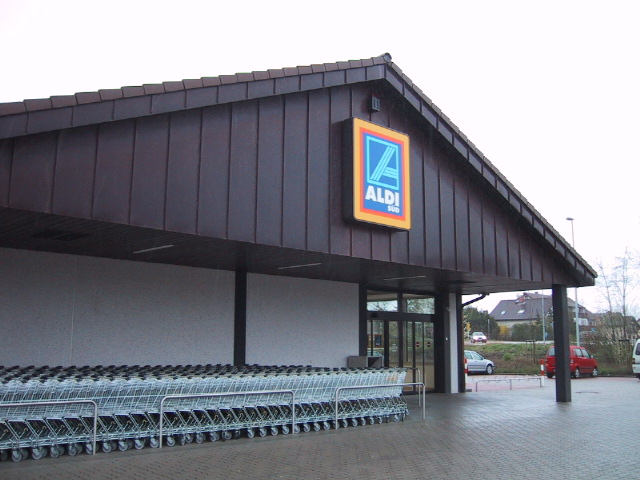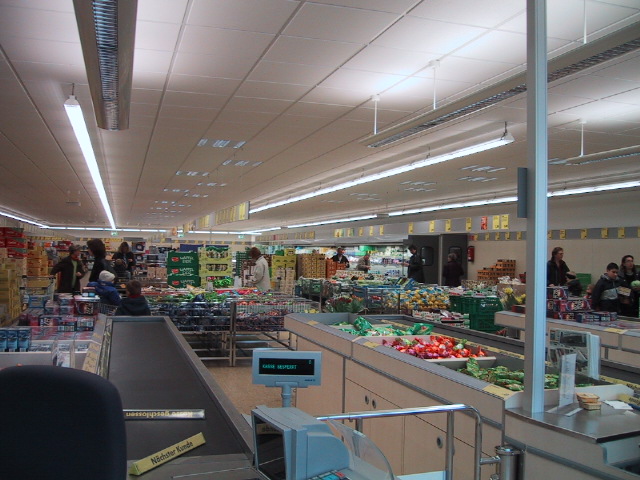 We also stopped at a pharmacy in one of the charming villages along the way where Terry bought a set of nail clippers to replace the "weapon" that had been confiscated from him when he boarded the plane in Toronto. Back in the now bustling Messe, there was a beehive of activity.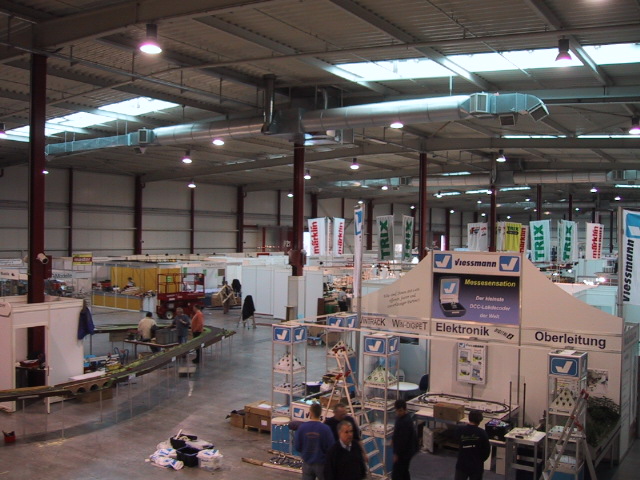 We were pleased to finally meet our Z_Scale friend, Dieter Nolte. Dieter had become a great friend via the Internet and had already provided enormous help to me with contacts, his German translation of the VECRR brochure and, of course, his translation of the VECRR feature article in the September 2002 issue of ZClub92. In no time at all, Dieter, Terry and I were old buddies and we were giving him a hand setting up his well-known Texas oil field layout that he had renamed "Red Rock Canyon, Texas" for obvious reasons.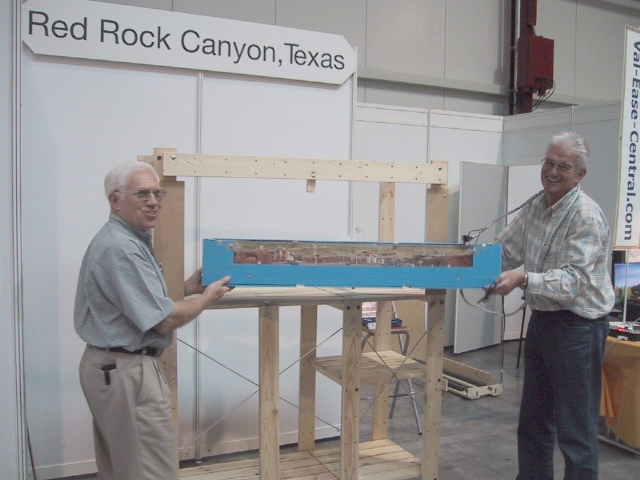 Meanwhile Helga had prepared coffee and sandwiches (her paté sandwiches were the best)! Helga took care of the BDEF exhibitors and she was always ready to put on another pot of coffee.
Once Dieter's stand was up he shooed us away so that he could fiddle with his connections and get the trains running. He has an automated arrangement where a boxcab shuttles back and forth while two trains alternate running around the main loop. There is lots of animation on the layout as well with spinning helicopter blades and wind mill water pump as well as his rocking oil well pump heads.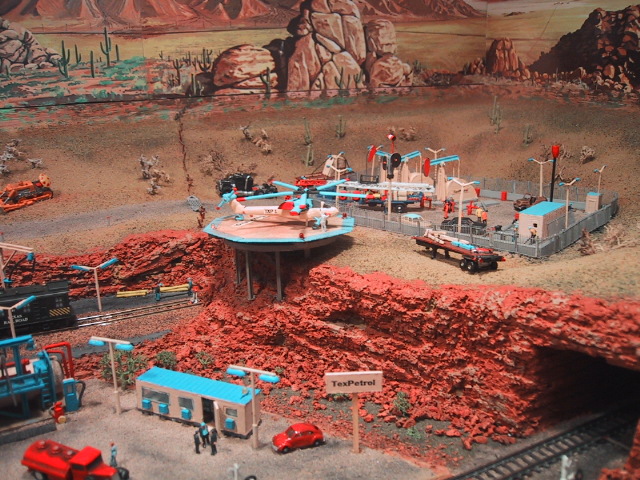 Terry and I took the opportunity to see if Harald Freudenreich had arrived. Not yet but we made our way around the rapidly evolving fair to marvel at the various stands, layouts and model creations we encountered. We were living in Santa's toyland! Unbelievable!
Harald and Ilona arrived later in the afternoon after a long and difficult drive from their home in northern Germany. The weather was stormy and the roads were sometimes treacherous. It was mid-March after all. We were all too happy to give them a hand setting up the stand.
Once the stand was ready a very important ceremony took place. It was time for the official Lackawanna boxcab handover. Terry was vibrating so hard from excitement he needed both hands to receive the long-awaited loco from its creator.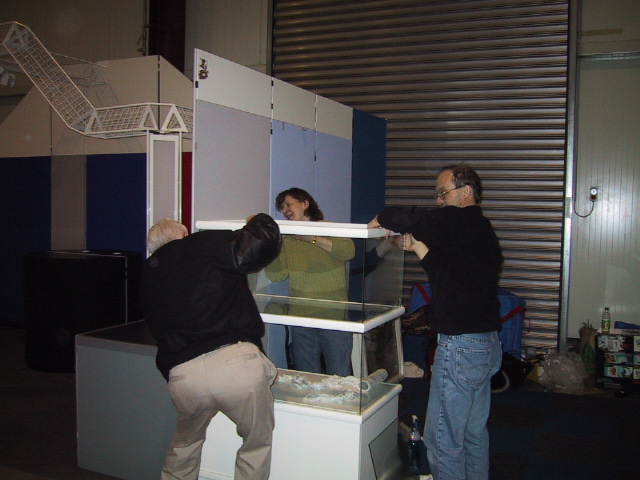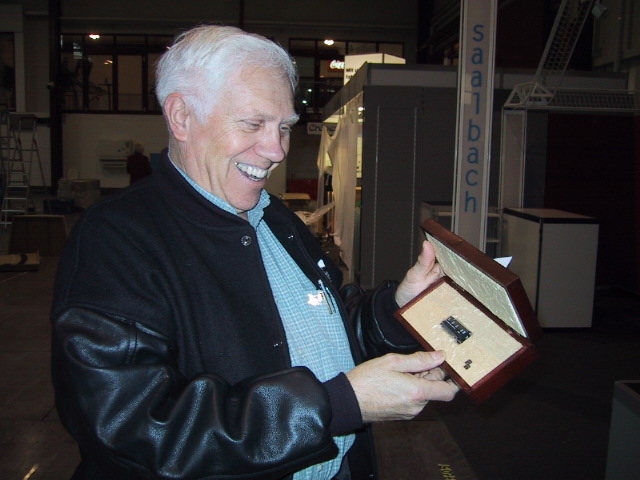 Terry was eager to run the new acquisition on the VECRR but it would have to wait for the switch-on the next morning when Harald could witness its performance on VEW. In the meantime, everything was working A-OK on the VECRR. The show was a GO!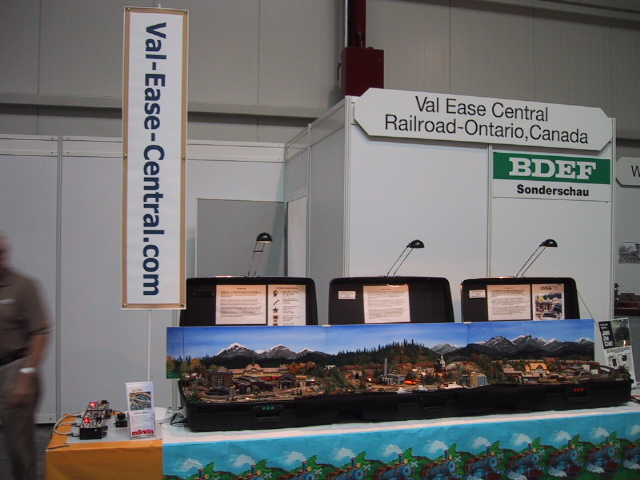 It was time to head back to the hotel. However this time we had a new driver...Dieter...to chauffeur us home.
In order to do him justice Dieter needs his own chapter...
---
Stay tuned for Episode 6 of the Great European AdventureZ 2002 | Return to Sinsheim Chronicles Home.
---