Val Ease Central Railroad by Jeffrey MacHan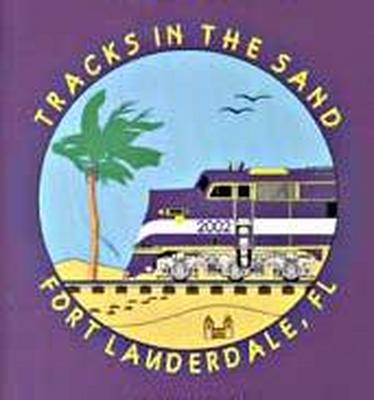 Tracks in the Sand
2002 NMRA National Train Show, Ft. Lauderdale, FL
Warning: the following is biased personal opinion of the basest nature and may not come even remotely close to reality as perceived by those unfortunate enough to be mentioned here within ;-)
Thu Jul 18, 2002 7:26 pm
Subject: NTS2002: Touchdown in Fort Lauderdale!
Dispatch from the front:
On our third day on the road we finally arrived in Ft. Lauderdale at 1:30pm precisely. We checked into our very comfortable Hampton Inn hotel which offered ISDL internet connection, fridge, free breakfast and indoor parking...all for $79 US...incredible!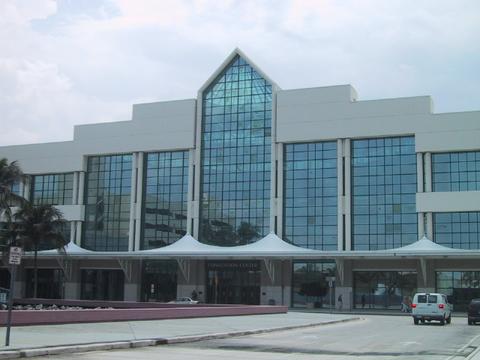 After dumping the luggage we drove the 4 miles to the convention center where it seemed chaos reigned yesterday when the exhibitors were moving in. Today was much more relaxed...I picked up our badges and said a warm hello to Dottie Finch, the NTS administrator and then headed to the loading dock where I was able to park and unload no problemo.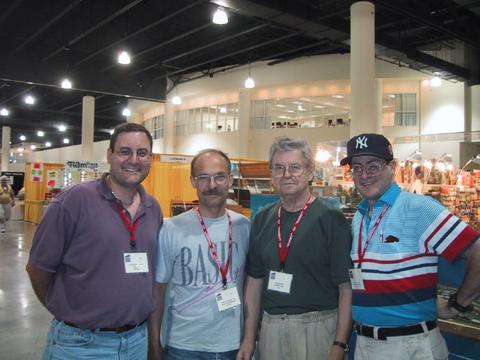 It took me all afternoon to set-up of course. I had to say hello to all the gang...first of all to my neighbors at the show, Helmut Paule, who brought 2 layouts, and to Harald and Ilona Freudenreich, then to David George who had just finished setting up his 5 module Golden Blackhawk and Central City layout. David introduced me to his wife, Judy who was along to enjoy the sun and sand and to help guard the layout. Rob Kluz dropped by along with Mitch Brownstein, a fellow Z modeler who Rob met at Modellbahn Treff last May. Interestingly enough, Mitch had never heard of Z_Scale@yahoogroups.com so I immediately presented him with a business card.
Then it was over to the Z modular group where Rob Albritton was extremely happy to be putting the finishing touches on his modules (which he didn't have to reprogram for this show). He was able to use his new trailer for the trip to Florida. He is using X10 wireless digital video cameras to give the public a birds-eye view from normally unreachable vantage points. It looks really good!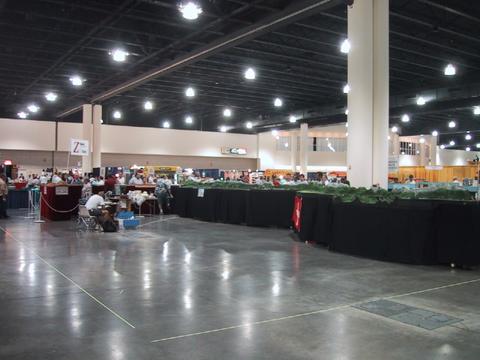 We also received a warm greeting from Jeffrey White and David Huffines (Dallas, Garland and Mesquite Z-Mod). Both David George and David Huffines are participating in the module competition so I gave them a couple of tips on how to complete the judging forms. I wish them both success in the competition.
Speaking of competition, John Selkirk, the outgoing National Train Show Chief Judge, came by to congratulate me again for last year's championship. This was a very nice gesture on his part. He was happy to tell me that he had retired from the judging position so now he was free to BS and enjoy the show to the fullest. He even gets free admission to the show!
Henry Jordan, the NTS Show Manager, came by on his golf cart to say hello and to invite me to organize a Z presence at the Toronto National Train Show next year. He even offered to provide meeting rooms for the Z-SIG. This is terrific...now all I have to do is convince the Z gang to attend the show next year in Toronto. ;-)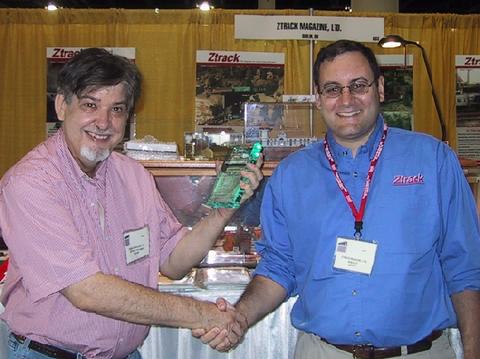 Well, it's time to have supper (ordered in some chinese) and to prepare handouts for the public tomorrow. I arranged a time (9:50am tomorrow morning) with Rob Kluz for the award presentation to Reynard Wellman on behalf of Z_Scale. I want a good picture of this ceremony for the NMRA Bulletin. Later in the day we'll measure the length of the module mainline for the record books. Rob Kluz has already posted notices all around the layout proclaiming the world- record Z layout...we'll confirm that tomorrow with the help of Dieter Nolte and Helmut Paule.
More to come from hot and humid FtL.
---
Sun Jul 21, 2002 8:30 am
Subject: Breaking NewZ from NTS2002!!!
NEWZ FLASH!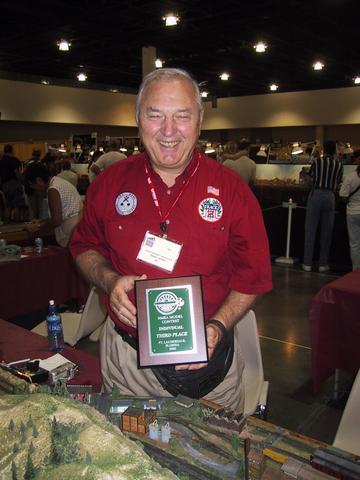 David George, President and General Manager of the Golden Blackhawk and Central City RR, was honored by the National Train Show in Fort Lauderdale yesterday with 3, yes 3 prizes, in the annual layout competition.

David entered two modules in the competition and both won awards. His city module took 2nd place in the individual module competition (as opposed to a group entry such as a club) and the PIZZAZ prize awarded by IHC (International Hobby Corporation) for most entertaining and attractive entry in the competition.

David's second module took 3rd place in the individual module competition. Safe to say all of us Z scalers present at NTS2002 are extremely proud of David's accomplishment. His hard work paid off. Congratulations from Z_Scale, David.

Jeffrey MacHan
reporting from NTS2002
---
Fri Jul 26, 2002 10:18 pm
Subject: NewZ from NTS2002
Hi Gang,
It's already been a week since the start of NTS2002! My how time flies! Only 51 weeks to NTS2003 in Toronto, Ontario. ;-)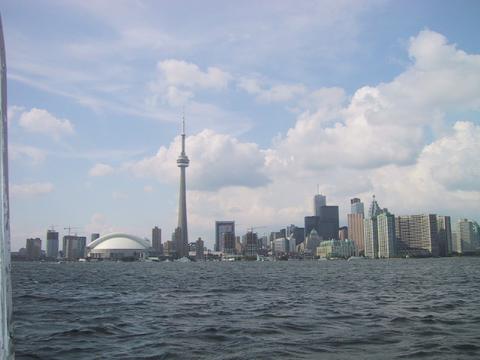 I have been disconnected from my dial-up email account (shucks) but I managed to get access from the hotel computer here at the Hampton Inn in Atlanta, GA. Tomorrow Marthe and I set up the VEC at the GATS in Birmingham, AL for the weekend. I love train shows, what can I say!
Anyway, I promised you a report on the highlights of NTS. To make a long story short, a major highlight of NTS2002 was reconnecting with my good friend, Dieter Nolte of Essen, Germany, who had arranged his vacation to come join me as VEC crewmember for the Saturday of NTS. Dieter proudly sported his VEC T-shirt while he explained the workings of the VEC to visitors. Just as he was getting into his stride working the crowds, he was "kidnapped" and whisked off to spend his money at a local hobby shop that had some "Z".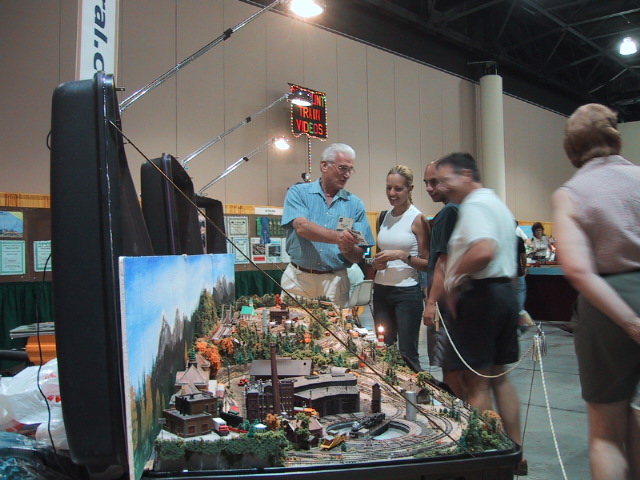 I can't blame Dieter who certainly couldn't refuse a guided tour of a local HS. The kidnapper, who will go un-named, should have shown more discretion and class i.e. minded his own business. Suffice to say I was not very happy to lose my crewmember for a good portion of the day. This put an unwanted extra burden on my wife, Marthe, who was not in very good health but who pitched in to take up the slack like a champion.
Despite the loss of my crewmember Saturday afternoon, NTS offered a great opportunity to meet many familiar and not-so-familiar faces at the show who, fortunately, dropped by the layout. Here are some of the Z buddies I promised to say hello to on the list:
- ran into Peter Elek from Mississauga, Ontario, the Schenker Logistics rep trying to calm the fears of the American vendors who will take a pass on the next NTS in Toronto. He definitely enjoyed the Z scale as he kept wandering back to the Z trains throughout the weekend.
- a big hello to Helmut Paule and his helper, Peter, who kept the crowds entertained with the Z Dreamland layout. Helmut had his layout under plexiglass, a lot of plexiglass because it's a big layout and very impressive. He also brought along a smaller Swiss project on which he had the FR cog loco running during the show. Harald Freudenreich was very happy to see his masterpices performing so well.
- Tom Browning from the DG&M came by for a nice chat. It was great meeting such an enthusiastic Z scaler. Tom had a module in the World- Record Z modular layout. He had scratch-built his home town to scale, no kidding (Munro, Texas I believe)! Great work Tom.
- Scott Shapiro from Gainsville, FL and a charter member of Z_Scale came by and tried to pull a fast one one me, he asked if the VEC was "G" scale. I did not hit him over the head with a wet noodle since several members of the public had also asked if my layout was "G" scale after talking with my friend, Helmut Paule, who has a tendency to pronounce "Z" like "G" (german accent). So Scott, I was prepared for your practical joke! It was super meeting you after having corresponded.
- Jeff Adamo and his lovely wife Ulla came over as well. Jeff has written for Ztrack Magazine and has a couple of articles in the works for us. Don't keep us waiting too long, Jeff ;-)
- just to drop a couple of names along the way, we were happy that several notable model railroaders from outside the "Z" ranks came by to say hello: Russ Larsen, publisher of Model Railroader Magazine, Terry Thompson, editor of MR, Henry Jordan, NTS Show Manager, John Selkirk, outgoing chief layout competition judge at NTS.
"Z" notables who dropped by: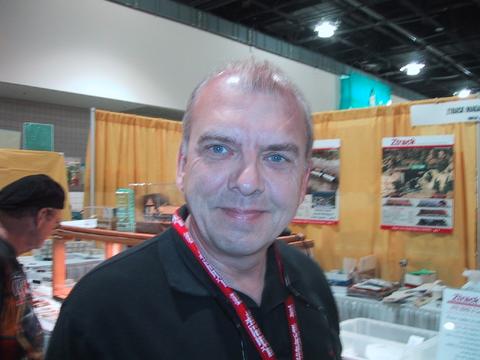 - Up and coming "Z" manufacturer, Lajos Thek, dropped by to admire the VEC. Lajos has been working on introducting a new line of European motive power to complement his Z-Thek trees and dioramas.
- Bob, sorry, Dr. Bob Olson, Ph.D., spent several minutes at the VEC where I grabbed him for an impromptu interview. The Pennzee story is incredible to say the least. Bob is a cancer researcher who for the lack of decent hoppers in "Z" decided to produce them himself. Stay tuned to Ztrack Magazine for a special "Last Spike" featuring Dr. Bob Olson and the Pennzee story.
- Uncle Will Wright finally found the VEC after circling the NTS show floor about 3 times. Will came to the show with his father who is convalescing nicely. Great to finally meet you, Uncle Will. Thinking of you...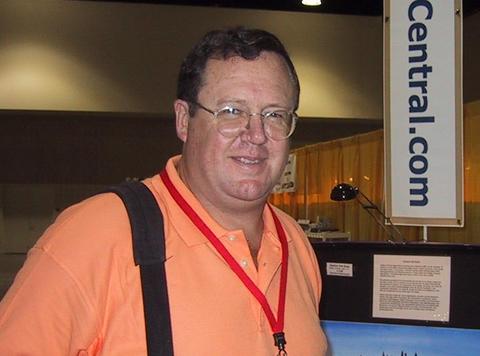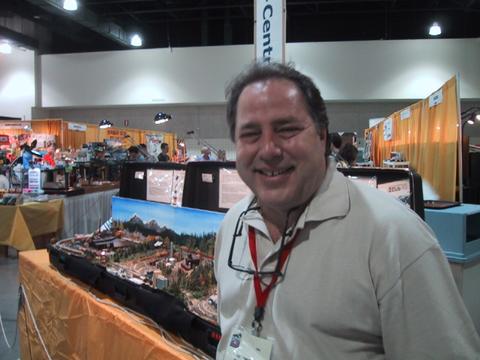 and, of course a big wave to Fred Gates and Riley O'Conner from Marklin, Eric Smith and George Menzie from Micro-Trains, Harald and Ilona Freudenreich, Reynard Wellman from Micron Art, Lajos Thek from ZThek, Rob Kluz from Ztrack Magazine and his father, Rob Allbritton, David Huffines, Chad Bryan, Bill Kronenberger and all the modular crew who dropped by the VEC to share a smile and the excitement of NTS.
Hello to Randy Smidt, Lou Arnold from Detroit, Barbara McCusker from Garden City, NY, Hector from Santiago, Chile, Mel Israel from Florida, Richard Service from Tampa, FL, Dave Miller from Toledo, OH who flew down to help set-up the modules, the one and only Fred Ladd, Karin Isberg and Carlee Hyett, 3 month veterans of Z scale.
A very special greeting to Dave and Judy George who now has all sorts of ideas for Dave's layouts!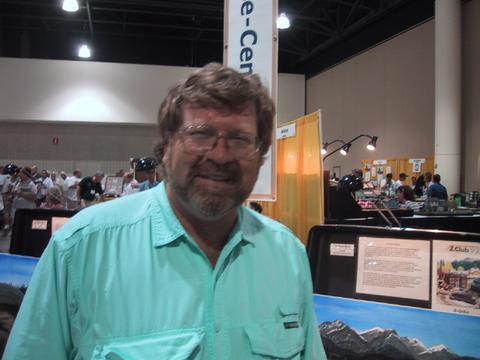 One of the biggest surprises of the show was meeting Rich Blandford who flew out from LA on Saturday. He said he came out to see the VEC but he had a lot more to see at NTS. Thanks for the wonderful compliment, Rich, I really appreciate it.
One person who I will never forget and who contributed to making NTS2002 such a wonderful experience for me is Dieter Nolte who joined the VEC crew from Essen, Germany. Thanks for everything, Dieter, hope to see you in the not too distant future.
---
For the record:
The module group established a new record for continuous mainline, 109 meters (as measured by Chad, Dieter and me). It appears that the previous record was 35 meters. Congratulations to one and all for a really BIG "Z" achievement.
The winner of this year's "Best of Show" was a magnificent "S" scale layout called "Silverton Central" made by Jon Addison from Pinellas Park, FL. In addition, the layout won 1st - individual module and 1st - group module. I don't know how it could win all three...new judges at NTS, I guess.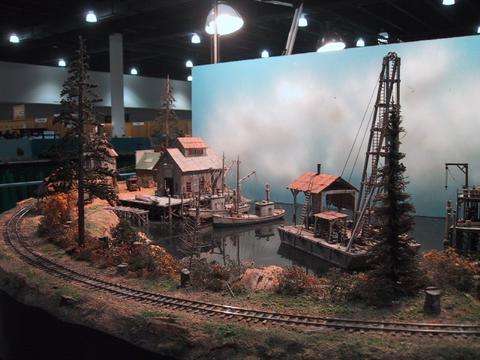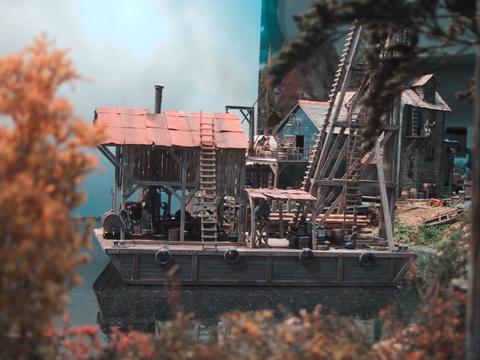 David George's Golden, Blackhawk and Central City won 2nd and 3rd individual - module and the Pizzaz Award from IHC. The Val Ease Central RR remains the only "Best of Show" winner at NTS (shameless plug) ;-)
Old Business:
On the subject of "old business" I presented Fred Gates, President of Marklin Inc. with our Z_Scale track petition. Surprisingly Fred was very happy to receive it. He told me that our effort might actually help to nudge the head office into producing track with roadbed. They are very much aware of the impact Z that introducing superior track would have...so what's holding things up? Money!
---
Dieter Nolte took it upon himself to try to sell the VEC during the show. I gave him my asking price but sadly he didn't come up with any takers ;-)
Word must have gotten around because on the last day of the show, I was approached by the director of "Ripley"s Believe It or Not Museum" in Fort Lauderdale. He wants the VEC for the museum...when I'm finished with it of course! What a hoot!
Isn't this hobby "Unbeliveable", or what?
NOTE: Subsequent research has turned up the information that there is NO Ripley's Museum in Fort Lauderdale, my mistake. Marthe tells me that the "director" in question was likely from the Ripley's Museum in Orlando. Other museums are located in St. Augustine and Key West, FL.
There are many more stories to tell but you really had to be there.
Updates:
*The NMRA has announced via the September 2002 issue of Model Railroader Magazine that a total of 22,531 visitors attended the 2002 National Train Show in Fort Lauderdale, Florida. As a result the total passengers carried on the Val Ease Central following NTS2002 stands at 777,582.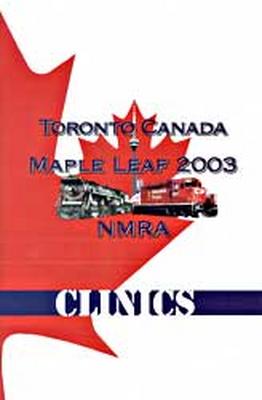 *Note: Due to the SARS outbreak in Toronto in the Spring of 2003, the NMRA National Train Show was cancelled. As a result, the VEC did not participate in the NTS2003 as planned. The NMRA 2003 Convention Clinic Handbook does contain the text of the Clinic, "Everything you wanted to know about Z but were afraid to ask", that was scheduled to be presented at the Convention by yours truly. Copies of the Clinic Handbook can be purchased from the NMRA On-Line Store.
Cheers,

Jeffrey MacHan
Chief Imagineer: Val Ease Central Railroad
---
Continue to NTS 2005, The "Val Ease Summit Experience" | Return to NTS Home.
---