Val Ease Central Railroad by Jeffrey MacHan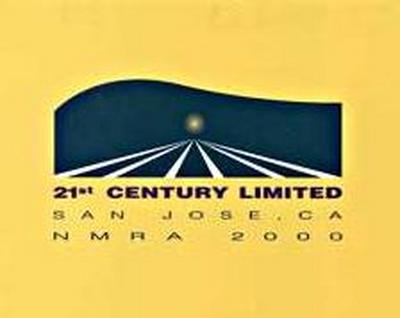 20th Century Limited
2000 NMRA National Train Show, San Jose, CA
Warning: the following is biased personal opinion of the basest nature and may not come even remotely close to reality as perceived by those unfortunate enough to be mentioned here within ;-)
Following my rather disappointing experience (judging-wise) at the 1999 NTS in Saint Paul, MN, I had swallowed my pride and decided to put my energies to better use and work on the layout which had expanded in the meantime to three sections. The VEC was now completely NMRA-compatible having qualified for the Master Builder Achievement Program Certificates in Electricity and in Scenery. I was determined to make an impression in my second participation at NTS. Another very important reason to attend NTS2000 was the fact that new-found beZt Z buddy, Terry Sutfin, from Vancouver, WA, had accepted to join me in the Zone, the space I had reserved for the "Z" contingent. (See the following email.)
In order to give some context to the following report, it is important to point out that NTS2000 took place shortly after Terry and my very successful trip to Germany with the VEC for Faszination Modellbau (see the Sinsheim Chronicles). At the beginning of July, Marthe and I had also moved from Vancouver, BC, our home for the previous three years to my new posting in Toronto, ON. In order to facilitate planning for NTS, I had left our layouts with Terry who agreed to guard them with his wife, Helen's, life! At the appointed hour, Marthe and I flew from Toronto to Portland, OR to join the Sutfins for our Excellent Adventure.
| | | |
| --- | --- | --- |
| Marthe and Helen waiting for the "kids" to get in the car! | No room! No room! | Time to hit the road to NTS. |
---
To : z_scale@onelist.com
Subject : [z_scale] Be part of the "Z"one at 2000 National Train Show, San Jose, CA
Date : Tue, 21 Sep 1999
From: "Jeffrey MacHan"
Good News,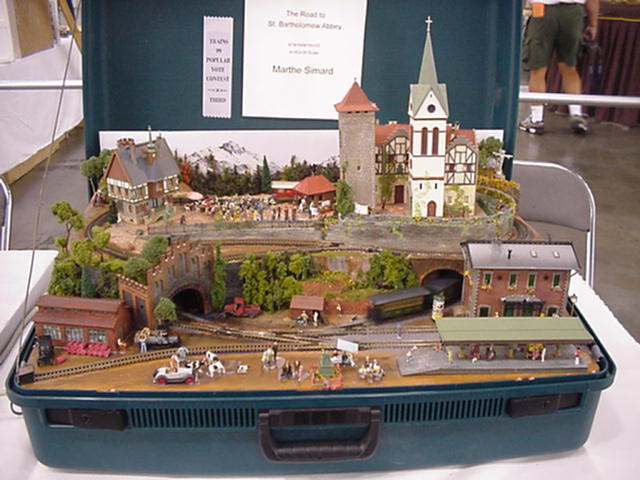 I am very happy to report to the list that Dean Dickerhoof, Layout Coordinator for the Y2K National Train Show to be held in early August 2000 in San Jose, CA has accepted my proposal to reserve space for several Z scale layouts.
The "Val Ease Central" in 3 suitcases will be there along with Terry Sutfin's "PVDC" aka "Poorville & Debt City" or "Portland, Vancouver and Dansville Central" or the "PlasticVille & DieCast Railway". To keep us company, my wife, Marthe has accepted to show her award-winning HOe suitcase layout, "Kofferbahn von Sankt Bartholomä". We're gonna have a great time in San Jose!
Jeffrey MacHan
Zoner #1
---
Jeff & Terry & Marthe & Helen's Excellent Adventure Begins...
Hi fellow Z friends,
We are officially on the road to the National Train Show in San Jose. Today, our itinerary will take us to Medford, OR to have a cup of java with Don Bouchard and Jon Lamere before taking a break for the night at Redding, CA.
I'll keep you up to date on our adventures along the way every evening using my Jornada pocket PC. I just love gadgets!
Here's another reason to join us at the show. We will be holding a series of draws for lots of Z goodies that your favorite Z manufacturers have kindly donated to the cause. Terry tells me that we have enough prizes to hold a drawing every 45¨minutes during the last 2 days of the show.
If you can join us Saturday, August 5th, we are going out for supper as a group. We expect several friends from the list.
It's going to be great at the Zone...
Cheers,
Jeffrey MacHan
---
The Fist Day on the Road to San Jose
Hi Gang,
Well, we have successfully survived the first day of our National Train show road trip and the four of us are still talking to each other! As a result, we will continue our Excellent Adventure again tomorrow.
We have made it to Redding, CA where we are comfortably ensconced in our adjoining rooms at the local Motel 6. The temperature was hovering around 105° when we stepped out of our airconditioned van. Terry pointed out that it would only get hotter as we headed south to the Bay area!
The concensus of the team was that we had had a very enjoyable and entertaining first day of our road trip.
The official departure time of our mission was 9:15 am. Fortunately we had loaded 90% of the van the night before. Once the final pieces of luggage was squeezed into place in the back of the van behind the 3 layouts making the trip with us, we were ready to depart.
Almost immediately Terry took a wrong turn and we spent 25 minutes trying to get back on the interstate highway through some back road in Portland, Oregon. Once back on the road we made such good time roaring through the truck traffic on this beautiful sunny day that we arrived in Medford, Oregon 2 hours before our meeting time with Don Bouchard.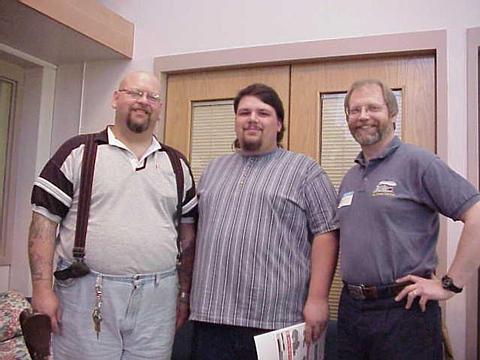 Although we like Don very much, we were not prepared to wait 2 hours in the heat for him at the local truck stop. Sorry Don! After much consultation and debate, Terry informed us that there was a hobby shop in a small tourist town called Jacksonville only about 7 miles from Medford. Before we could get another word out we were hurtling down the country road to our first hobby shop stop.
Scheffel's Toys Shop was a very well stocked and maintained hobby and train store. In fact, we spotted the Z scale almost immediately. The selection was very modest but enough that Terry was able to find a set of Preiser figurines that he had been looking for. Marklin, MTL and Preiser were the major lines carried. I took a few pictures as Terry commiserated with the owner on how the hobby business was so much better in the Old Days!
| | | |
| --- | --- | --- |
| Our first hobby shop stop (HSS) at Sheffels Toys in Jacksonville, OR. | For every HSS there is a price to pay...a stamp store stop (SSS) for the ladies. | So many stamps, so little time! |
Scheffel's Toys, P.O. Box 626, 180 West California Street,
Jacksonville, Oregon,
97530, telephone (541) 899-7421
www.scheffels.com c/o Bill & Linda Graham, owners.
In a gesture of good will to the two other members of our expedition, we visited the other stores and shops along the main street, finally stopping for ice cream floats and a milkshake to help us bear the 90+ temperatures.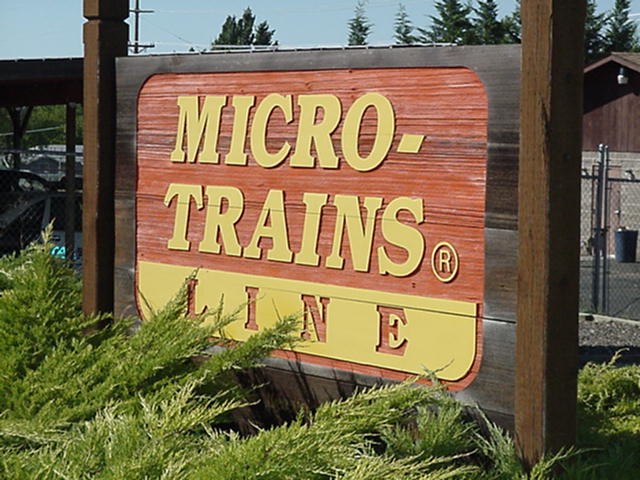 Now keep in mind that we were ahead of schedule even with the HSS (hobby shop stop). So we decided to make a pilgrimage to Micro-Trains Lines at Talent, Oregon a few miles further down the road. Driving into Talent, Terry asked me if I knew where MTL was. I pulled out his copy of MR that I had deftly slipped into the seat pocket, looked up the advertiser index and then checked the MTL ad for the address. Brilliant! 391 Rogue River Parkway, but did I know where that was...No!
Intrepid male drivers that we were, we charged onward making turns instinctively until we stopped at the local volunteer fire depot. The firefighter that Terry cornered for directions sent us back on our tracks 100 yards to the front door of MTL. It was a miracle! We had driven right past the factory without seeing it! This was truely a magical place!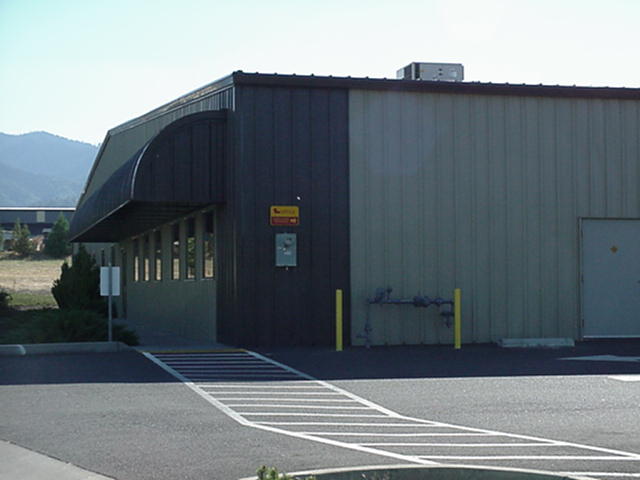 The building isn't much to look at but the fun stuff is inside.


Pat Murphy, comptroller, showed us around while the bosses were away!


Ztrack Magazine, right there on the front counter...wow!
Pulling into the large parking lot of the low slung metal building, we noticed that there was only 1 car in the lot. However there were signs of life in the car! Pulling up along side, I rolled down the window and asked where all the people had gone?
Marthe added that we had come all the way from Toronto, Canada to visit the factory. This last remark seemed to touch the heart of our unknown MTL employee. He introduced himself, Pat Murphy, Controller for Micro-Trains. He explained that the summer production schedule closed the shop early but he invited us in for a quick visit.
The unimaginable was about to happen, we were going to have a guided tour of the MTL factory. Terry and I bounded out of the car, abandonning our spouses to their fates while we enjoyed the joys of visiting the hallowed halls of Z scale production.
Pat showed us everything but the zinc casting room which was off limits to everyone for health reasons. Believe it or not, there were copies of Ztrack Magazine on the reception counter next to the current MTL new releases. Terry adroitly mentioned that I had an article in this issue which I added was the third of five in the series. A little plug never hurt anyone!
The tour was magical, complete, unexpected and extremely informative. I was not allowed to take pictures inside the production area but every image is burned into my memories. I'll draw what I saw using Crayolla Croyons and post them to the list some day (NOT!).
We learned that George Menzie and Eric Smith would both be at the National Train Show in San Jose starting Wednesday. No doubt we will have more to report from our conversations with them.
The MTL factory is an amazing place where we saw state of the art injection molding machines, numeric milling machines and even MTL's proprietary pad printing process in operation.
Terry and I would like to say a personal thank you to Pat Murphy for his very kind plant tour and we hope that he got the kitchen sink repaired on his return home after our chance encounter.
Needless to say, Terry and I had several hours worth of conversation following our MTL visit. The evening came to an excellent conclusion with spaghetti and meatballs at Marie Callendar's Restaurant in Redding, CA, where all four of us reminisced about the best and worst service that we had encountered in train shops. This particular topic will probably come back to appear in a future editorial on the list.
Tomorrow, our excellent adventure continues with our arrival in the Bay area and a definite HSS at the San Antonio Hobby Shop in Mountainview, CA where Z has a very prominent place in the train section.
Stay tuned for Day 2 of our Road Trip...
Jeffrey
---
Hello to all from San Jose, CA, site of the 2000 National Train Show beginning August 4th.
Weather report: It seems that the mercury hit 114° at 3pm in Redding and the car thermometer was bang on. Today's high temperature was 101° heading into Napa County.
The second day of our road trip was even more eventful than day 1. Starting with the bad news, I am writing to you from the desk of my room at the San Jose Airport Motel 6 where I made reservations six months ago for this week. Unfortunately, Motel 6 made the reservation for yesterday! The consequence of this little numerical error is that both Terry and I have been charged for a night on our credit cards and that we do NOT have reservations for the rest of the week.
As you can imagine the hotels, motels, campgrounds and park benches are booked solid for this week of the convention. We were lucky to have found 2 rooms for this evening. After much telephoning, we now have rooms from Thursday to Sunday at a motel 20 miles from the train show. We do not however, have rooms for tomorrow night. This will be our number one priority for after breakfast! I also have a little something that I want to sort out with Motel 6 reservations!!!
Fortunately, my travelling companions have not reacted badly to this little setback. I'm sure that I will calm down eventually. We did after all, have a wonderful trip to San Jose.
| | | |
| --- | --- | --- |
| The hills along the road toward Santa Rosa, CA | An SSS at StampaRosa, a huge thrill for Rubber Stampers! | Too bad all this space was filled with stamping stuff and no trains. |
Today took us over the Coastal Mountains, along exhilarating winding canyon roads, through the beautiful Napa Valley into picturesque villages where we made 3 HSSs (hobby shop stops). Thanks to my wife, Marthe, we made a stop at Santa Rosa, CA, where Terry found a wonderful hobby shop and train store called Trucks and Trains. There we were greeted warmly by the owner, Owen Shirwo and his employee, Howard Hansen.
The selection of Z was well presented and our hosts made every effort to make our shopping experience enjoyable, especially the part about offering a hefty discount for our purchaces. Needless to say, I could not resist and I made my first Z acquisitions of the trip which will be running on the layout at the train show later this week. We had a great time shopping and shooting the breeze with Owen and Howard. They really want to encourage Z in their community and will ship world wide. Check them out for some good deals on MTL mostly.
| | |
| --- | --- |
| Terry managed to spot a hobby shop while the girls were enjoying their SSS. | Owen Shapiro made us feel right at home. |
Trucks and Trains
Hobbies and Collectables
4237 Montgomery Drive
Santa Rosa, CA, 95405
707-537-6586
Terry, I found out, is a master at finding train stores. After our visit to Trucks & Trains, we headed south along highway 101 to Petaluma where we made a brief visit to Models and More, a full line hobby shop. The Z selection was quite small although I was able to find another of my most wanted items from their display case. Terry was able to resist since there were no discounts to be had at this store.
It was still early when we headed over the John F. McCarthy bridge to Alameda, CA, so we made an attempt to visit a third hobby shop in Mountainview, CA. After crawling along highway 880 for 45 minutes, I finally threw in the towel and postponed our visit to San Antonio Hobby Shop until tomorrow. All I can say is that it had better be worth the trials and tribulations of Silicon Valley gridlock!
Overall, today's activities were enjoyable. The scenery was breathtaking, the company joyous and generous in its commentary on our driving and our HSSs were very rewarding in filling the voids in our Gotta Have lists.
Tomorrow should be fun with HSS planned for Campbell and Mountainview. We also hope to register for a couple of layout tours with the NMRA National Convention for Thursday if there is still room. Since we don't plan to set up the layouts until Thursday as well, finding a motel room some distance from the convention centre will not be an inconvenience for one night.
So as Helen Sutfin has so often said in the last 12 hours..."We are all just magma in the volcano of life, just go with the flow!"
More from sunny and hot California tomorrow as our Excellent Train Show Adventure continues.
---
Hi gang,
Today's wisp of wisdom from the back seat comes from Helen Sutfin: "We are but the bookcovers of life, we keep the insides together."
Day 3 began with a major success pulled off by the Silver Fox (aka Terry Sutfin) who cornered the motel manager and convinced him to shuffle some guests and incoming reservations in order to allow us to stay put for the week. Terry also managed to recuperate the garantee that we had lost due to the booking error of central reservations. I also have to thank Dan Chambers, the general manager of the San Jose Airport Motel 6 for his gracious efforts in accomodating our intrepid band of adventurers. Hats off to both gentlement! Of course, Terry's breakfast was on me today.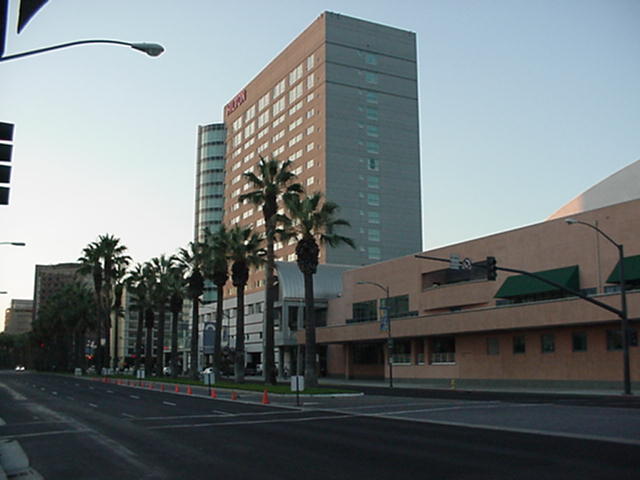 The sky was clear and blue and our day was once again full of adventure. Although we were not supposed to pick up our badges until noon, we presented ourselves at the NTS table at 10 am and cajoled Dottie Finch into slipping us our IDs for the show. Dottie has worked for the NTS for 11 years and says that she enjoys meeting the people who take part in the show.
OK, now we had our badges, we knew where the convention centre was, we knew how to get to the loading dock and we had found the faintly chalked position of the Z Group on the vast concrete floor of the convention centre. We were ready for tomorrow's set-up. Next on the agenda was to try to register for a couple of layout tours at the NMRA convention.
| | |
| --- | --- |
| Soon this baren wasteland would be transformed into an exciting train show, or so we hoped. | There it was! the Zone. |
In order to register, we had to make our way to the convention hotel (the Doubletree). We had a faint idea where it was since Helen had spotted the hotel logo somewhere during our meanderings the previous day. Off we set and 5 hours later we were in the hotel parking lot which was, by the way, only a 5 minute walk from our Motel 6! Why it took us so long is a super story but far too long for this chronicle.
The key to going unnoticed at a major train convention is to but on a badge with your name on it and act as if you belong. Terry and I did just that and spent the next 2 hours wandering around the National Convention, poking our heads into seminars and clinics, peering at the entries in the model contest room, waylaying familiar faces who happened to be unlucky enough to be within shouting distance of us and of course, buying tickets to the one layout tour that was still available during the Thursday time slot that we had free.
| | |
| --- | --- |
| The San Antonio Hobby Shop beckoned to us. | The aisles were packed with great train stuff in all scales. |
Tickets and spouses in hand, we jumped back in the car for our long awaited HSS to San Antonio hobby shop. This time Terry came prepared having borrowed a city transit map from our pal Dan at Motel 6. This time we made it without hindrance from construction barricades nor police road blocks and detours as was the case the previous day. The shop was a pleasure to behold. It was large and well stocked in every scale. The Z section was mainly Marklin with a couple of MTL freight cars. Terry and I pawed through the inventory comparing prices with previous HSSs. I bought a second set of containers to complete my dock scene. I also picked up a set of double fire escape brass etchings from Miller Engineering. ¨
Our day's shopping concluded, we turned to a late lunch in Mountainview and then headed off to the nearest party supply store for accessories for our Z Group sign. Instead of finding a party store, I turned into the parking lot of the Mountainview Goodwill.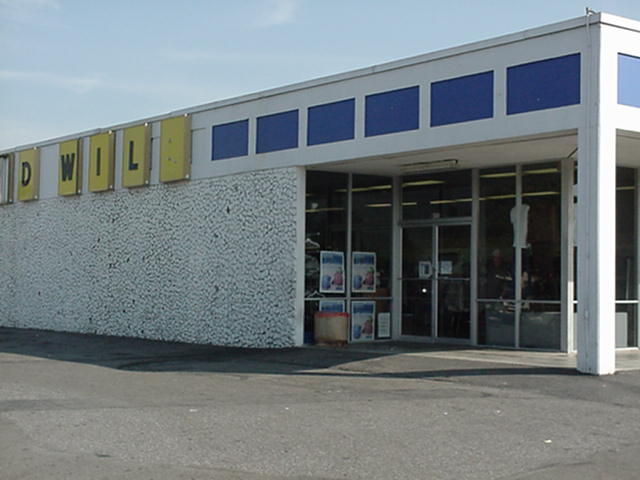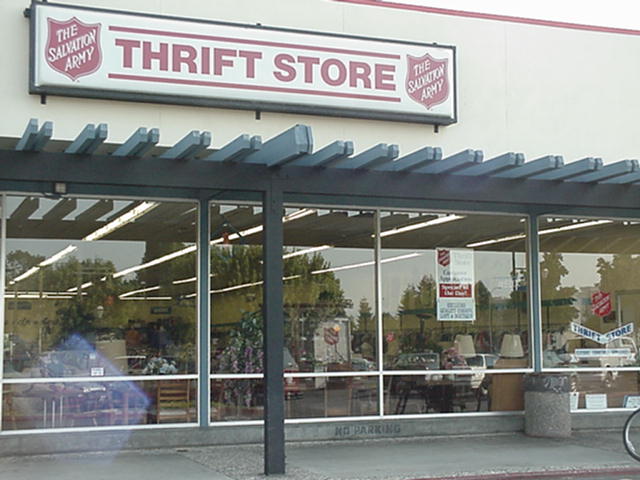 30 minutes later I found what I wanted at the Mountainview Salvation Army store...a tuxedo! The jacket fit perfectly although I wll have to hem the pants and take in the backside slightly but for $24 I couldn't beat the price!
We eventually found two party stores on the way back to the motel and with the help of our very imaginative companions, we purchased the last novelty items we needed for our sign and table decorations.
I know that this seems a little strange but all will become clear with Saturday's report. Terry and I have something special planned for this train show. Needless to say the 4 of us had a great deal of fun shopping and telling stories about each other's spouse. One of these days I'll remember something embarrassing to tell about Marthe. In the meantime, I'll just grin and bear it.
Back at the motel we worked until 11:30 pm getting our sign ready for Friday's opening bell. The alarm is set for 5:30 am for Thursday in order to be on the loading dock at 8 am to unload the 3 layouts and get set up before our 1:30 pm departure time for the NMRA layout tour.
The final plan that we have hatched allows us to finish setting up Thursday evening until 9 pm. Friday morning we will finish any minor tweaking to the display area and get the trains on the track and running for the openning of the show at 10 am. We also have planned to install a display area for Z manufacturers which has to be ready for the crowds in the afternoon.
That's it for day 3 of our excellent roadtrip adventure...I have to go to bed and get up early. Stay tuned for episode 4...
---
Friday, August 4 - Train Show, Day 1
Part One: the Layout Competition
As our intrepid group was careening toward the convention centre to be first in line for the 8 am opening, Helen, impossibly philosophical so early in the morning, tried to reassure yours truly with another wisp of wisdom entirely appropriate for the NMRA layout competition:

"It is better to have run and lost than to never to have run at all"

However, I was not entirely convinced that I would even be allowed to run (as had happened at last year's National Train Show in St. Paul, MN.)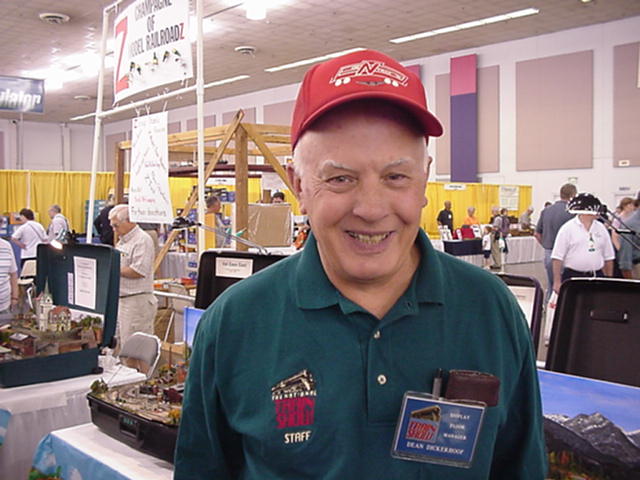 Nevertheless, at the 8 am opening I was running up the ramp to find Dean Dickerhoof to present my entry for the module competition. I quickly spotted his red baseball cap and moved in for the presentation. Dean informed me with an air of detachment that he was not responsible for the competition (despite the fact that his name is on every piece of paper that I had received instructing prospective competitors to remit the entry forms to him), that entries were now to be remitted to the chief judge, John Selkirk.
"Wonderful! Where is he?" I asked.
"Won't get here 'till 9:30," Dean replied.
"You'll send him to me, won't you, Dean?" I said trying to keep the edge of panic out of my voice.
"Sure thing." Dean shot back over his shoulder as he disappeared into the distance.
Marthe, my lovely wife, looked over and said, "Forget that! You'll never see them."
Setting up the railroads!
| | | |
| --- | --- | --- |
| Time to set the table with a nice train-themed paper table cloth from the Party Store. | Terry is starting to set up the sign posts. | As each suitcase is opened, curious visitors wander over to inspect the insides. |
| A real surprise awaits the crowds at NTS, Marthe's "Kofferbahn von Sankt Bartholomä". | Three suitcases open and it's time to unpack the goodies tucked away inside. | Checking out the connections, case by case. |
| Attaching the halogen lights and a smile for the camera. | Marthe's layout starts to take shape. | Terry gets down to business with a soft brush. |
I taped my entry form to the top edge of the suitcase and went about my business getting trains onto the layout. Terry had already quickly set up the PVDC and was having fun scouring the aisles for Z scale and chatting up a storm with manufacturers and fellow train show participants.
Finally, Marthe called me over in an excited voice. I looked over to see her standing next to a tall gentleman in a red conductor's hat. She had cornered the Chief Judge and he was going nowhere until I got to talk to him.
John Selkirk was from Sault Saint Marie, Ontario, I could see from his convention badge. I quickly explained my desire to participate in the competition. He replied with a very curt "No."
I kept my calm. I had been preparing for this moment of confrontation for 12 months. I would not be denied.
"My paperwork is ready, I was here yesterday to hand it in, and I have come 4000 miles to do this thing," I blurted out.
"I have come 3000 miles," he shot back.
"Well I'm from Toronto, how could you deny a fellow Canadian?" I deftly reposted, (I was desperate and would stoop to any low)...
"Well...okay, you're number 14. Give me your entry form. The judges will be by in 45 minutes".
| | | |
| --- | --- | --- |
| The judges are coming, the judges are coming! I'm almost ready!!! | The chief judge likes to see things from behind the scenes. | I have to admit the judges showed a great deal of interest in the small trains. |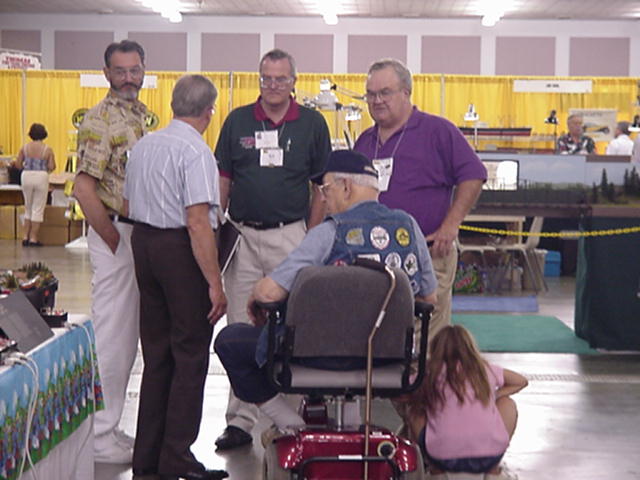 I staggered back to my colleagues who wanted to hear every detail of the skirmish. After the fifth rendition of the story, I had it burned into my memory!
Now I could relax and have some serious model railroading fun. In celebration, I stalked Dean Dickerhoof for 10 minutes and pounced on him with my AP Volunteer Form in hand. 5 minutes later I had the completed forms for my 4th NMRA Achievement Program certificate, Association Volunteer!
This was turning out to be a pretty good day!
Part Two: Jeff and Terry's Train Show Adventures
Trains were running smoothly on Terry's layout while I was struggling to keep my passenger train on the rails. I had derailment after derailment, on curves, through turnouts, in every tunnel on the layout!!!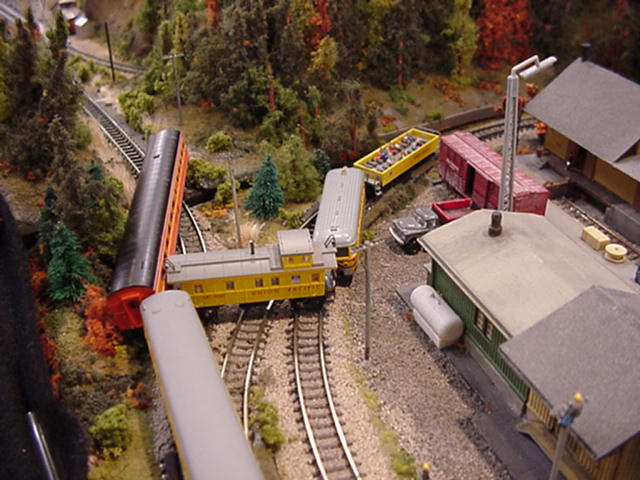 The explanation was simple. I had added 3 new coaches to the train. Like a bridge too far, I had added one car too many. The drag going around my 5 and 6 inch radius curves was simply pulling the forward cars off the track. When I removed two cars, the train ran flawlessly. When I added a second car, the train reliability was erratic and unacceptable. The 3rd car made operation hopeless.
Once the passenger car experiments were completed, I turned to my new set of Pennzee hoppers. They were a disappointment from the second I put them on my admittedly very demanding track work. They were too light, I thought, until I realized that the trucks were not able to pitch and roll over rough joints and dips. After pulling out the bolster pin ever so slightly, they began to track better. They were still too light! I finally gave up on my next project to add some extra weight to them because I could not remove the coal load.
Part Three: Its a great day for visits and BSing with the manufacturers.
Two of our fellow list members came by to say hello, Garth Hamilton (an Nn3 enthusiast who follows Z scale as well) and Phil Grant of Z-World. It was great to meet them and to swap lies about our modeling.

Since the first part of the day was reserved for the trade, we were fortunate to have had visits by several friends of Z scale.

Mr. Wangrow, of Wangrow Electronics
Chris Miller, of Miller Engineering and Micro-Structures
Eric Smith of MTL
George Menzie of MTL
and Geoff of MTL R&D
Reilly O'Conner of Marklin USA
Owen and Judith Shirwo of Trucks & Trains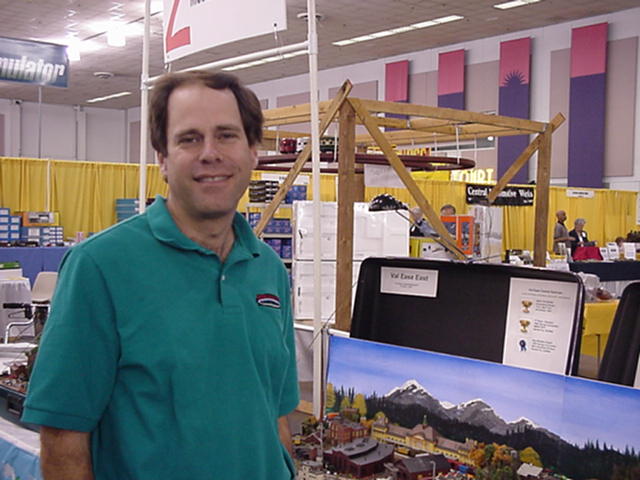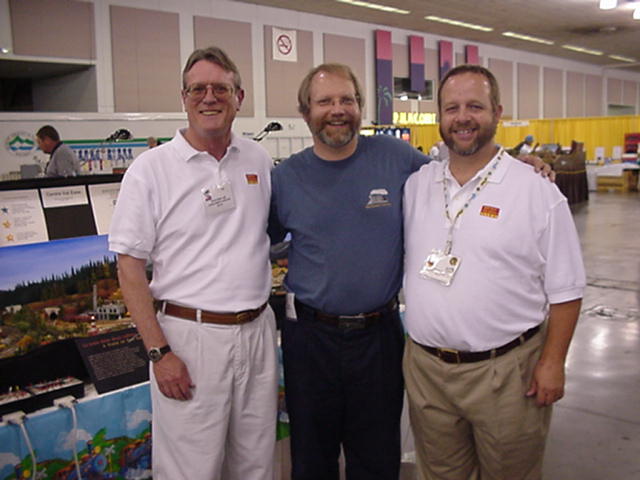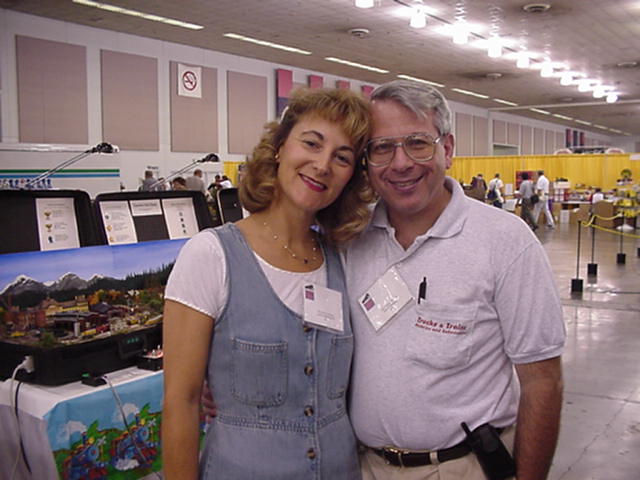 Part Four: Dinner at Original Joe's
After days of mediocre food, we finally found Shangri-La at Original Joe's.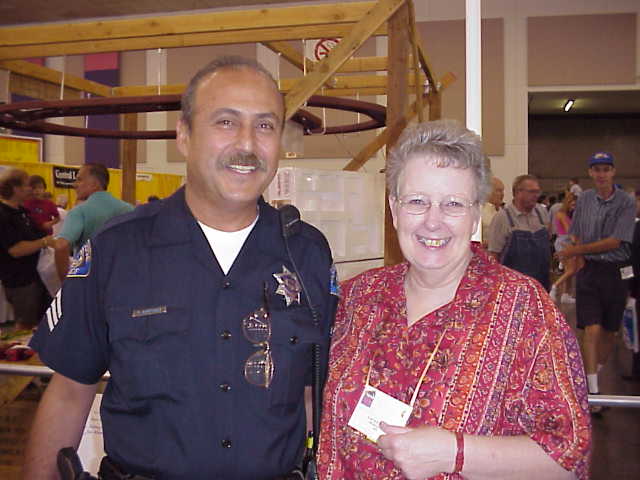 Sargeant Raoul of San Jose's finest had recommended without hesitation to experience the food and the cooking show at the counter of OJ's. Since this restaurant was 1 block from the convention centre and we had not had a decent dinner since we had set out on our journey, we quickly reached a unanimous decision to go to Joe's.
We were not the least bit disappointed. Not only was the food served rapidly and in copious amounts, it was delicious. To top off our dining experience, we were seated across from the sauté chef and the pasta chef. They put on a Broadway-theatre-worthy choreography of order taking, food preparation and plating and smiling conversation with us curious out-of-towners. We were in heaven.
| | | |
| --- | --- | --- |
| The chefs were entertaining as well as extremely skilled. | It was amazing what the chefs could do with a skillet. | The best seats in the house were at the grill. |
Unfortunately the human stomach only holds so much and there were several agitated people at the door waiting to leap onto our seats at the counter before we had slipped our last butt cheek off of the vinyl.
Back at the motel, I was too sleepy and anxious about the next day's encounter with the judges too write a coherent chronicle of the day's adventures.
Hope you enjoy this slightly overdue installment of our continuing excellent adventures at the train show.
Talk to you again tomorrow...
---
Saturday, August 5 - Train Show, Day 2: Z Scale, the Champagne of Model Railroadz
What day is it, anyway? I'm all confused! Oh, day 6 of our Jeff and Terry and Marthe and Helen's Excellent Train Show Adventure in Silicon Valley. Today's account will bring you news of the second day (Saturday, August 5th) of the National Train Show in San Jose, California.
This was a very special day. This was the day that Z scale would make a statement at the highest level. This marked the unveiling of "Z Scale, the Champagne of Model Railroadz..".
Our strategy to attract attention was multifaceted. The first element of our plan was to create buzz on the exhibition floor and bring a touch of class to the event.
How did we do that?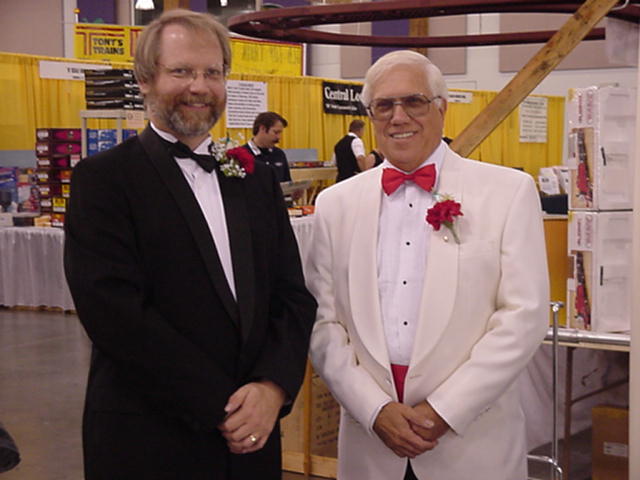 We dressed in formal wear! Yes, Terry was in his white dinner jacket, dress shirt, cumberbun, bow tie and dress pants, and I was completely remodeled in a black tuxedo jacket and pants, white dress shirt, bow tie and cumberbun. To complete the scene, our ladies had prepared boutonnieres of red carnations, with a sprig of white baby's breath and a miniature champagne bottle (in keeping with our theme).
Heads were turning and large smiles were to be seen wherever we passed on our way to the Zone. There we quickly unfurled our banner and hoisted it 10 feet into the air suspended from a structure that Terry had concocted from PVC piping. On a 3 by 4 foot white background, the 4 of us had prepared a highly visible symbol of Z pride. To the left, a full-height Z in red, to its right and centred in black vinyl lettering 2" high was proclaimed: "CHAMPAGNE OF MODEL RAILROADZ" with the Z in red to match the key. To the bottom of the lettering we had attached several miniature champagne bottles over matching miniature champagne glasses.
Never had a train show seen such sophistication and sartorial elegance. (I received an email today attesting to the fact that we were by far the best dressed at the Train Show). The show was open to the GENERAL PUBLIC and it was obvious from the start that our formal wear was a hit. After a while we started to have fun and began teasing the occasional visitor, "Didn't you get the memo, today was formal?"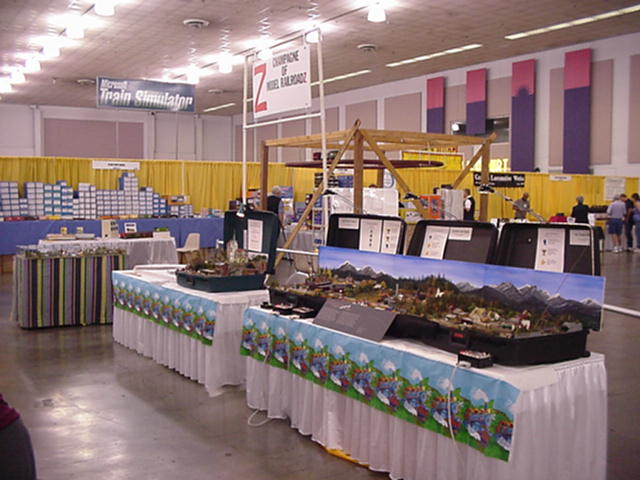 The third element of our PR strategy was to hold a drawing for a Z scale prize approximately every half hour during the last 2 days of the show. Whenever a Z enthusiast came out of the closet, we would invite him or her to fill out an entry form. If they were especially enthusiastic, we would find something extra special for them.
Terry had contacted most of the smaller manufacturers to see if they could offer their products as prizes. By show time, we had received 28 donations! Micro-Trains and Marklin were solicited at the train show. Only Marklin refused to contribute...try to figure that one out?
Several sponsors, including Ztrack and Don Bouchard, provided items to be given away to interested Z scalers.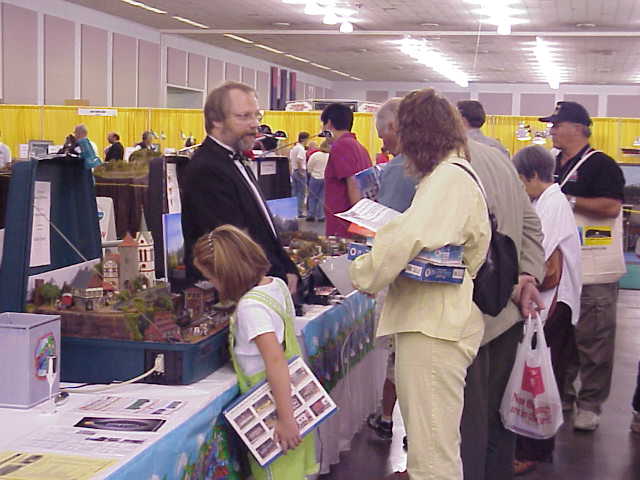 We had tuxes, we had a sign, we had a prize giveaway...all that was left was the layout competition, source of frustration and hair pulling on my part.
At 9:00, the announcement came over the public address system that the award ceremony would be made at 9:30 in the main lobby. At 9:25 I realized that I had actually been allowed to enter the competition and that 24 hours earlier, a group of 5 NMRA judges had spent a whopping 10 minutes gingerly walking around my layout as if it could spit venom at them!
To be honest, I was a little nervous as Marthe and I made our way to the ceremony. I wondered if the other contestants would think that I had put on formal wear as an insult to them. As we walked up to the group we were greeted with smiles and some good natured laughter. The Train Show chairman even pointed me toward the Bar Mitzvah party taking place further down the hall!
John Selkirk, the competition chair, cleared his throat and began to congratulate the contestants. He remarked that this year's entries were the best that he had ever seen in his many years as chair and judge. He added that his grand-daughter had participated as an apprentice judge at this event. I thought that it was too bad that she was only an apprentice judge...she had been the only member of the judging party to have asked me any questions or to have examined the layout with any interest.
The winners were then announced in the two main categories of competition: module - individual (my category) and module - group (where 2 or more individuals had worked on a single module).
Well, fellow Z listers, for the first time ever, yes ever, a Z-scale entry has won a major prize at a national competition. The Val Ease Central finished...
2nd overall in the Module - Individual category!!!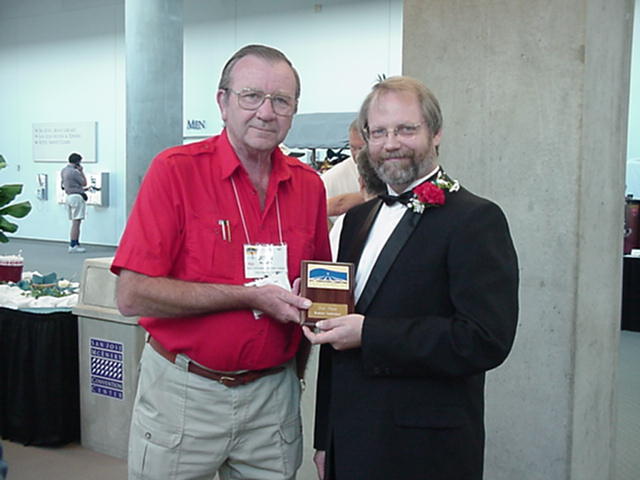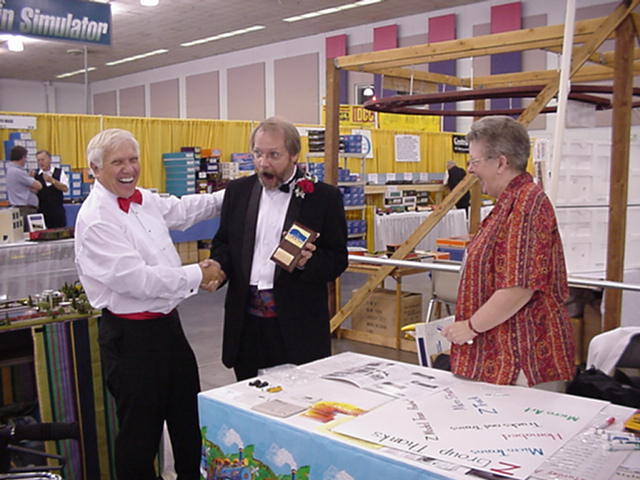 I couldn't help myself, I felt a twinge of pride as I accepted the plaque from John Selkirk. Marthe took a picture of the smiling winner and the chief judge. Then it was all over and I was taking my honour back to the Zone to share with my fellow adventurers. Terry and Helen were delighted.
During the next two days of the show, a steady stream of well wishers stopped by to offer congratulations including many other modelists and the Z manufacturers, of course.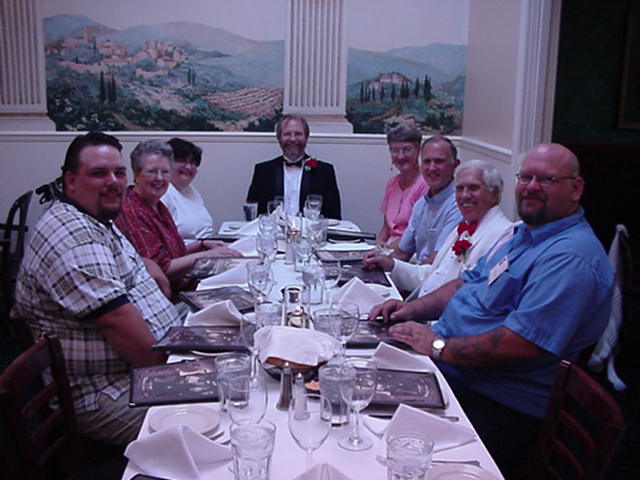 Was the San Jose show the breakthrough we had been hoping for? It was hard to say but later that evening at the Zone group dinner, conversation often returned to the significance of the day's events. BTW it was great to have Bob Hawes, his wife Nan, Don Bouchard and Jon Lamere join us for the NTS2000 Zone Dinner. The restaurant staff finally managed to throw us out but not before we had shared many a delightful story and insight.
The question of the day, "Had Z scale made a little dent in the armor of the NMRA establishment?"
Only time will tell on that score but it was certainly very enjoyable to have seen so many Z scalers identify themselves at the show. We met face to face with several fellow list members whose warm greetings to us made the whole effort worthwhile. A special mention of appreciation goes to Ajay who continues (as we speak!) to harass the manufacturers in order to get firm delivery dates of parts and accessories. More on that subject in my train show wrap up tomorrow.
Finally, at the close of the day, it was announced that 8,800 paid visitors had attended the first open day of the show. This did not include the 500 conference attendees who had visited the show on Friday.
Sorry gang but the eyelids are drooping...there is lots more to come so stay tuned...
---
Hello Z friends,
One full week has passed in our incredible journey to San Jose and the National Train Show. I am happy to announce that Jeff and Marthe and Terry and Helen are still talking to each other! Furthermore, Helen has provided a new wisp of wisdom for Model Train Widows travelling with their spouses: "We are simply the hubcaps on the wheel of the car, you gotta roll with it!"
First order of business in this report of our 3rd day of the National Train Show is to correct some errors that I slipped into the last epistle. What can I say, the little gray cells are dying more quickly than I expected.
1. the lettering on Terry's wonderful Z sign was in fact 4 inches tall and not 2 as I had reported. This means that our message was visible over a much greater distance than had previously been presumed!
2. an error of omission on my part. Although I was indeed quite debonair in my $24 tux, I had to stop every 15 minutes or so and duck behind the suitcases of the layout in order to pull up my trousers which were determined to embarrass me at the show.
As a result of #3 above, I decreed "casual Sunday" and wore my civies for the last day of the train show. Fortunately Terry followed suit! My official excuse for dumping the formal gear was that we had to pack up the layouts at the close of the show.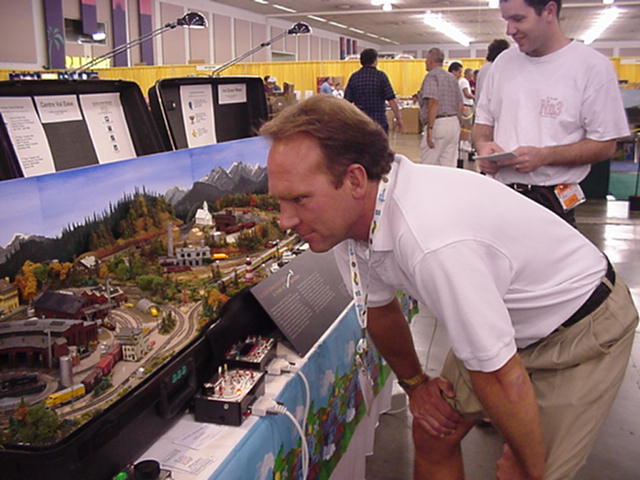 Sunday was for interacting with the crowds of kids and chatting up a storm with newly discovered Z scale modelers. In fact, we had 43 completed entry forms in the box for the drawing of the grand prize of a year's subscription to Ztrack Magazine. Remember that coupons were only completed by bona-fide Z scale modelers. Terry, Helen and Marthe saw to that.
I must take this time to express a heartfelt thank you to the sponsors who contributed the 25 draw prizes. As they say, without their support, we would have had to PAY for the prizes!!!
We had many great moments during the day but the most enjoyable of them all happened at 4 pm Sunday afternoon. At this precise time, Marthe and Helen called me over to make the Grand Prize drawing of the Ztrack subscription.
As I was excusing myself from the small crowd around the Val Ease Central, I noticed a very agitated woman standing nervously behind Terry's layout. Her hands were clasped in front of her and she was shifting her weight back and forth from one foot to the other. She stared at me intently as Helen shook the entry box vigorously to mix the forms. I rolled up my short sleeve and plunged my hand into the depths of the box. I turned and mixed the tickets for several seconds and tried to close my thumb and index finger on a single entry form. I had trouble doing it because there was an entry stuck to the palm of my hand.
Oh alright, I thought to myself, the entries are well mixed and my name wasn't on one of them so I pulled out the slip of yellow paper. I held it up at arm's length because I need bifocals but am too proud (or stubborn) to admit it to my wife. "Janice Anderson," I read out...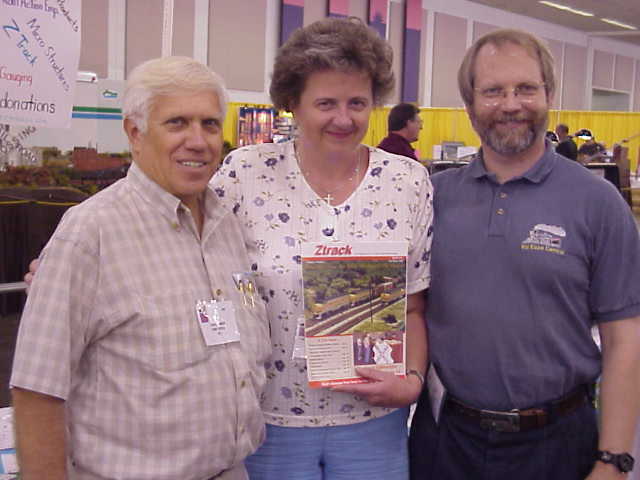 "It's me! It's me! It's ME!" the unknown lady exclaimed excitedly. "I'm Janice!"
Well, we all broke out laughing. Ms. Anderson had come by earlier to see the layouts and to enter the drawing. She told Marthe and Helen how much she enjoyed Z scale and that although she would like to win a prize, she wanted to especially win the Ztrack subscription.
Marthe and Helen both grabbed cameras and took pictures of our excited and delighted grand prize winner with Terry and me. We'll make sure that Rob Kluz gets the photos for publication in an upcoming issue of Ztrack.
A few minutes later, the public address system announced that the show was closed. I will have to contact the NMRA to find out the total attendance for the 3 days but our guestimate is in the neighborhood of 15,000.
Packing up was done without incident and moving out was chaos as expected. Finally around 7:30 we were back at the Motel 6 where our keys would NOT open the locks. The reservation system had checked us out that morning! Back to the manager we marched. 15 minutes later we had our newly reprogrammed keys and we were back on track, so to speak. We gathered in the Sutfin's suite to check out our purchases over the course of the train show.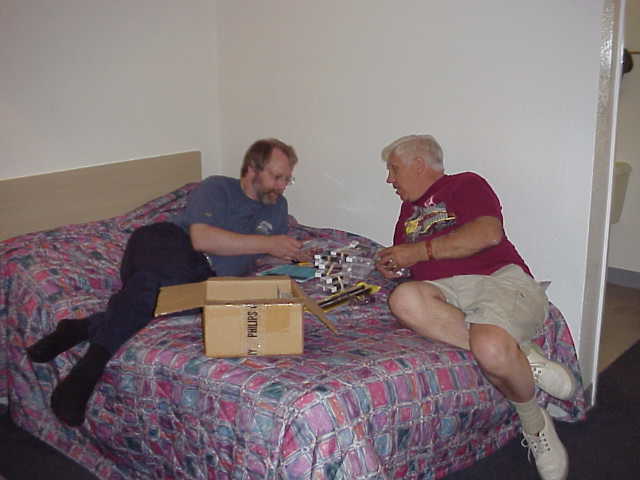 Our plans for Monday were to visit the California State Railway Museum in Sacramento and to generally goof off. I was looking forward to visiting the museum and to getting more information on UP passenger equipment, especially business cars.
Fast forward to Monday, August 8, 2000
Today was sunny and warm. We were delighted with the sights and sounds of historic old Sacramento. Don't miss the chance to see this site. It is well worth the detour if you are in the neighborhood.
Marthe and Helen split off from Terry and me for the afternoon's visit, we could do more damage that way!
I thoroughly enjoyed the museum where I went into tourist mode. Terry and I sat through the 25 minute historical film presentation of the Central Pacific RR. We followed the guided tour for it's 33 minute length, then we climbed over the rail cars and sat in the engineer's seat of the only surviving Cab Forward locomotive of the Southern Pacific RR. I found a reference book of UP business cars in the gift shop which, I hope, will help me scratch build a business car for the Master Builder - Cars achievement program certificate. I have to scratch build 4 cars out of 8 that must be super detailed, one of which, must be a scratch passenger car.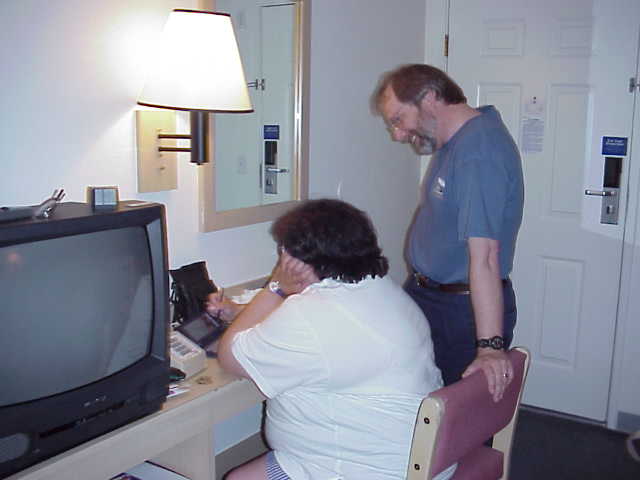 We are officially on our way back to Vancouver, WA where I will try to arrange shipping of our suitcase layouts back East. I'm trying not to think about it. After all, "We are just fleas on the camel in the caravan, we're just along for the ride!"
I hope that you have enjoyed these reports. I have enjoyed pecking them out with four fingers on my Jornada. In fact, I have felt like a foreign correspondent for the past week. I return home with lots of Z goodies and a tuxedo! Best of all, Marthe and I have enjoyed every minute of our trip with Terry and Helen Sutfin. They are the best travelling companions one could ever ask for. Without them we would not have had what has been truly a Very Excellent Adventure. We love them dearly.
Best regards to all and happy modeling,
Jeffrey MacHan
---
Good evening, fellow readers of the Train Show Chronicles.
I have been searching for an elegant way to begin my report of Day 8 of our Excellent Adventure
It has been a long day and our adventure is still far from over. Our travel plans for today were to take us from Redding, CA, where we had 1 HSS at Train Depot Hobbies to Vancouver, WA, with 2 more HSS's along the way. Well, as the cliche goes, "The best laid plans of mice and men 'oft go awry!" Such a fate has befallen our intrepid band of adventurers. Not more than 100 yards from our motel this morning, our faithful vehicle suffered a breakdown. Guess what? We're still in Redding, CA this evening!
| | | |
| --- | --- | --- |
| With no car we were forced to "let our fingers do the walking"! | Despite our car troubles, Terry was always on the lookout for inspirational layout structures. | Nothing but time on our hands. All we can do is wait... |
| ...and wait... | ...and WAIT! | Some in our party did a better job of waiting than others. |
The story of our car problems would make amusing reading but I should stick to the theme of our expedition. Suffice to say that the garage is waiting for parts that may or may not arrive in time for us to meet our departing flight from Portland, OR, Thursday, August 10, 2000 at 6:35 am.
I have learned in my travels that a true test of compatibility of travelling companions is a moment of critical decision. In our case, the decision is essentially how to get back to Portland in time (keeping in mind that we are travelling with 4 suitcases containing highly fragile and valuable layouts). I am very happy to report that the four of us are STILL talking to each other!
Reaching a consensus on our contingency plan was relatively straightforward. We presented the various options from the most expedient to the most cost effective, to the most extravagant, to the most comfortable and so on. Then while Terry and I were out getting the water bottle from the cooler in another room, the 2 women members of the expedition decided what we should do! Easy! After 8 days of travelling in package mode, our companions made up OUR minds!
The car will not be repaired in time tomorrow for us to reach Portland before the deadline. We must therefore rent a car for the return trip. We would repack the suitcases for shipment by Fedex - surface and send them on their way tomorrow morning. Then we would all continue to Vancouver in a rental car. Terry and Helen would say goodbye to us Thursday morning at the airport then return to Redding on Friday morning to collect their fully functional car.
Allll righty then! BUT...we had to rent a car first! For some strange reason, there is a major shortage of rental vehicles in Redding. In fact, most of the major rental companies had no vehicles available in Northern California. As Terry made call after call, going down the yellow page listings, we were beginning to become increasingly nervous, until...SUCCESS! We found a car with Northland at the Redding airport. With any luck, we will be able to continue our adventure, although the Excellent part has taken a little battering.
Reflecting over the day's activities, other than the 5 hours that were spent in the garage lounge until we learned that the mechanic had broken the only replacement part in town, leaving us stranded overnight, we had a good visit in Redding. We met Bill, the owner of the Train Depot Hobby Shop on Railroad Avenue who let us visit his 60' by 40' HO layout housed in the storage area adjoining the hobby shop. It was fun to talk with Bill and watch the UP Dash 9 diesels pulling a long 50 car train through the finished scenery on his layout. This 3-man club layout was better than most of the layouts that we saw on our layout tour at the NMRA National Convention. Go to see it if you have the opportunity.
We visited Joanne Fabrics, Target, Safeway and a quaint little used book boutique where we finally found a reference book on the Pony Express. Never mind why!
We ate well and we had lots of time to tell stories of our trips, of the kids, of the way it used to be and about the way it should be!
I will certainly try to keep you posted on tomorrow's developments, hopefully from Vancouver, WA.
Cheers,
Jeffrey MacHan
---
From : Terry Sutfin
To : z_scale@egroups.com
Subject : Re: [z_scale] On the road again...
Date : Fri, 11 Aug 2000
Hi Z modelers,
Just a short note from the "Silver Fox" of the National Train Show, Z contingent. Just received a phone message from Jeff and Marthe that they arrived safe and sound back home in Toronto, about 15 hours after the start of their journey from Vancouver, USA. We may not hear from them for a couple of days as they try to recover and catch up on sleep.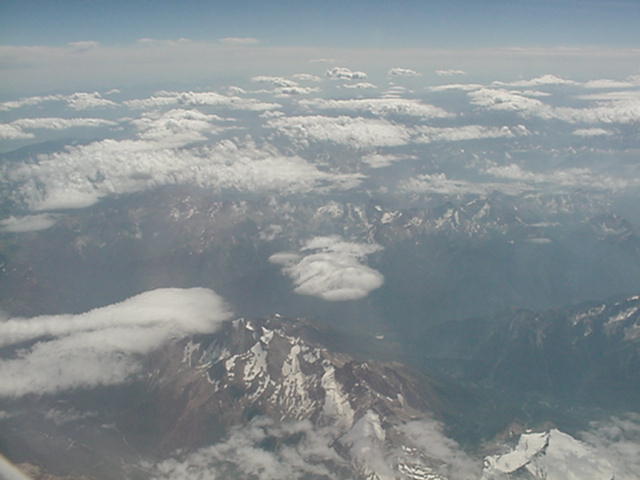 As Jeff mentioned earlier, we returned to Vancouver in a rental car, but what he didn't mention was the irony of it. The 'intrepid' travelers completed this phase of our journey in a Dodge INTREPID. In the future we need to be careful what descriptive terms we use, they may be prophetic.
But, nevertheless, after seeing Jeff and Marthe safely on their way from Portland International, Helen and I caught up with some of our mail pile, laundry, etc. Tomorrow will see us 'on the road again', bright and early for a return to Redding, CA., to retrieve our own vehicle. Hopefully, this time we'll be able to make the HSSs that Jeff and I had originally planned for our trip North from the NTS. Will keep you all posted as to what we find.
It was a GREAT trip and hope you all enjoyed Jeff's accounts at least a little bit as much as we enjoyed creating the situations for him to write about.
Jeff's 2nd place finish in the NMRA layout competition is truly a historical accomplishment for Z scale.
Happy Z modeling.
Terry Sutfin
---
From : "Ztrack"
To : z_scale@egroups.com
Subject : What did you do to the NMRA?
Date : Fri, 11 Aug 2000
Jeffrey,
I see that you met one of my co-workers at the convention. A gentleman named Gaylor Vickers is a reporter for the newspaper I work for. He is also a writer for the Bulletin (NMRA). He mentioned he met you and that the NMRA was very impressed with your layout. He said something about an article in the Bulletin and possibly a cover photo. WOW, go get them Jeffrey!
Rob
Ztrack Magazine
---
From : "Tak Murakami"
To : z_scale@egroups.com
Subject : [z_scale] Z at NMRA 2000 Train Show
Date : Mon, 14 Aug 2000
Hello Z-list members,
Although I've been subscribing to the Z-List for over a year now, this is my first posting to the list. The reason I write is because I was very fortunate to see the award winning Val Ease Central Railway and meet Jeffrey MacHan and Terry Sutfin in person. I have enjoyed reading about VEC on this list and visited Jeffrey's website for photos, but seeing the real thing in person is what it is all about, awesome! Terry also had his nicely detailed layout on display. I was totally impressed with the devotion to the Z Gauge cause by Jeffrey and Terry and their wives.
I took some photos of the two layouts, but I only got a few clear shots, for there were so many spectators gathered around that it made difficult.
| | | |
| --- | --- | --- |
| Val Ease East | Centre Val Ease | Val Ease West |
Jeffrey and Terry, thank you for sharing your Z layouts at the NMRA show. You guys are truly great ambassadors for the Z cause. After seeing your excellent layouts, I'm sure that many attendees left the show with positive impression about Z scale, that is, Z scale is much more than a gimmick on a coffee table, but a real workable train scale.
Cheers,
Tak Murakami
---
From : Terry Sutfin
To : z_scale@egroups.com
Subject : Re: [z_scale] Excellent Adventure - officially over!
Date : Mon, 21 Aug 2000
Jeff,
Certainly glad to hear that the Val Ease Central survived the Transcontinental leg of the "Great Z Scale Adventure". Especially after the care and time it took us, really you and 'wrap & pack', to get everything wrapped and fit into the cases and boxes.
Now onto those projects we came up with!!!
As Jeff has mentioned several times, this Z Scale "Excellent Adventure" was a most enjoyable vacation. Four people that have only spent minimal time together at scattered train shows, off on a 10 day trip together??!! Each day at dinner we toasted the fact that we were still speaking as friends and having a wonderful time. Helen and I haven't enjoyed ourselves this much with traveling companions before. In fact we're trying to plan when we can go East to visit Jeff and Marthe and tour the North East together. Also looking toward the NTS in St. Louis next year. Would really like to see more of you at these shows. Loads of fun, and you get to meet such wonderful people, Model Railroaders.
Jeff and Marthe, thanks for an unforgettable "Excellent Adventure" to the NTS 2000!
Terry Sutfin
---
Respectfully submitted,
Jeffrey MacHan
Chief Imagineer: Val Ease Central Railroad
---
Continue to NTS 2001, Best of Show | Return to NTS Home.
---