Z-SCALE RAILS
Published in the NMRA Bulletin: October 2003
(Text and photos © Copyright NMRA Bulletin and Scale Rails Magazine)
---
NMRA Bulletin: Z-Scale Rails by Jeffrey MacHan

Eric Smith is the young and dynamic President and CEO of the leading manufacturer of North American profile Z-scale rolling stock and motive power. I had the pleasure of interviewing Eric over the telephone last June. Let's listen in...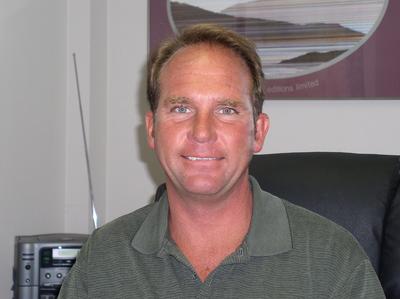 Eric Smith, CEO of Micro-Trains Line
JRM: Hi Eric, thanks for accepting my request for an interview. I'll try to make it as painless as possible although I might try to throw you a few curves along the way, okay?

ES: No problem, but I reserve the right to take the fifth whenever necessary!

JRM: MTL is a world leader in N-scale products. What led the company to enter the Z-scale market and when?

ES: In 1983, Keith Edwards, of Kadee Quality Products fame and the driving force behind the Micro-Trains Line of N-scale products, made the decision to acquire the complete line of Z molds from Nelson Gray, a pioneer in 1:220 scale. The first Z-scale release using this tooling was in 1985. It included the F7 diesel locomotive, the 40' gondola, the 40' flat car, the 40' wood- sheathed box car, the bulk-end flat car, the 40' livestock car, the 50' rib- side boxcar and the center-cupola caboose, 8 body styles in all. Today, MTL offers a total of 17 Z-scale body styles for the North American prototype modeler.

JRM: What were your most recent releases?

ES: Our goal is to produce at least 2 Z-scale releases per month. For the most part these releases are new paint schemes. Our latest body-style releases were the F7b in 2001 which won the Model Railroader Magazine "Reader's Choice Award" and the 13100 / 13200 50' gondola series (straight side drop-end and the fishbelly styles). In 1999 we produced a limited-run brass series 2-6-0 Mogul in Santa Fe lettering.

JRM: Speaking of the Mogul, what was the reaction to this early entry into the Z brass market?

ES: The Mogul was our first project using lost-wax brass castings and highly-detailed metal shell with two different tenders, a standard or vanderbuilt oil tender. The loco was critically acclaimed and also won a "Reader's Choice Award". The first run sold out but the second run stagnated.

JRM: Perhaps you were just a little ahead of your time with these locomotives. The Internet now seems to have opened up the market for high-end brass products judging from the success of companies like AZL and FR-Models.

ES: You may be right about that. Internet-based groups like Z_Scale are certainly helping spread the word about new products.

JRM: (slyly) What portion of MTL sales are generated from your Z-scale line?

ES: Now there's a leading question which I respectfully decline to answer. However I can tell you that Z is a small portion of our business, N being the bulk of our activities with a little Z sprinkled in.

JRM: That being the case, how would you characterize MTL's commitment to Z?

ES: Let me emphasis that we are definitely committed to Z although our Z product strategy could be characterized as "loose". Until recently a large part of our company resources were tied up with the development and launch of our N-scale FT A and B locomotives. Now that the FT is through the system we will be channeling more resources to Z development. I can say that there are several projects currently in the pipeline.

JRM: You wouldn't want to give us a hint about what to expect, would you?

ES: I am not at liberty to give specifics, you understand.

JRM: Come on, just one then!

ES: Sorry...

JRM: ...but?

ES: I said, NO!

JRM: (shifting gears) Hmm, well, how about this...at the moment, it is clear that there is only one accurate-to-scale mass-produced North American profile diesel locomotive in Z-scale, your F7 A and B. What plans if any does MTL have to add to the motive power offering in Z?

ES: Motive power is definitely in our plans.

JRM: (striking while the iron is hot!) There has been a strong expression of interest by Z_Scale members for an integrated track and roadbed system for Z. What are your thoughts on this?

ES: On that point I agree that Z could use an integrated track and roadbed system. As you know, 3 years ago we introduced our North American style flex track. We intended to expand the line and have been talking about it for some time. Our initial approach to designing and tooling sectional Z track incorporated some hopeful innovations that didn't prove out. Thus we're going back to a more conventional approach. We are planning a comprehensive American Z track system.

JRM: Where does MTL get ideas for new products?

ES: From our customers for the most part. We get lots of suggestions in the mail (including email) from our end-users. We also distribute questionnaires and surveys to our dealers and to visitors to our booths at train shows. Our staff also listens very carefully to comments from attendees at conventions and trade fairs. In fact, we've noticed some growth in the number of suggestions in the last couple of years.

JRM: Ah, yes, growth. Where does MTL see the Z market evolving to in the medium term, say the next couple of years? Are signs for growth positive from your perspective?

ES: We see a close parallel to the early years of N-scale with more people discovering Z and lists such as Z_Scale contributing to stimulate interest in the scale. Generally speaking, the hobby industry is recession-proof. Although the economic signs are uncertain, the business trend is upward. Z-scale appeals to a wide demographic spectrum, including women who find the "cute factor" of Z very attractive. MTL has introduced a new product to respond to this trend. Our "Table-Top" line in N and Z offers a ready-to-run loop presented on a furniture-quality base.

JRM: We all want Z to continue to grow and flourish. What strategies would you recommend to Z-scalers in order to promote the scale? What role would you like MTL to play in these strategies?

ES: We encourage Z-scalers to continue to develop public awareness of the scale at train shows, on the Internet, by submitting articles to hobby magazines, generally by showing what can be done with the scale. MTL's strategy is to continue to maintain a strong corporate presence at the NMRA National Train Show, the Amherst Society BIG Train Show in West Springfield, MA, the International Model Hobby Expo in Chicago and other major exhibitions in North America such as the recent 20th anniversary N-scale convention in Houston, Texas.

And of course, we encourage good-will tours such as the "Val Ease Central Railroad's European AdventureZ".

JRM: Good strategy! I mean, please continue.

ES: In terms of promotional literature, MTL does not offer a catalog as such since our web site provides an up-to-date listing of our current releases as well as a database of all of our N- and Z-scale production. Our "Short- Line" publication is the consumer version of our retailer newsletter. We do have a full-color product guide which can be used as a promotional tool at train shows.

We're always open to new ideas to promote Z. The best way to make suggestions is to send an email to MTL.

JRM: Thanks once again, Eric, for your time today and for your continuing support for Z-scale. I, for one, am looking forward to see what MTL has in store for us Z-scalers in the next few months and you'll be getting my product suggestions via email shortly.
---
Note: Eric Smith joined Kadee Quality Products in 1988. Located in Medford, Oregon, Micro-Trains Line Ltd. was spun off from Kadee and incorporated as a separate entity in 1990. In 2001, Eric Smith was named President and CEO of MTL. Send emails to info@Micro-Trains.com.