Val Ease Central Railroad by Jeffrey MacHan

The Eurospoor 2003 AdventureZ
Report #4: On the road to Eurospoor! October 13, 2003
Monday, October 13, 2003

Monday was officially designated as our "museum" day. But first we had to track down Jean-Philippe who had returned to London in possession of his key to the Maes B&B apartment. It appeared that this key was extremely difficult to have replaced. We managed to contact J-P on the phone at his office and within a few minutes arrangements had been made with Vlad to have the key returned ASAP. Another little domestic crisis had been resolved and I was allowed to remain as a guest at the B&B.

The early morning sunlight forced us to stop at every bridge along the way to snap photos of the magnificent vistas we encountered. The canals were like mirrors reflecting the exquisite architecture along their banks.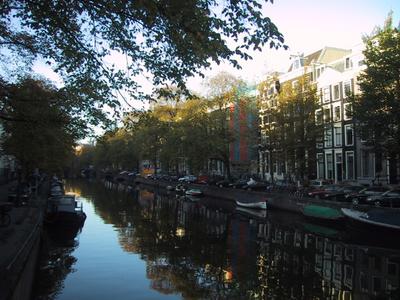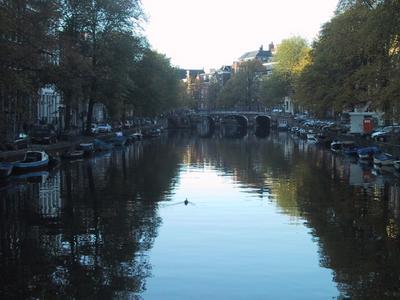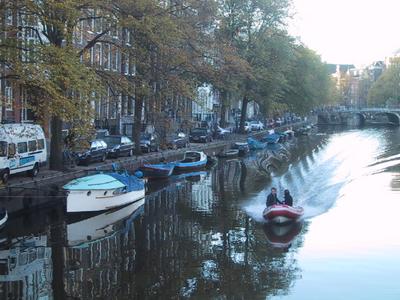 We purchased a 24-hour day pass on the city trams thinking that we'd put it to good use visiting the 5 or 6 museums that we had free access to by way of our Amsterdam-3-day-pass. The ride to our first destination, the Rijksmuseum took us up through the heart of Amsterdam. Once inside the museum, The Sutfins and I decided to separate to be able to cover more territory. This time, though, we had thought to bring along our Family Service walkie-talkies. The range was enough for us to keep in touch inside the museum. They really didn't want me to get lost again!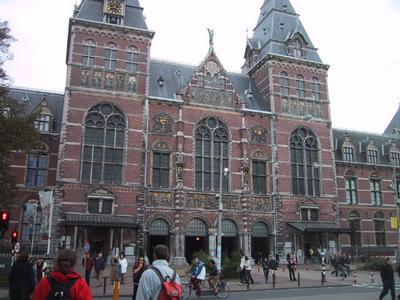 Although most of the paintings were of little cultural significance to me personally, I was especially struck by Vermeer's "Maid pouring milk".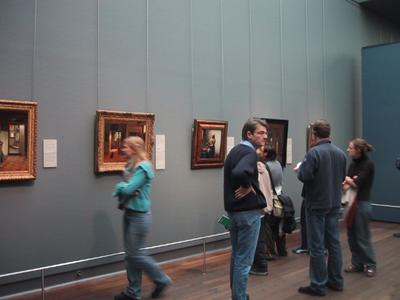 Like the Mona Lisa, it was surprisingly small in size but obviously a masterpiece. Two other paintings caught my attention. These were impressive first by their size and second by their subject matter. What struck me about these paintings was how normally taboo subjects were masked by the use of biblical or mythological themes. Both were even more flagrant being presented on such huge canvasses. The first, an explicite presentation of naked male posteriors, was an obvious homoerotic reference on the part of the artist. The second was the depiction of an incestuous image that would have resulted in the artist being severly sanctioned if it had not been disguised as an image drawn from Greek mythology.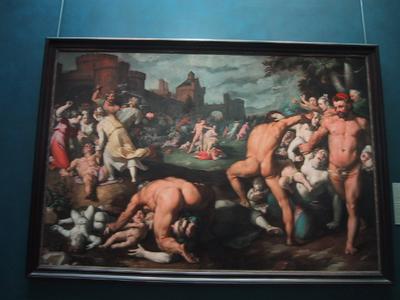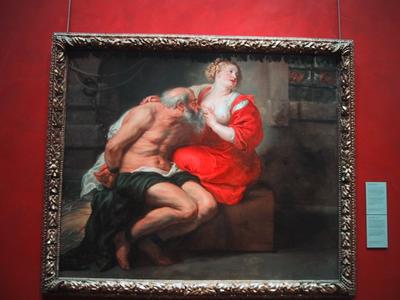 After four hours of steeping myself in high culture, I decided to explore the museum in search of its cafeteria. I had read that this was an affordable place to grab a lunch, for a museum that is. I was able to reach Terry with the radio and we agreed to meet in the main hall to buy souvenir postcards and head off to eat.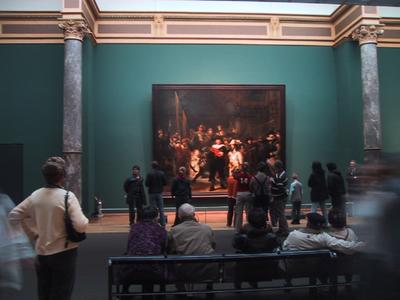 It's funny how tiring I find it is walking around the hard marble floors of a museum. Fortunately the crowds were light and we had lots of room to move around to see the exhibits. Unfortunately a large part of the Rijksmuseum's collection was unavailable for viewing due to work to remove asbestos insulation in several major halls.
While enjoying a very nice lunch in the cafeteria it was decided to forego the Van Gogh experience. Too much culture for one day!
Monday afternoon was reserved for shopping and picture taking. Terry had spotted a canal boat in the shape of a wooden shoe and he absolutely had to have a picture.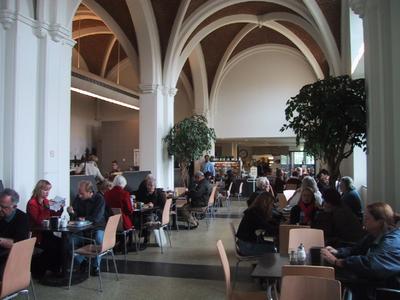 For my part, I wanted at least a few hours free to go shopping for an anniversary present for my wife. It took several hours and several shops and lots of questions and patience on the part of the salespeople but I finally found the gift I was hoping for in the diamond district.
About 4pm, Terry and Helen made contact with me by radio and we met up in Dam Square next to the ever-busy carnival. Since we had accomplished our shopping and picture-taking goals, we decided to check out the main department store (very chic but no hobby shop) and the main shopping street. We had been told that there was a hobby shop somewhere along this street but after walking a fairly good distance, we decided to abandon this particular quest. After all, we were going to be surrounded by trains in a couple of days. Still, Terry and I found it almost irresistable to try and locate a hobby shop wherever we were. Now is better, later is too late!
For the life of me, I don't remember where we ate or what we did later that evening. Suffice to say that I didn't get lost or wander far from my friends. We still had two days in Amsterdam ahead of us but I do remember that I was becoming a little weary of being a tourist even in such a beautiful city. Homesick? Perhaps. Worried about my wife...Definitely.
More adventures ahead...please stand by!
---
Stay tuned for Report #5 of the Great Eurospoor AdventureZ | Return to Eurospoor 2003 Home.
---