Val Ease Central Railroad by Jeffrey MacHan

The Eurospoor 2003 AdventureZ
Report #1: On the road to Eurospoor! October 9 - 10, 2003
Thursday, October 9, 2003

I had learned quite a few lessons on traveling by air to international destinations on my last European Adventure. As a result, I had packed light, only a backpack. My VEC uniform consisting of navy blue pants and three VEC-embroidered shirts were packed with the layout. Also passing through the security checks at Dorval International Airport on my way to a 7 hour stopover in London's Heathrow airport went without a hitch. I had placed all my metallic objects in a plastic sandwich bag that I could drop into the x-ray tray without having to dig through all my pockets. Marthe thought that my baggy solution as she called it, was hilarious. Hey, it worked! The flight on the wide body Airbus 320 was uneventful and quite comfortable as my booking agent had managed to provide me with an aisle seat close to the first class section. Consequently I was not bothered by the constant bumping of passengers and crew passing me on their way to and from washrooms aft. I didn't sleep as much as planned because I actually enjoyed the in-flight movie for once. The meals were excellent as well which came as a nice surprise especially since I was flying on Air Canada, our bankrupt national flag carrier.
---
Friday, October 10, 2003

I arrived at Heathrow at 7:30 am and quickly made my way to the "connections" shuttle bus to Terminal 3 where I had planned to meet my son, Jean-Philippe, who lives and works in London. Our meeting place was the coffee bar in the departure area of Terminal 3. Since I didn't have any British currency and didn't want to exchange euros, I survived the stopover on sugar-free candies and occasional sips from my bottle of water. Unfortunately, Jean-Philippe was detained at work (it was a Friday morning after all) and never made the flight to Schipol (Amsterdam) at 2pm. I boarded the British Midland flight wondering if Jean-Philippe would be able to get away for the weekend.

I enjoyed the British Midland flight although I couldn't help but notice the poor flight attendants who had to wear some quite awful hats, something akin to upside down cake pans.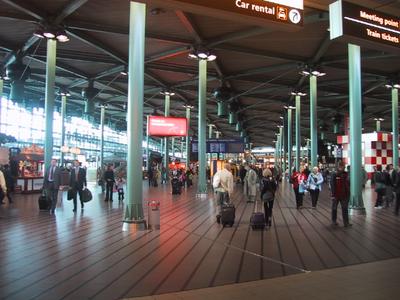 Another surprise awaited me at Schipol...it is a wonderful airport, full of shops and lounges. It didn't take long at all to find the signs for the shuttle train to Amsterdam's Centraal Station. Although there were automated kiosks that I'm sure spit out tickets for the train, I couldn't make heads nor tails of the Dutch instructions. Fortunately only a few steps away was a ticket counter where a very helpful English-speaking agent took my money, gave me change and a one-way ticket on the train. He even pointed me to the correct departure track which just happened to be around the corner and down a few steps.
I didn't have long to wait for the train. They run on a 30 minute schedule and within minutes I was gliding silently along toward Amsterdam. I rode in the upper section of the very modern and very clean commuter car (second class of course). The 40 minute trip took me along a very interesting countryside, canals running everywhere, buildings built on pilings, animals grazing on narrow pastures with no fences except between water-surrounded strips of land... and huge wind turbines. These are rare sights back home but I learned that they were rather common in the Netherlands where the wind blows across the lowlands almost constantly.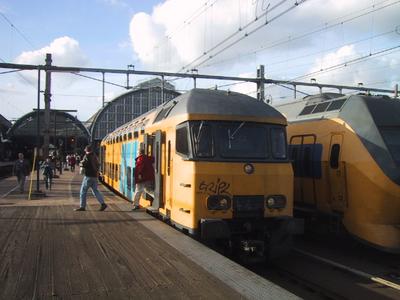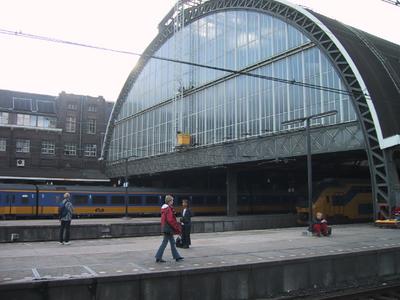 Stepping off the train in Amsterdam brought another surprise...the dog-nosed locomotives pulling some of the commuter and inter-city trains. I had never seen anything quite like them before and never did get used to them during my visit. I took pictures all along my walk from the train along the platform, down the stairs to the tunnels leading to the main waiting area of the station. There were lots of people and dogs! oh, and bicycles too.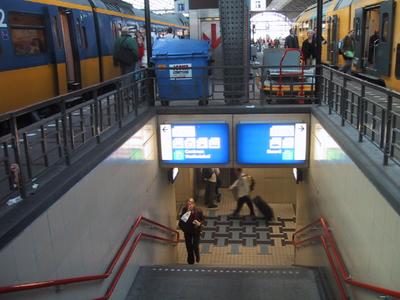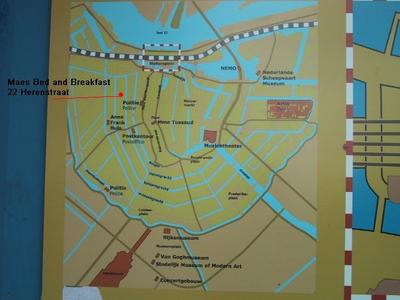 Then I noticed the bicycle guide ramps along side the stairs leading to the train platforms. The significance of cycling in this community hit home as I stepped into the daylight outside the station and looked to my left. I couldn't believe the hundreds, no thousands of bikes parked in the three-story bicycle garage and along the narrow vehicle lanes. There were more bikes being ridden or pushed or parked in my line of sight than I had probable encountered in my entire lifetime!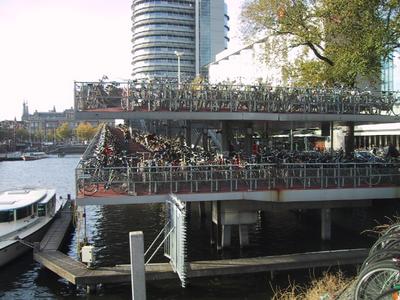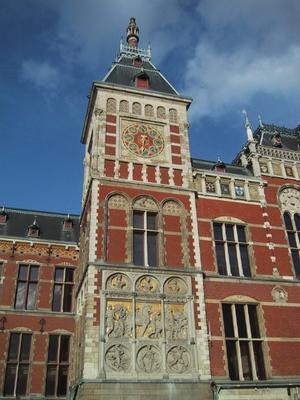 I loved the station building itself with its clock and wind direction towers. The view of Amsterdam from the station is too incredible for me to describe here. The canal boats, the wonderful old buildings across the way, the modern trams, the rows of taxi cabs and the bikes took my breath away. I simply took about 15 minutes and gazed around me, absorbing the atmosphere and the visual pleasure of the moment.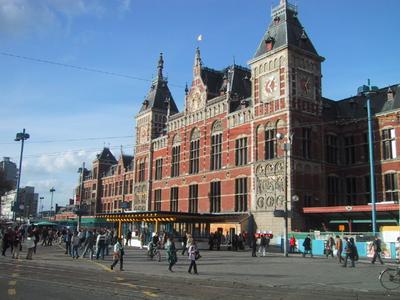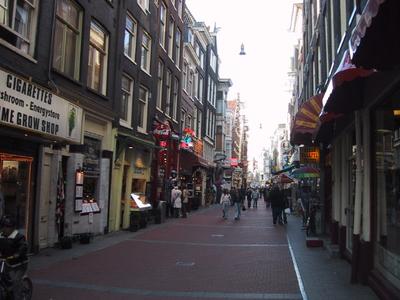 I finally realized that I had no idea how to get to my lodgings on Herenstraat although I had been told that it was within walking distance of the station. I decided to chicken out and take a cab but, as luck would have it, the ride was too short to interest the driver who was good enough to point me in the right direction and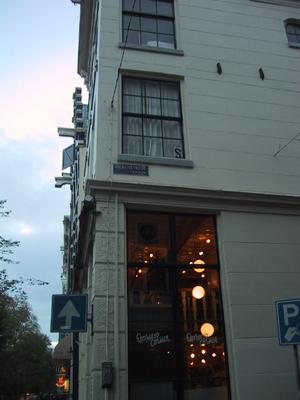 shoo me on my way. It was still daylight so I picked my way across the major arteries and turned right and crossed a couple of canals finally stopping to ask two young women stepping out of a bakery if they could direct me to Herenstraat (not Herengracht - I had been warned that there could be some confusion). They told me that the canal that I was standing next to was indeed Herengracht and that the street corner that we were perched on was indeed Herenstraat. In fact I could see my destination about 50 meters
down the street next to a yellow awning of the Thai restaurant.
Less than 5 minutes later I had my special key, had begun to unpack and had linked up with Terry and Helen Sutfin who had arrived earlier in the day at the B&B. But first I had to negotiate the narrow and highly inclined stairs. We had some catching up to do and thanks to a helpful suggestion from our host, Vlad, we were soon seated in one of the most highly recommended family dining spots in the Jourdaan area of town. We had ordered 3 fabulous dishes which we all shared. We were off to a great start to our trip.
There was still no sign of Jean-Philippe but Vlad had news that J-P would try to join us the next morning on the first flight out of Heathrow. Thanks to Helen, who had graciously agreed to act as our tour director, we had a full slate of touristy activities planned for our stay in the metropolis.
More to come...
---
Stay tuned for Report #2 of the Great Eurospoor AdventureZ | Return to Eurospoor 2003 Home.
---