The Val Ease Central Railroad ©
Taking Z Scale to the Public Around the World
(Text and photos © Copyright Jeffrey MacHan)
---
The Val Ease Central Railroad Celebrates 1,000,000 Passengers
Over the course of the past 8 years, you have often heard me speak of the VECRR, in articles, in vignettes, in anecdotes, in references but I have never really introduced the VEC to you. With the publication of this article, the VEC officially celebrates a major milestone in its unique history...1,000,000 passengers.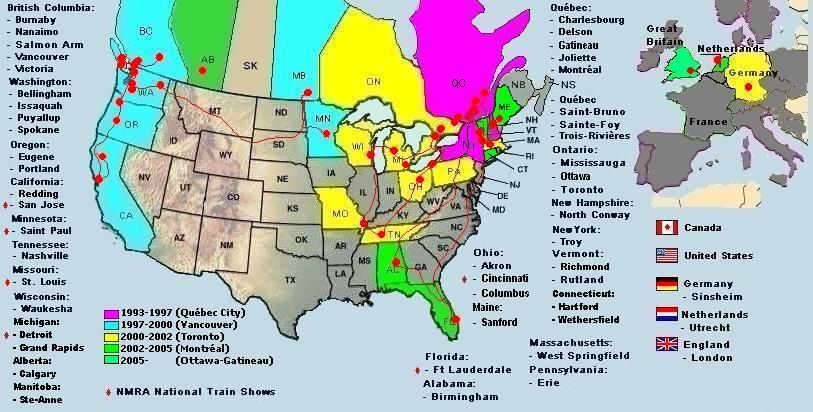 The travels of the VEC from March 1993 to July 2007
Layout Snapshot
Scale: Z 1:220
Era: Autumn 1954, steam - diesel transition
Setting: bridge line through Pacific northwest mountain valley along river transportation artery
Railroad: Union Pacific
Trackage: 65 feet = 4.37 Skm = 2.7 Smiles w/ 15 switching locations
Layout style: display and operations for up to 3 operators
Construction: extruded foam board in hard-side suitcases, 20-inch high painted gatorboard backdrop in 3 panels
Dimensions: inside = 13 square feet, footprint = 2 feet by 8 feet
Controls: 3 tethered hand-held single-cabs, 8-1 digital fast clock
Events: 87 appearances in 50 cities, 25 provinces/states, 5 countries
Distinctions: NMRA "Best of Show", Greenberg Shows 1st Place, Québec Museum of Civilization, Exporail-Canadian Railroad Museum, NMRA "Golden Spike Award", featured in Model Railroader Magazine, Märklin Magazin, Z-Info Magazine, Scale Rails Magazine, Ztrack Magazine.
A Short History of the Val Ease Central Railroad
Since 1993, I have shared my enthusiasm for model railroading with the general public and train lovers alike by demonstrating my Z scale empire, the Val Ease Central Railroad ©. First introduced to fans in Québec, Canada, in March 1993 the VEC has participated in 84 train shows and exhibitions in 50 cities in 25 provinces and states. By the time you read this, the VEC will have been seen by more than 1,000,000 people of all ages.
In addition to criss-crossing Canada and the United States the VEC has also travelled to shows in Germany (Fascination Modellbau 2002), the Netherlands (Eurospoor 2003) and England (London Festival of Railway Modelling 2006). The VEC has also been popular with judges and the public alike having won numerous awards and honours at local, regional and national competitions.
Some of the Highlights Along the Way
June 1992: A Märklin 0-6-0 steam starter set is purchased as a souvenir at "Le Train Bleu" hobby shop in Paris, France.
December 1992: Planning begins for a small layout designed to fit in a store-bought Delsey hard-side suitcase as a stress-relief project while on business trips.
March 1993: The VEC (1 suitcase) makes its public debut in Trois-Rivières, Québec.
November 1993: The VEC appears on CBC national TV News during appearance at the first of 10 Sun Youth train shows in Montréal.
December 1994: The VEC, now composed of 2 suitcases (Val Ease West and Val Ease East), wins 1st Place at the Greenberg Train Show in Troy, NY in competition with two MR project layouts, the N-scale Clinchfield RR and an HO entry.
June 1995: The VEC wins "1st Place - Diorama" and "Best New Modeler Award" at NMRA Northeastern Region convention in Québec City.
April 1997 - April 1998: The VEC is invited to operate as part of "Zoom sur les miniatures", a major exhibit at the Québec Museum of Civilization, Québec City.
March 1998: The VEC is awarded the NMRA "Golden Spike".
June 1999: Founded Z_Scale on Yahoogroups
December 1999: Began writing for Ztrack Magazine
July 2000: The VEC takes 2nd Place - Individual Module at the NMRA National Train Show in San Jose, California.
January 2001: www.Val-Ease-Central.com is born.
June 2001: The VEC is awarded a blue ribbon for "Best use of space" at the NMRA PNR 4th Division meet in Eugene, Oregon. Centre Val Ease joins VEW and VEE.
July 2001: The VEC in three sections wins "Best of Show" at the NMRA National Train Show in Saint Louis, Missouri.
August 2001: The VEC stops in Waukesha, WI for a photo shoot in the studios of Kalmbach Publishing for a feature article in Model Railroader Magazine.
October 2001: The VEC gets international media attention with a cover page and feature article in the German-language Z-Info Magazine.
March 2002: The VEC and crew of 2 travel to Sinsheim, Germany to take part in Fascination Modellbau as guests of the BDEF. Press coverage includes photo spread in Märklin Magazin (German) and article in NMRA Scale Rails Magazine.
October 2002: Val Ease West, packed in a custom shipping crate, survives a return flight to Calgary, Alberta in checked luggage to participate in the Calgary Model Railway Society meet.
October 2003: The VEC and crew of 3 travel to Utrecht, Netherlands to take part in Eurospoor as guests of the show management. Zspoor Magazine (Dutch) declares the VEC as "best layout" at Eurospoor2003.
December 2003: The VEC becomes part of the permanent collection of Exporail - The Canadian Railroad Museum, St-Constant, Québec, Canada.
November 2004: The VEC is presented to the world of model railroading in a 5-page feature article in Model Railroader Magazine.
July 2005: "Val Ease Summit Division" is unveiled at the NMRA National Convention in Cincinnati, OH.
March 2006: "Val Ease Central RR" goes on permanent display under glass at Exporail - the Canadian Railway Museum.
April 2006: VEW Division represents Exporail at the London Festival of Railway Modelling, the UK's most prestigious model railroading event.
Memorable Moments
I was particularly honoured when the curator of the Québec Museum of Civilization asked to "borrow" the VEC for a year as part of a major international exhibition of miniatures entitled "Zoom sur les miniatures". From April 1997 to April 1998 the railroad was set up as the only operating attraction complete with sound effects and a video interview with the author in French and in English. Although the train was set on a 2 minute timer, hordes of visitors kept it running seven hours a day, six days a week for 12 months.
This was a period of high stress for me since I had moved from Québec City to Vancouver, British Columbia shortly after the opening of the exhibit and was separated from my layout by 4000 km. Fortunately maintenance of the trains was capably assumed by the Museum technicians who alternated and cleaned the two Micro-Train F7 locomotives every week on the off day. It was during this time that the VEC was awarded the NMRA "Golden Spike".
**************
The VEC has won many honors including first place awards in judging at Greenberg Shows and at the NMRA's Northeastern and Pacific Northwest regions. Without doubt, the crowning moment for the VEC and it's "chief imagineer" occurred at the 2001 NMRA National Train Show in Saint Louis, Missouri. The VEC scored 105 / 125 points in judging and became the first Z-scale layout to take "Best of Show".
**************
On the way home from the 2001 National Train Show, the VEC stopped at the offices of Kalmbach Publishing in Waukesha, WI for a photo shoot for a feature Model Railroader Magazine article (see the November 2004 issue of MR, p. 88-92).
**************
On a nail-biting scale of 1 to 10, my European AdventureZ rate "11" for sheer excitement and high anxiety. The first trip took a year to prepare and required the design and construction of a custom shipping case for 4 suitcases (3 VEC sections and a fourth for tools and literature). The second trip was no less exciting since I was joined by my good friends Helen and Terry Sutfin as crew members. The third and final Euro Adventure required another custom shipping case to hold one VEC section that would travel in checked baggage.
**************
After eleven years of adventures on the road with the VEC, a most significant event took place in December 2003 when I signed the papers officially transferring ownership of the VEC to the Canadian Railroad Historical Society. At that moment the VEC became part of the permanent collection of Exporail - The Canadian Railroad Museum in St-Constant, Québec, Canada. The months leading up to the donation and the months following, concluding with the physical delivery of the VEC to Exporail in August 2004, represented an agitated period of transformation in my relationship with the VEC.
**************
On March 23, 2006, after a 5-hour marathon of track cleaning, positioning, rolling stock setting and backdrop trimming, the VECRR went on permanent, full-time display in the Miniatures room of Exporail - the Canadian Railway Museum in St-Constant (Montréal), Québec, Canada. See www.Exporail.org for more information.
Pulling up the Spike
Well, my friends, with the publication of this article, I officially retire the "Last Spike" column from Ztrack. I have had the pleasure of sharing my stories with you for over 8 years now. I am most proud of the fact that I never once missed an issue. In addition, this article is my 99th published work, far more than I had ever expected, let me tell you.
I hope that you have enjoyed my efforts to inform, instruct and inspire. I have done my best to make Ztrack the greatest magazine in the Z universe.
I would like to extend my heartfelt greetings and thanks to all of the wonderful people who I have had the honor of meeting over the years. You have been my inspiration and I look forward to seeing you along the right-of-way.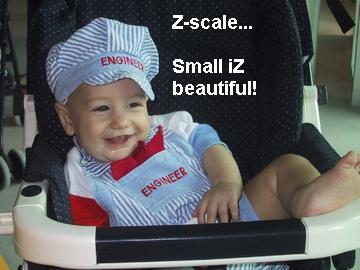 Just one of the many wonderful smiles encountered during my travels with the VECRR.
Enjoy your trainZ!
---