The Val Ease Central Railroad ©
Taking Z Scale to the Public Around the World
(Text and photos © Copyright Jeffrey MacHan)
---
Profile of a Champion - Bill Kronenberger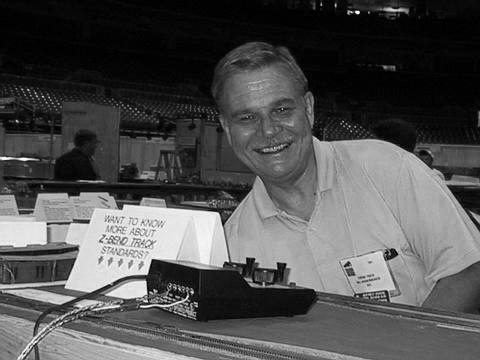 Z-Bend Track guru, Bill Kronenberger
Bill K., as he is known to Z-scalers around the world, is a man of many talents and of certain contrasts:
an engineer with a passion (for small trains)
a counter-current trend setter
generous to a fault!
The Passion
Bill K. is one busy guy. In his day job, Bill deals with standards issues for the Houston METRO - Metropolitan Transit Authority of Harris County, Texas. Then he travels the world tackling international transit problems. And to top it all off, he has taken on the task of presiding over the Houston Northwest Crossing Railroad Club, where he has 100 HO-, N- and Z-scalers to keep happy. I don't know how successful he is keeping the first two groups happy but I can certainly confirm that he has a very contented following of Z-enthusiasts.
I mentioned that Bill is a counter-current trend setter. While the vast majority of us move toward larger scales as the years go by, Bill has been constantly moving in the opposite direction. His scale interests have evolved on a 10-year average… at 30 years of age he moved from Lionel to HO scale… at 40 from HO to N scale… at 50 from N to Z scale! He explains this progression as simply a process of growing wiser and getting better glasses along the way.
Still, Bill took things one step further. Perhaps inspired by the absence of basements in Texas in which to house a monster layout, Bill embraced the modular railroading concept and has been a one-man movement to promote the adoption of Z-Bend Track modules for clubs and individual Z railroading.
The Growth of Z-Bend Track
Bill's enthusiasm for modular railroading is contagious. For several years now, Bill has been promoting ZBT at numerous local, regional and national public train shows and exhibitions and via the web. In fact, the growth of modular railroading and Z-Bend Track in particular is nothing short of phenomenal. In the last three years, the number of North American ZBT clubs has grown to more than 20 with new groups coming together around the world. Since their first gathering at the 2001 NMRA National Train Show in St. Louis, MO, ZBT clubs have continued to set record after record for mainline length and number of modules at subsequent National meets. ZBT clubs now take part in train shows and exhibitions around the United States and plans are under way for new clubs in Europe.
Of course, this growth in ZBT modular railroading isn't the result of spontaneous combustion. There is a lot of hard work behind the scenes. Bill has gone to great lengths nurturing the ZBT community. He has written a ZBT manual, created a support group, answered hundreds, if not thousands, of emails, hosted annual module-building bees in his driveway and even produced those all important promotional items, ZBT patches and stickers!
However, Bill has done something very special, going way beyond the call of "duty" to help spread the ZBT word. Bill offers complete ZBT module wiring harnesses in kit and assembled form to all interested parties, at his cost! Bill claims to be keeping several connector supply companies in business thanks to the enthusiastic response from Z-scalers around the USA and Canada. And the amount of wire that he has delivered is measured in tens of miles. For more info, visit the ZBT web sites:
http://members.aol.com/zbendtrack/main.html
http://groups.yahoo.com/group/Z-Bend_Track
A True Champion
As is usually the case in any successful hobby community, there is likely to be one or more champions leading the way. These visionaries represent the driving force in the health and growth of their chosen pastime. We in the Z-scale community are very fortunate indeed to have a true champion in our midst, Mr. Bill K. Thanks, Bill, for everything you have done and continue to do for Z. Long life to ZBT!
---
Bill Kronenberger, 1947 - 2007
Goodbye to a friend
Z Champion and friend, Bill Kronenberger passed away on January 30, 2007.

Bill left his mark on the Z community and on me. His influence will be felt for as long as Z-Bend Track modules are built.

I will miss his intelligence, his optimism and his sense of service. I am honored to have known him and I will cherish my memories of the wonderful moments we had together.
---
Z-Scale: minimum size, maximum enjoyment
---