The Val Ease Central Railroad ©
Taking Z Scale to the Public Around the World
(Text and photos © Copyright Jeffrey MacHan and Helen Sutfin)
---
Last Spike: Terry Sutfin, Snapshot of a "Z Ambassador"
In previous columns, I have presented portraits of Z Pioneer Manfred Jörger and BuilderZ Bob Olson and Raynard Wellman, people who are deeply involved in developing the commercial side of our hobby. This time 'round, I'd like to offer a snapshot of an individual who has invested countless hours promoting the growth of Z to the general public and fellow hobbyists, Z Ambassador, Terry Sutfin. Helping me in this task is Helen Sutfin who has generously agreed to show us the private side of a Z-scale model railroader.

Helen explains how Terry got started in Z...

"The Z bug hit Terry about eight years ago when I bought him a souvenir Märklin starter set while on a trip to Switzerland. I thought it would look 'cute' on his desk at work - didn't realize it was a working model! The set caught my eye because it had a Lackawanna car and this railroad went through our childhood hometown. I had no idea that I had introduced a Pandora's box into our relationship."

It didn't take long before Terry and a group of local troublemakers started building Z modules under the banner of the "Cascade Z Modelers". Unfortunately, the group eventually disbanded leaving Terry with several orphaned modules in various stages of completion. Time passed and the dust settled thick on the modules but Terry kept fanning the flame of Z at local train shows, always flying high the "Cascade Z Modelers" banner. He even went so far as to infiltrate the local HO "Columbia Gorge Model Railroad Club" where he introduced a Z diorama into the club's magnificent layout. During the very popular CGMRC open houses, he has the honor of keeping the "Z" operating for the crowds.

Helen has noticed how Z has had an impact on 'her' model railroader...

"Terry's model railroading has been one of the best things to have affected his life style. We were entering the 'empty nest' years and Terry was ready for something that could express his creative side. Landscaping had always done this in the past but he was losing interest and modeling took care of the winter months. He has always been a people person and train shows allowed this side to shine. Because Z is so unusual, many folks stop by to talk about the scale and this gives Terry an opportunity to expound. His love of young children decided the issue of the height of his layout. (Terry's layout, the "PoorVille & Debt City" (PVDC) is always shown at eye level for a 4-year old). To Terry, the future of the hobby lies with the younger set and he spends much of his show time talking with them."

Some PVDC backstory...

Terry, AKA the "Silver Fox", introduces himself as the "Chief Gandy Dancer" of the PVDC, a highly-detailed, award-winning layout built on a Märklin Toporama base. Terry's upgrades to the Toporama design include links to his other "Cascade" modules, sophisticated electronics and a custom base and clear cover as well as a myriad other details.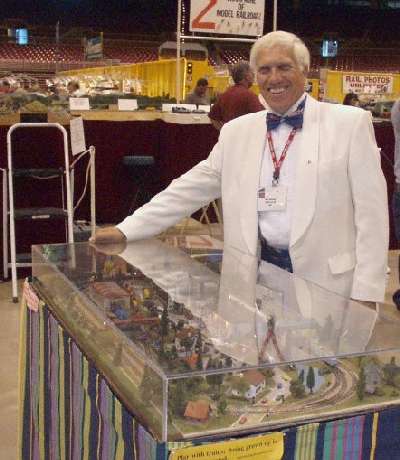 The PVDC at NTS 2001 on Formal Saturday - photo courtesy Jim Milne)
The PVDC has a remarkable pedigree. Terry introduced it to the public at the National Model Railroad Association National Train Show in Portland, OR in 1994. Since then, Terry has participated with the PVDC at National Train Shows in San Jose, CA (2000), Saint Louis, MO (2001) and Seattle, WA (2004), tying the current record for most appearances by a Z layout. The PVDC is a champion competition layout, taking "Best of Show" and "1st Place - Individual Model Railroad" honors at the 2002 Northwest Model Expo in Puyallup, WA. In addition, the PVDC has been the subject of many TV and press reports during the course of its travels.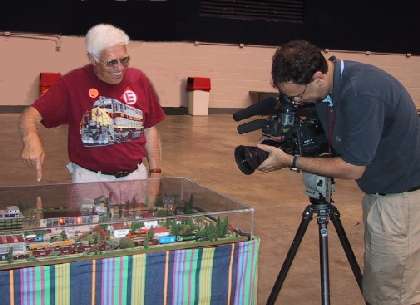 A reporter for Nashville's TV Channel 4 gets close and personal with the PVDC
Where Wow and Whimsy Meet...

Visitors to the PVDC get to see much more than an outstanding example of Z modeling. Terry's whimZical theme trains, veritable magnets for kidZ of all ages whose nose prints need to be cleaned regularly from the sides of the clear case, demonstrate the FUN of Z.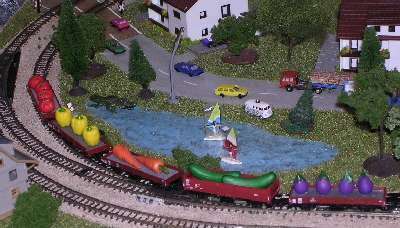 The Veggie Train - Photo courtesy Helen Sutfin
When Terry takes on a big load of vegetables, he means BIG! Perhaps the fact that they were picked on the farm just downstream from the nuclear generating station might have something to do with their size and unique glow-in-the dark properties.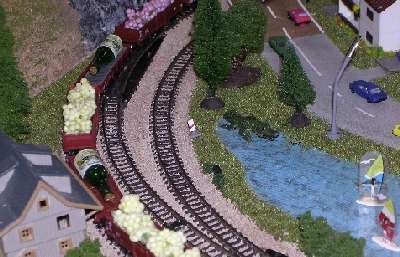 The Wine Train - Photo courtesy Helen Sutfin
Terry's wine train proudly demonstrates that Z-scale is the "Champaign of model railroading", the Z theme at the San Jose, CA National Train Show.

When the Yuletide season rolls around, Terry's Christmas train heads out onto the main line loaded with toys and festive decorations.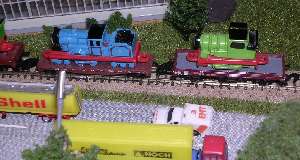 The Thomas Train - Photo courtesy Helen Sutfin
Probably his most successful train with the next generation of model railroaders is his "Thomas the Tank Engine" train. Terry wouldn't tell me how he shrunk Thomas down to siZe but Helen Sutfin confided that Terry used modeling compound to shape the Thomas look-alike atop an 0-6-0 shell. The gutsy little engine pulls several flat cars loaded with miniature replicas of famous Thomas character cars.

Terry doesn't limit his modeling talents to fantasy trains. His model-building prowess has earned him NMRA Achievement Program merit awards for a scratch-built set of Z-scale maintenance of way cars. This is a rare accomplishment in and of itself.

Beyond the PVDC...

This may come as a bit of a shock...Terry leads a double life! He's not completely faithful to the PVDC! Back in 1999, he joined forces with yours truly to terrorize local train shows in Washington and Oregon. We had so much fun that we decided to tackle bigger challenges and introduced "Formal SaturdayZ" to the 2000 and 2001 NMRA National Train Shows. Finally, North America was too small to contain us and, disguised as crewmembers of the "Val Ease Central RR", we took our brand of Z showbiZ to Faszination Modellbau 2002, Sinsheim, Germany and Eurospoor 2003, Utrecht, The Netherlands.

For Terry a train show is more than a place to run trainZ. He sees it as an opportunity to demonstrate his personal belief that the pursuit of a hobby interest can benefit the community as well as the hobbyist. Whenever he takes part in the Portland, Oregon Great American Train Show (GATS) near his home of Vancouver, Washington, he organizes a drive for canned goods or a monetary donation on behalf of a local food bank. The GATS management gives a dollar discount on the entry fee to donors to the food drive. Over the past few years, this initiative has generated several thousand dollars in contributions.

I was curious to learn how Helen feels about having a Z Ambassador in the house.

"As to what I think, this has been a wonderful ride for the two of us. We have met some wonderful people and made life-long friends. We have traveled to Europe and throughout the US. As a partner in all of this, I could not be happier. I make no contribution to the layout, other than praise and encouragement. The dining room hutch, where the PVDC resides, is the first thing guests see. Upon entering our home, first time guests are aware of several things: model railroading, children, books and crafts are an integral part of our lives. The signs are everywhere. Our home will never be a photo op for BETTER HOMES AND GARDENS, but it is a drawing spot for modelers and grandchildren who take great pride in bragging about their Grandpa."

"I can not begin to tell about the feeling that comes from seeing him enjoy the hobby, the pride he takes in his workmanship, and the happiness he gets from something he enjoys so much."

So what's next for the "Silver Fox"?

"His future plans for the hobby include improving his 5-unit module. He took them to NTS, but they weren't a finished product. They are currently in the living room and he has already begun the project. He wants to have them 'looking good' for the GATS circuit this fall. He plans to have a completely new layout for NTS in Ohio next year."

Well, it looks like Terry is already gearing up for further Z adventures, both at home and abroad. Somehow I think that he's only just getting started, right, Helen?