The Val Ease Central Railroad ©
Taking Z Scale to the Public Around the World
(Text and photos © Copyright Jeffrey MacHan)
---
Last Spike: The AmaZing Dr. Robert Olson of Pennzee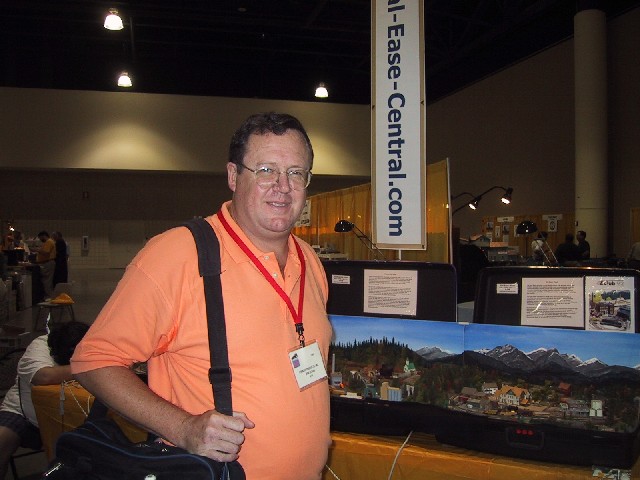 Dr. Bob Olson, the brains behind Pennzee Ltd.
A little more than 2 years ago the "Z" world was delighted to learn that a brand new US prototype freight car had been introduced. The very affordable plastic three bay rib-side hoppers came in four road names and four road numbers. An even bigger surprise accompanied the new cars...they were not the work of the big name manufacturers but came from a company called Pennzee.

News of Pennzee slowly percolated into the "Z" community. Based in Pennsylvania, Pennzee was the sole property of a gentleman named Bob Olson. Within 12 months of taking the "Z" world by storm with his incredibly detailed hoppers, Pennzee introduced an additional four roadnames. Now, modelers around the world are running prototypical length hopper trains in eight railroad names.

Pennzee had more surprises in store for us. About a year ago, the first ever "Z" scale steel side reefers hit the market, in four roadnames, each with four road numbers! These were "must have" cars for any US prototype modeler.

I have to admit that since the first moment that I learned of the Pennzee hoppers many questions tickled my curiosity. Who or what is Pennzee? How did a one-man operation successfully produce such excellent products that were the equal of the best the competition had to offer? And naturally, what is in the pipeline?

Well, surprise! surprise! Pennzee had a booth at NTS2002 and before you knew it, the man himself was standing in front of the VEC looking for examples of his rolling stock. I was pleased to point out the UP 3-bay hoppers waiting for unloading at CVE port as well as the Swift Meats steel side reefer trundling around VEW as part of an extra freight.

Being an avid kit- and car-basher, I immediately asked Bob for the secret to removing the coal loads from the hoppers. His first shocking answer was to inform me that many customers drill a hole through the bottom to push the load out!! Funny how I'll do many things to customize a car but somehow drilling a hole to remove a detail part makes me shiver. His Final Answer: they are simply press fit into the shell. Insert a smooth blade along one side (trying to avoid damaging the car edge) and pop the load out.

Seizing the opportunity, I conducted an impromptu interview with Robert Olson, Ph.D., sole proprietor of Pennzee Limited, designer and maker of fine Z scale rolling stock and cardstock building kits.

In real life, Dr. Bob, as he will now forever be known to me, conducts cancer research in Harrisburg, PA and finds time to produce Z scale goodies for the rest of us. It seems that he has always liked model railroading. In the early days of Z, Dr. Bob enjoyed scratch-building and producing one-off resin models. His efforts produced molds for F7B shells in resin which he began to offer for sale about 6 years ago. As his reputation and production interests grew, he encountered other mold-makers including John Harmon who sold him molds for heavy weight passenger cars which he also offered for sale.

As a model maker and craftsman, Dr. Bob was frustrated by the lack of popular transition era body styles in Z. As a business person, he was frustrated by the high cost of brass and photo-etched kits. Never letting the impossible stand in his way, about 2 1/2 years ago he designed his first Z ready-to-run mass-produced freight car, the highly regarded 3-bay hopper. Dr. Bob contracted out to Bowser Manufacturing Inc. the mold machining, the injection molding, pad printing, assembly and packaging of the cars. Pennzee distributes to authorized hobby retailers only.

Dr. Bob is grateful for the enthusiastic response from the Z community to his work. More than 8 thousand Pennzee freight cars have been snapped up so far and the future looks bright. Dr. Bob is planning several more road names for regular production. He also invites requests for special runs.

Sadly, no amount of cajolling, charm and arm-twisting was able to extract Dr. Bob's plans for a future car body style. All he would say is that there is something on the drawing board. All I can say is keep up the amaZing work, both in Z and the real world.

Oh yes, Dr. Bob told me that the Pennzee web site is on the way. In the meantime, send your requests, comments and compliments to Pennzee@aol.com.