A characteristic of Z in North America is the relative absence of organized clubs. Most Z scalers are lone modelers with few resources at their disposal. This is not a handicap when it comes to participation in train shows although public displays may require a group effort.
So if you are a lone modeler and you want to join the effort to promote Z as an ambassador, take heart. It is not all that difficult to start making a difference in your neighborhood. Ztrack and Z_Scale SIG are working together to help you become an effective Z ambassador. In part 1 we present some tips to get started as a Z ambassador. In part 2 we'll look at some tips to help make the most of your train show experience.
1. Becoming an ambassador
Register with the World's Greatest Hobby campaign as an ambassador for Z. It's easy...go to the Worlds's Greatest Hobby and fill out the online form. Then tell the rest of the world on Z_Scale. This will let others near you know of your desire to work to promote Z. Ambassadors who find others nearby are encouraged to contact each other, via Z_Scale or directly, in order to share goals and projects. It's also great fun talking Z with fellow enthusiasts face to face.
2. Preparing the groundwork
There are several types of train shows and exhibits in the model railroading world. One way of finding out who is doing what, where and when in your community is to check the bulletin boards of local hobby shops. Often you will find flyers for local swap meets and train shows. Ask the shop owner for information on upcoming events and to point you to local clubs. My personal preference is the information gathered from flyers. The club or group who has gone to the trouble of publishing a flyer is usually well organized and has a committee structure which will help in making contacts.
The NMRA organizes train shows at the national, regional and divisional (local) levels. To see what is happening in your area, find the link for the region that includes your state or province on the NMRA web site.
3. Getting organized
With the flyers in hand and a list of major shows from the net, you can put together a list of activities, the dates and the contact persons. It is always important to choose an activity based on when it is most convenient for you to attend.
Give yourself lots of lead time to prepare adequately and to be able to contact the show coordinator or floor manager. Train shows fill up quickly and experienced exhibitors make the contacts 6 to 12 months in advance. However, don't hesitate to call a show manager even if lead time is short. Cancellations do occur and quite often a show can find space for one more table especially for Z scale.
Try to visit local shows and meets to see how these shows are organized. Introduce yourself to the show managers and ask questions about requirements for taking part in a future show.
4. Registering as an exhibitor
Swap meets: Swap meets usually do not have layouts or modules on display but they might be interested in letting you show Z informational materials, magazines. Some may only rent tables for the event. Contact the swap meet manager for registration details.
Local club shows: It is a good idea to call the show manager directly to ask them what kind of displays they are looking for. Club open houses do not offer space for competing groups or individuals. Local clubs may sponsor a train show at a community center or hall. They usually rent tables to vendors and invite train clubs and individuals to set up modules and displays. These shows are usually small in scope, last a day or a weekend and are a great way to get your feet wet and gain invaluable experience interacting with the public. The organizors are your neighbors and they are usually very receptive to new recruits especially Z which is rarely seen at train shows.
NMRA meets: The National Model Railroad Association (NMRA) is organized into regions which cover vast areas of the USA and Canada. Each region is divided into divisions which have their own volunteer management structure. Many if not most divisions organize meets which can be one or two day gatherings of NMRA members which may or may not include a business meeting, model contests, award ceremonies, a banquet, clinics, layout visits and usually a train show which is open to the public. The member only activities are fun and worth the cost of joining the NMRA. However, you don't have to be an NMRA member to participate in the public train show. The meet organizer or floor manager can tell you what kind of displays are acceptable. As a Z ambassador you will probably be able to have a table for information packets as well as space for your layout, module or diorama.
Regional meets are usually much more complex. They may run from 2 to 4 days and include all of the above although in a larger scope. If there is a train show component, the show manager should be contacted well in advance (6 - 8 months) to reserve space for your display.
NMRA National Train Show: The NTS is the mother of all train shows and usually takes place in a large convention complex or stadium. The show attracts 20,000 or more visitors over a 3 day period at the conclusion of the NMRA national convention. The national convention in each host city takes years of planning. Fortunately for exhibitors the NTS is run by a separate organization that is well known to Z scale. The NTS layout coordinator must balance a large number of requests from regional exhibitors and those from far afield. As a result space reservations must be made 10 - 12 months or more in advance.
Z scale has been present at the National Train Show since 1999 on a continuous basis and space has become a much-appreciated part of the show. If you wish to participate in a National Train Show as part of a modular layout, please contact Ztrack Magazine. Taking part in a national train show is an exciting experience and one of the best ways to be part in the action.
National travelling train shows: the Great American Train Show (GATS) is the largest organization devoted to running almost weekly public train shows throughout the United States. GATS shows are well known to the model railroading community and are well run much to the benefit of Z ambassadors.
Z scale is still a rare sight at GATS but the organizers have always been very supportive of requests to exhibit at their shows. Since 1997 Z scalers participate regularly in shows in the states of Oregon, Washington, New York, Michigan, Ohio and Pennsylvania. There are many more shows in many more states. It would be great for Z scale if there was a Z exhibit at every GATS during the year. Just think of the exposure Z would receive!
Briefing Notes to Z Ambassadors of the World's Greatest Hobby!
Part 2: On With the Show
You've got contacted the show of your choice and the show manager has expressed interest in having that rarest of all displays, a Z scale layout at his show. Great! Make sure that you confirm via email or fax and complete all the paperwork that mat be required. Now for some tips on how to make the show an event to remember and fun for you and your visitors.

5. Things to remember

A successful train show takes preparation and planning. A successful show is fun for the public and very rewarding for you as Z ambassador. Here are some things to remember.

Make sure that your layout or module is running perfectly at least a week before the event. This will give you the time to fix things and avoid down time at the show. You want to talk to guests, not have your back to them while making repairs. Problems with the layout or module won't leave positive impressions with fellow modelers either.

Study the move-in and move-out instructions. Know the route to the venue and have the paperwork for the show with you (registration confirmation and floor assignment).

Expect the unexpected. Sure the show has promised electrical outlets for you. Take a heavy duty electrical extension cord and distribution bar. You may find that you will make friends nearby and you'll have electricity. Don't forget a new roll of duct tape to tape over the cord and for 100 other uses. If you want a comfy chair, take your own. Think about lighting for your layout or module. The lighting in some venues is far from daylight balanced or poor. Good lighting will give your display a professional look and will attract visitor attention. Pack a lunch. You won't regret it!

Arrive early to set up. If possible, set up the night before the show. Take your time and set up at an unhurried pace. You will avoid making mistakes such as bad connections, poor rail joints and keep panic at bay. Clean the track and test run your trains. Don't plan on playing with the trains during the show. Run the same trains all the time if possible. Don't ever forget "Murphy's Law". It does apply to you!

If you are attending a GATS for the first time, pick up your exhibitor ID for the show and get enough yellow plastic sheets to cover your table and layout or module. A couple extra will come in handy to replace torn sheets. You can also use them at other train shows and meets. If you plan on exhibiting at more than one GATS during the year, you can ask for an official exhibitor badge. It's a nice souvenir too. Don't lose the GATS exhibitor badge unless you want to pay for a replacement.

Dress for success. Look the part of an ambassador. Do you have a logo for your layout, module or club? Think about having golf shirts embroidered with the logo. In any case, your attire should be neat and clean and your shoes MUST be comfortable. You have a long day standing ahead of you.

Prepare business cards for those special contacts. Have a pen and pad of paper handy to provide information to interested visitors or prepare a one page handout or flyer. You might want to control the distribution of the flyer as they will disappear rapidly, then again there's nothing wrong with that is there? Prepare and post a sign with the name of your layout, module or diorama and mention Z scale. Remember, most people have never heard of Z let alone seen it in operation. If you can, bring along a copy of Ztrack Magazine to show.

Take a friend along to lend a hand. Don't forget to register your crewmate(s) with the show organizer. Most shows allow you to register up to 4 helpers although it is best to only list people who will really be working with you at your floor space.

Read the fine print in the instructions and follow the security and fire regulations to the letter.

Find out who is managing the show on site and address them by name, with a smile.

During the show

The public likes to see trains running. That means that they like to get up close if it's possible. Don't be a security guard...talk to the public. Let the kids take the controls. Demonstrate the features of your layout or module. Sound the whistles, bells, horns etc. Spin the turntable, switch turnouts, point out interesting scenes and details. Rather than giving directions, ask the kids to name things on the layout, to find the lost animals or the dinosaurs! Make their short visit to your miniature world a fun one, not a lecture on keeping their hands off. Oh, try to set up your display at a height that is accessible to handicapped and very young visitors. A bench or step for the height challenged will bring a smile of relief from weary parents and provide a better vantage for the little ones. A chair or two for elderly visitors and the aforementioned weary parents will also be appreciated.

You'll find that many adults are just as interested in Z as the kids. Listen and ask questions. Know where they can find Z at the train show or at local hobby shops or on the internet. Refer people to Z_Scale and Ztrack. Women are especially attracted to the 'cute' trains. This is one of the advantages Z has over other scales. Don't go into technically detailed exposés about Z to this clientele. Women are interested in the reliability and the availability of Z trains. They also want to know where they can get help and support for the hobby. Ask people what they have in mind for their Z dream railroad. Do not try to sell anyone on your brand of modeling. Remember that you are an ambassador for Z, not for modules, compact, coffee table or wall to wall basement layouts or any particular format or theme for that matter. Most people who you will talk to are not experienced model railroaders. Try to avoid jargon and keep explanations tuned to the visitors' frequency. Remember the advice to listen and ask questions. It's more fun that way.

All of this may become quite overwhelming. Remember the suggestion that you bring a friend along? Doing a train show alone is an ambitious project especially if you plan on running trains while interacting with the public. There will be moments when you will want to excuse yourself from the display. Your neighbors might not be available when you need a break. No doubt you'll want to visit the show, too!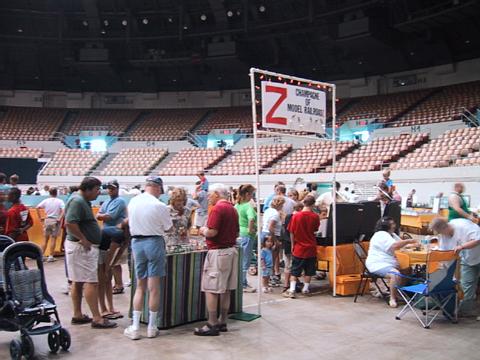 It doesn't hurt to band together at shows. You can do more damage that way!
6. Time to go

The show is almost over. Avoid the temptation to start packing up early. Respect the contract with the show and pack up after the doors have closed. In any case, you model in Z scale so it won't take that long anyway, right? Make sure that your display area is clean before leaving. Thank the organizer for the privilege of taking part in the show and, if possible, reserve space for the next edition. For a GATS or Greenberg Show, you will need to contact the national manager to reserve a spot. Email works best in most cases.

7. Last but not least...

Now that you are a full fledged Z ambassador, tell the world about your experience via the Z_Scale forum, an article or letter to Ztrack Magazine.

If you think that taking Z to the public at a train show would interest you and you have any questions or advice to share, log on to Z_Scale. Help and eager readers are ready and waiting. With your participation in the World's Greatest Hobby campaign as an ambassador, Z scale model railroading will reach out like never before and be better than ever.

Good luck on your mission.