MICRO SUITCASE LAYOUT
Rejected by Scale Rails Magazine, October 2007 but thriving on the Web!
(Text and photos © Copyright Jeffrey MacHan)
---
"Marthe Simard and Jeffrey MacHan's Award-winning Kofferbahn von Sankt Bartholomä"
by Jeffrey MacHan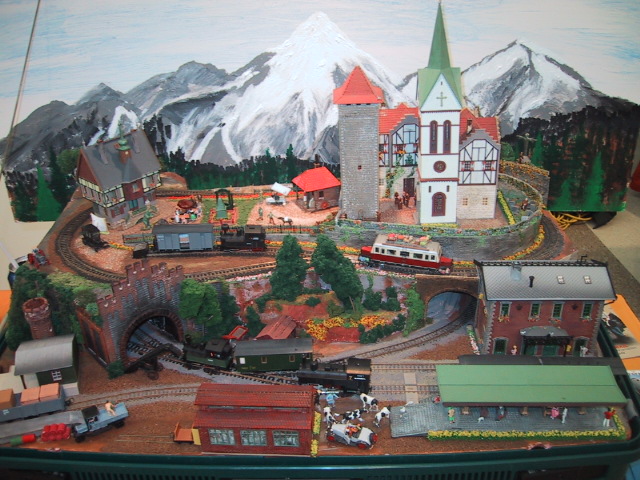 Marthe Simard's award-winning KvSB micro-layout in one Delsey hard-side suitcase
Something very exciting for me personally took place at the 2005 NMRA National Train Show in Cincinnati, Ohio...my wife's layout won a major award in the NMRA module contest!

Some Background

Marthe will tell you straight out that she is not a model railroader. However, she will admit to a strong artistic bent. So, how is it that she is the designer-builder-owner of an award-winning model railroad? Her layout came about in her unselfish effort to tag along with her husband as he travelled far and wide (seriously) taking part in train shows as "Z Ambassador". Being a very intelligent lady, she decided that she could express her artistic side with a layout and have something to do at train shows (an "if-you-can't-beat-him-join-him" strategy).

Her sensibilities took her along a much different path than "hubby's" modeling interests. Words like "prototypical" or "operations" do not resonate with her. She is much more at ease with adjectives such as "cute", "colorful" and "charming". Still, her approach to designing "her" layout was very similar to mine. She took the time to think about the setting, era and theme of her railroad. She finally decided to draw inspiration from her memories of six months spent in the Alps as a student learning German. She set out to capture the "feeling" of an Alpine setting: flowers in boxes under windowsills, narrow tracks, unusual customs, expressions of exuberant and joyful memories.

Picking a Scale

If my memory is accurate, there was no way Marthe was going to choose a scale I was familiar with! She knew what she wanted when she saw it, to be sure. Although her first love in scales is On30, in a concession to space constraints, she chose HOn30 or more accurately, HOe gauge for her trains. She purchased tiny Roco and Liliput locomotives, Bemo freight cars, and lots and lots of Preiser figurines and vehicles from the 1930s, the time when her parents were married. She imagined a setting that captured a wonderful honeymoon in Europe that her parents had always dreamed about but never experienced.

Although the design of her layout was more impressionistic that authentic, Marthe had a very definite sense of the look she was trying to reproduce. As a result, it took a while for her to gather the structure kits that sometimes provided only certain parts of the scene she was looking for. For example, she selected three different plastic building kits from three manufacturers from which she took only parts to form the "St. Bartholomew Monastery". She took two years, digging through dusty hobby shop shelves where no "normal" customer would dare to go, to hunt down the dozen or so monks she "needed" to occupy the brewery, sorry, monastery perched high above the alpine countryside.

A Steep Learning Curve

Marthe was somewhat put out by the fact that her plastic kits needed extra work to look their age. Although disappointed by this lack of manufacturer foresight, she forged ahead, doing what she does best, "research". She's not a Ph.D. for nothing! Not only did she devour the techniques of Lane Stewart as published in "Narrow Gauge and Shortline Gazette" she bought Lane's list of weathering materials and went to work to master his techniques. Her work was so effective that she was asked to give workshops on plastic weathering at train shows and hobby meets.

As Marthe put together her toolbox of materials and supplies, she still managed to find the time to give me very clear instructions on how she wanted the layout to work. Note: Marthe generously gives me credit for doing the "engineering" on the KvSB, that is, styroforming, track laying / ballasting and the electrical / electronics. Please keep in mind that Marthe had a very ambitious plan in mind, all of which I had to deliver housed within the confines of a 22" x 30" hard-side suitcase.

Normally, I wouldn't have thought this project as much of a challenge since, by that time, I had already built two award-winning suitcase layouts, "Val Ease East" and "Val Ease West" of the "Val Ease Central Railroad". Whenever I complained about how unreasonable it was for her to "have-to-have" two trains running on upper and lower level loops with a connecting track that she didn't want to see, she would simply tell me that she was confident that I would find a way! And to this day, I'm proud to say, I did find a way (rhyming no extra charge!).

In fact, the layout is so successful in its presentation that many visitors "insist" that the layout is N-scale. "Nooo, look at the buildings, at the people, at the vehicles...see, it's HO-scale. Yes, I'm sure! Yes, the track is N-scale, but the trains are narrow gauge!"

Loco and Rolling Stock Roster

Marthe is not a train person but she loves short wheelbase steamers and "cute little passenger cars". Fortunately, we found two sets of Liliput HOe trains while on a vacation trip to Plymouth Plantation at Cape Cod, MA. We then began to collect Roco 0-6-0 steamers. Marthe's enthusiasm for HOe reached a peak when she special-ordered two Bemo advertising cars from a specialty dealer in Toronto, Ontario. Her enthusiasm hit bottom when, after waiting for 6 months to get the cars, she saw the price tag. So much for "collecting" HOe advertising cars. No matter, her rolling stock roster was more than complete for the KvSB. She has 5 Roco 0-6-0 tank locos (Anna, Berta, #3 Lisa, #4 Roli, undec), one Liliput 0-6-2T, one Roco 0-4-0T, one Jouef 0-4-0T and, the pride of her fleet, a superdetailed Roco two-axle Schienenomnibus. The rolling stock consists of 4 two-axle passenger cars, 3 two-axle closed freight vans, a freight flat with dumpster load, 2 two-axle advertising vans, one two-axle sightseeing gondola and an assortment of Minitrains mine cars (flats, mine cars, coal cars).

Train Show Operations

Setup at a train show or meet normally takes less than 15 minutes, the time to open the case, unwrap and place the buildings, position the 18" x 36" hand-painted backdrop, wipe down the track with a chamois, set out the railcars and figurines and finally check the throttle and integrated sound effects. Marthe likes to run her railbus on the upper level oval while "Anna" or "Berta" pulls a single car around the lower level in the opposite running direction. It is very important to Marthe that the trains run slowly, no high-speed, toy-like running. (She has decided that loco maintenance and track cleaning are "engineering" tasks and lets me handle them).

The KvSB is set up on a folding 2' x 4' card table with no crowd barrier. Kids are encouraged to get as close as they want, just as long as their fingers go no further than the edge of the folding table.

The 2005 NMRA National Train Show Module Competition

The KvSB has been shown in competitive train shows in Montréal, Québec (2nd place - diorama judging), Vancouver, British Columbia (2nd place - popular vote) and in Cincinnati, Ohio (2nd place - group module). Marthe was never eager to enter the competitions, even less so at the NMRA National Train Show. I have to admit that I insisted (partly because I didn't have an entry myself and partly because I was sure that the KvSB was something of which to be proud).

When the results were announced, Marthe was truly excited about taking second place. We sat down and examined the judging form to see how she had done in the seven categories. The KvSB had scored very well in every category except "scratch building" and "conformity". Since there were no scratch-built structures on the layout, the result didn't come as a surprise. Since the KvSB is a freelanced impression of a German alpine community, there wasn't much room for improvement on the conformity account, either. Nevertheless, the second-place plaque is proudly displayed next to the layout.



The photo on the left shows an overhead view of the KvSB. The photo on the right shows the trackplan. Dotted lines show hidden tracks in tunnels. Click on an image for a larger view.



DOUBLE SUITCASE "MINI" LAYOUT
KvSB welcomes "Neuburg"!
Early January 2011 the expanded KvSB started to rapidly take shape. The long-promised second suitcase (same Delsey hardside suitcase in forest green) has been added to the "Valease" empire. After much thought and some research on the Internet, I named the new addition "Neuburg" which seemed very fitting for the walled city / industrial theme of the section. Side note: now that the layout has expanded to 9 square feet in area, it no longer qualifies as a "micro" layout but has joined the ranks of "mini" layouts.
Using a large part of the supplies and kits that Marthe had collected over the period she had been working on the KvSB, I also added several pre-built industrial structures and a highly kitbashable tavern to complete the "Oktoberfest" that Marthe had imagined.
The major change in plans has been the conversion of the KvSB to digital command control (Bachmann EZ-Command DCC). The entire original DC control system was removed and simple bus wiring took its place. A total of six locomotives have been converted using Lenz and DCC Concepts N-scale decoders (two Roco 0-6-0T steamers, one Liliput 0-6-2T tank steamer, two Liliput 2095 diesels and a Weimar scheinenomnibus from Bemo) I have no plans to expand the DCC roster as 6 DCC locos populate the layout quite adequately. Two MRC 1025 DCC off-board sound decoders and speakers provide multiple sound effects for steam and diesel.
All fine tuning of the locomotive decoders is accomplished using JMRI open-source software and a SPROG II programmer. The MRC 1025 sound decoder is programmed using the unit keypad connected to a standard DC throttle with 12-volt AC accessory outputs.
Scenery and lighting of both sections have been completed. To add extra interest, I added wing sections to both ends of the layout. The left hand wing is the site of a logging industry. The right wing is a community garden and a working windmill. The majority of the lights are pin-socket street and park lights by Brawa that allow rapid removal of the light posts for layout cleaning or packing. The 12-volt lights are wired in series in pairs to dim their intensity. Each layout section is powered by an external 12-volt DC wall transformer that is plugged into a 1/4" socket I fitted on the facing sidewalls of each suitcase. In addition, Seuthe smoke generators have been installed in the chimneys of the KvSB hostel and the Neuburg tavern (to which I added a thatched roof).
.

---