The Val Ease Central Railroad ©
Taking Z Scale to the Public Around the World
(Text and photos © Copyright Kalmbach Publishing - Model Railroader Magazine)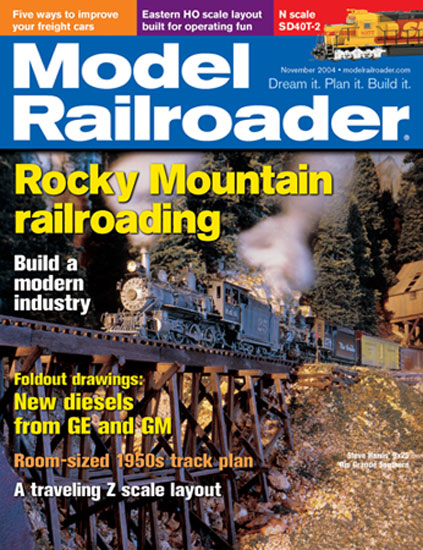 ---
The Val Ease Central Goes to Germany by Jeffrey MacHan
Who Says Trains Can't Fly?
For four exciting days from March 21 to 24, 2002, a Canadian, yours truly from Toronto, ON, and an American, my friend Terry Sutfin from Vancouver, WA, ran trains on the "Z" scale Val Ease Central Railroad for approximately 45,000 fans at Faszination Modellbau in Sinsheim, Germany. Although this was not the first time North American model railroaders had travelled to Europe along with their handiwork (the HO Sunshine Division modular club made the trek to Holland in 2000 under the auspices of Model Railroader) it was the first time ever that an NMRA 'Best of Show' and 'Golden Spike' layout took part in a major European hobby and train show.

So, what were we doing in Germany, you ask? We were guests of BDEF, Bundersverband Deutscher Eisenbahn-Freunde (Friends of German Railways) at their second bi-annual 'Sonderschau US Railroads'. Once the thrill of being invited to Europe had subsided, the ways and means of getting the VECRR to the other side of the pond became my preoccupation.

I know what you're thinking, "Com'on, that's easy, it's "Z" scale". Well, yes, it is "Z" scale but no, it was not easy. The VECRR suitcases are slightly oversize for carry-on and checking them through as baggage sends shivers up my spine! In fact, preparations for the trip took just under 12 months to complete, 15 minutes of which were spent arranging airline tickets.

From most accounts the majority of layouts are rather fragile things and don't react well to changes of domicile. Now, my layout was built for portability and has survived three trips across the continent, surface mind you, once each by FedEx, UPS and in the back of the family minivan. Unfortunately, the commercial carriers always left me with a series of repairs to keep me busy for a few weeks following delivery of the layout. A European adventure meant an air freight experience with many rather difficult challenges to overcome for an amateur: how to protect fragile structures, trees, telegraph wires, lights and all the other details? how to keep the styrofoam roadbed base stable? how to reduce the risk of rough handling, tipping, dropping and crushing of the layout? how to keep all the sections of the layout together during transhipment?

Since I didn't have a clue to begin with, I consulted several freight forwarders and logistics companies for advice. As a veteran shipper explained to me, the secret to successfully shipping fragile items is to design a crate big enough and tough enough to take the knocks and then to apply as many very large warning signs as possible! In his wise words, it is the best insurance you can buy. Although it took me several months to come up with a suitable design, I finally had a custom shipping case made that did the job magnificently. Thanks to the rugged chest-of-drawers case design and the use of a large supply of brick-shaped household cleaning sponges from the dollar store for interior cushioning, the layout travelled to Germany and back with no damage to report. As expected however, the case suffered minor scrapes, scratches and dents.

Although many NA model railroaders have had the opportunity to attend German train shows as visitors, few and far between are those who have had the chance to experience a show from the inside, as it were. Other than the demands of protecting a layout during transport overseas, the rather important costs are a major obstacle to participating in inter-continental train shows.

Thanks to financial and material support from the BDEF, Micro-Trains Line, Märklin Inc., and Kalmbach Publications, my friend Terry and I were able to enjoy this once-in-a-lifetime experience.

Lasting Impressions

As is the case with major high-end NA shows like the NMRA's National Train Show, Faszination Modellbau (FM) required exhibitors to register many months in advance. Both venues operated like trade shows in that they had official suppliers for practically everything an exhibitor might need including the all- important shipping agent. Being an apartment dweller at the time of FM, I needed to ship the VECRR door-to-door with no hassles for customs, invoices and shipping orders. Thanks to the world-wide presence of Schenker Eurocargo, that is exactly what I received along with email updates on the status of my shipment. The layout was waiting for me at the receiving dock at the Sinsheim trade fair and left from the same place for the trip home. Also, in the same manner as NA shows pratically everyone I needed to talk to spoke English, or at least enough to get the job done.

Although not large by German standards, FM was twice the size of the largest US shows. There were upwards of 1000 exhibitors and 2000 passes in circulation. There was an added benefit to being one of the 10 railways included in the BDEF section, we had a professional booth which included a 5' x 5' storage area with a locking door. Now that's what I call convenient and most practical. We were able to store the shipping case and literature as well as set up a table and chair where we could duck out of the public view for a few minutes to enjoy our coffee and sandwiches.

From start to finish the organisation in Sinsheim was first rate. FM showed a lot of class on the opening night by organizing a buffet supper for all of the exhibitor badge holders. It was awesome! Oh and did I mention that FM supplied double occupancy hotel rooms and shuttle transportation for invited exhibitors as well? Wouldn't it be nice if our NA shows adopted a similar approach to exhibitor relations?

Overall, I must confess that my most lasting impression of Faszination Modellbau was the high level of crowd interaction and professionalism demonstrated by the clubs and individuals exhibiting layouts at the show. For instance, a Gn3 club from Austria actually built a 'saloon' around their display to highlight the 'gold rush' theme of their layout. Visitors could mosey up to the bar, chat with the operators and enjoy the layout while perched on stools. Another eye-catching display was an "N" scale modular layout that featured an operating car ferry and tug crossing a real water-filled replica of BC's Dease Lake. The effort to present the displays in the best possible way to the viewing public was evident as most layouts had halogen lighting hidden in valences and professional quality signage was everywhere.

I should point out that the many manufacturers who were present put together polished and extensive displays the likes of which I have never seen in a NA model train show destined for the general public. I was also struck by the enormous depth of offerings to the model railroading enthusiast. Every imaginable scale was represented including 7 "Z" layouts. In a surprising turn of events a 100% digital (yes, digital) "Z" display by Jens Wimmel captured 'First Place' in the FM competition for private layouts.

Another aspect that struck me as being quite different from NA shows was the number of craftsmen present who would build your locomotive, car or structure on demand. When you talk about bells and whistles, the locos on display had them all, digitally of course! On the other hand, the number of retailers on the show floor was rather limited.

After I mumbled the question out loud, my friend Terry explained to me why model railroading had such a large following in Germany with many train shows attracting 100,000 visitors and more. Of course, rail travel is part of everyday life for millions of people in Europe. It is also fast, convenient and reliable as I would discover during my short stay in Germany.

Having experienced a German train show as a layout exhibitor was truly incredible. It left me wanting more! If the opportunity comes your way to travel to Europe with your individual or club layout, jump at the chance. You won't regret a second of it. Perhaps, if I'm lucky I'll get to fly my trains once again. In the meantime, I hope to see you at a train show in Canada and the USA.

SIDEBAR:

The Val Ease Central Railroad

The VECRR is actually comprised of three large hard-side suitcases that meld together to form a completely sceniked layout measuring 2' x 8', covering 12.5 square feet, with 65 feet of trackage, 15 car spotting sites, 3 towns and a port, controls for 3 independant operators and more special effects than you can shake a stick at. At 16" tall and 8.5' long, a 3-section hand-painted backdrop of Pacific Northwest mountains and forests helps to create the illusion of a one-piece layout. The VECRR has an impressive pedagree for a layout in any scale. It has captured several first place prizes including 'Best of Show' at the 2001 NMRA National Train Show in St. Louis, MO.

I designed the VECRR from the outset to be sharable, that is, to be portable and rugged enough to withstand close encounters with the public. I also worked hard to reach a level of quality that would rival top-notch home layouts and refute the "naysayers" concerning "Z" scale. It took quite an effort but in 2000 the VECRR received the NMRA Scenery Achievement Certificate after judging by two Master Model Railroaders. I have taken the VECRR to dozens of trains shows, meets and exhibits since 1993 including displaying it for a full year as part of a major exhibit on international miniatures at the Museum of Civilisation in Quebec City in 1997-98. On average I try to exhibit the VECRR at 5 to 7 shows a year. The exploits of the VECRR are continually updated on the Val-Ease-Central.com web site.

SIDEBAR:

Jeffrey MacHan is a long-time model railroader who enjoys several scales. His interest in "Z" came about in 1992 as an experiment in "modeling during business trips"! "Z" became less of a curiosity and more of a serious endeavor when he took on the challenge of crafting a portable layout that fullfilled all of the NMRA requirements for the "Golden Spike" award after someone told him that it couldn't be done!

His desire to share the joy of "Z" scale model railroading with others led him to establish Z_Scale, the world's largest English-language "Z" public forum on the Internet http://groups.yahoo.com/group/Z_Scale and to write a regular column for Ztrack Magazine.