Remembering Bill Kronenberger, 1947 - 2007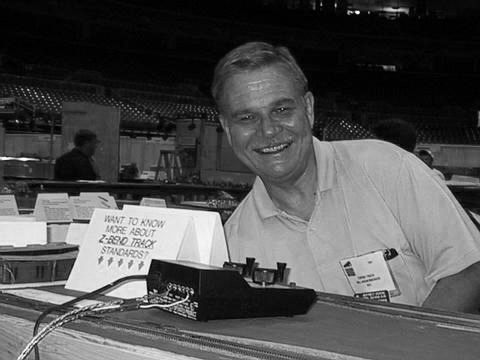 Bill Kronenberger, father of Z-Bend Track standards (NTS 2001, St. Louis, MO)
Dear fellow Valeasians,
Z Champion and friend, Bill Kronenberger passed away on January 30, 2007 at the age of 59.
Bill left his mark on the Z community and on me. His influence will be felt for as long as Z-Bend Track modules are built.
I will miss his intelligence, his optimism and his sense of service. I am honored to have known him and I will cherish my memories of the wonderful moments we had together.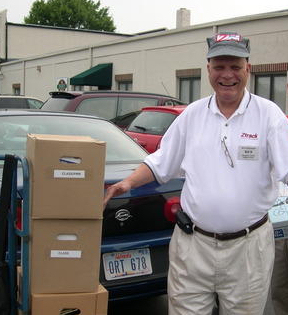 Bill Kronenberger unloading soldering irons for his Soldering 101 workshop at Z-Con 2005 in Columbus, Ohio.
My cousin Bill
Bill K called me his Canadian "cousin". It was an honor to be considered part of his extended family as Bill had many "cousins" around the world. Bill and I were Z buddies from the early days of Z_Scale on Yahoogroups. He was one of the first members of the forum and he was probably one of the most prolific contributors in terms of technical content. Bill took great pains to provide complete and detailed answers to questions from one and all. He was a source of encouragement to the on-line Z community. His dedication to the cause of standards included accepting to chair the NMRA Z standards committee. It was not an easy task to deal with the NMRA brass. At that time, Bill and I were working hard to improve the status of Z within the NMRA management elite and let me tell you, it was challenging, to say the least.
Bill was always good for a surprise or two whenever we got together. Perhaps his most impressive gesture was when he handed out soldering irons at his 2005 Z-CON clinic in Columbus, Ohio. I have never, and I mean, never met any other model railroader who gave so generously to helping others to become better modelers. Bill was a wonderful person, a great Z Ambassador and an example to us all.
Jeffrey R. MacHan